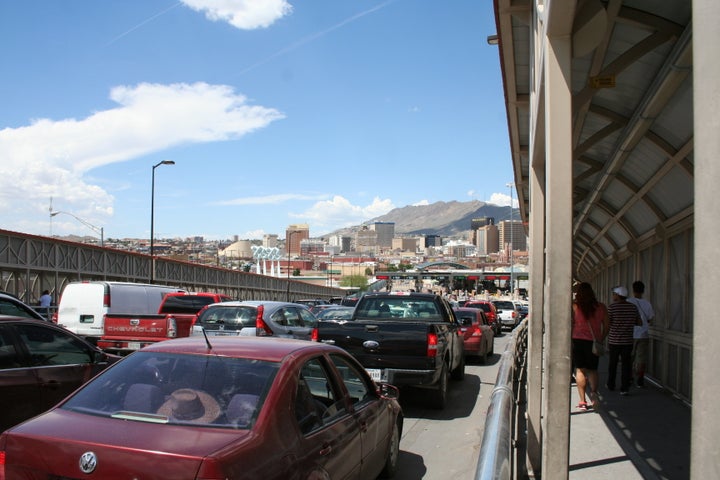 EL PASO, Texas -- The serpentine Rio Grande still marks the border between north and south, though it's no longer the raging river it once was. Today a small trickle of water slides slowly through concrete channels, marking the boundary between El Paso and Ciudad Juarez, the United States and Mexico.
The channels cage the river, preventing it from reverting to old habits of shifting course and blurring boundaries. The river has moved the official border repeatedly over time, diving deeper in the U.S. one year, returning south to Mexico the next, a symbol of an overlap the people of El Paso and Juarez know runs deep. The Paso del Norte bridge, one of the four links connecting the two cities, towers over the channeled river. Visible from the bridge is large graffiti scrawled on the channel's concrete walls. It reads: "Berlin Wall."
A splotchy green and cream building sits in the bridge's shadow on the Juarez side, a squat installation whose cracked walls once contained U.S. Customs and Border Protection. The building was abandoned in the late 1960s when the Rio Grande changed course again.
"I was telling you before about the meandering river," said Roger Maier, a public affairs specialist for U.S. Customs and Border Protection, pointing to his agency's former home. "That was actually on U.S. soil."
While the river does not know international boundaries, governments do. Residents of both cities once wandered over the border as easily as the waters of the Rio Grande, but in the aftermath of Sept. 11, the United States undertook a major effort to fortify the border here, building up infrastructure as quickly as possible to protect the U.S. from the new world of unknown dangers.
In the wake of 9/11, the number of Customs and Border Patrol agents -- the men and women in green uniforms watching the line in the desert for undocumented traffic -- shot up from 8,000 in 2000 to some 20,000 today. The length of total fencing along the U.S.-Mexico border has increased from 77 miles in 2000 to 700 miles. Border lighting covered 29 miles in 2000; by 2014 there were 70 miles. Underground sensors were nonexistent in 2000, and now 11,863 are spread across the border.
One of the most notable issues troubling CBP is drugs -- specifically heroin -- making their way across the border. Smugglers tend to hide drugs in cargo trucks, behind false walls, prompting increased scrutiny of truck traffic coming in from Juarez. Drug-related violence is also a concern in Juarez, where, between 2007 and 2011, the cartels and gangs killed more than 9,000 people.
The increase in officers, agents, fencing and technology has put a strain on residents on both sides of the border. During an August summit on the future of the two nations' relationship, local philanthropists, business owners and government officials lamented the increased difficulty in crossing the border in the decade since 9/11, and the rippling economic effects that has had in both cities.
"When we talk about the thickening of border, it's just a simple way of thinking about economic geography: We are making places further apart artificially than they are naturally," said Mathew McElroy, an El Paso native who now serves as the city's director of international bridges. "What that means is they are less likely to interact with each other. People are going to buy less, they are going to manufacture less together, they are going to trade services less together. Ultimately, both of those places end up suffering."
But 14 years after the attacks, the nexus of these two cities is the site of a new pilot program meant to speed up wait times at border crossings and get commerce flowing more easily over the border once again. Customs and Border Protection selected five border towns for the program, known as 560, which, in El Paso, has increased fees along the three toll bridges connecting the city to Juarez. While the tolls only increased by 50 cents -- to $3 for passenger cars and $4 for commercial vehicles -- the extra income allows CBP to cover overtime pay for the staffers in blue uniforms who are focused on inspecting vehicles and keeping traffic moving through these ports of entry.
CBP and El Paso first launched the pilot program in 2013, and expect to continue it indefinitely. The program allows CBP to enter into a reimbursable agreement with the city to pay for the additional staff hours during high-traffic periods. Previously, CBP relied only on federal funds, but 560 allows the agency to establish a partnership with the city that they believe "will in turn encourage economic growth for the city." 
Anecdotally, both the CBP and the city of El Paso have said that wait times are down during periods when the additional overtime hours are in place. But hard data on just how much wait times have decreased is difficult to compile because CBP lacks a unified collection method for this type of data.
What is clear is that there is a massive demand for efficient crossing from Juarez into El Paso. Four international bridges link the cities -- Paso del Norte, Bridge of the Americas, Ysleta and Stanton. In 2014, 7.1 million pedestrians, over 864,000 cargo trucks and 13.1 million cars crossed over the bridges.
Shorter wait times mean that family members can travel back and forth for visits more easily, kids won't have to wait as long to get to school across the border in the morning, and workers won't face long commutes to their jobs. The program also hopes to target the estimated $116 million the U.S. economy loses for every minute of delay in inspection lanes at the five busiest points of entry on the southern U.S. border. In 2013, then-Secretary of Homeland Security Janet Napolitano told the Senate Appropriations Committee that the total impact of delays at the busiest ports of entry, in 2008, cost the U.S. economy 26,000 jobs and $6 billion in output.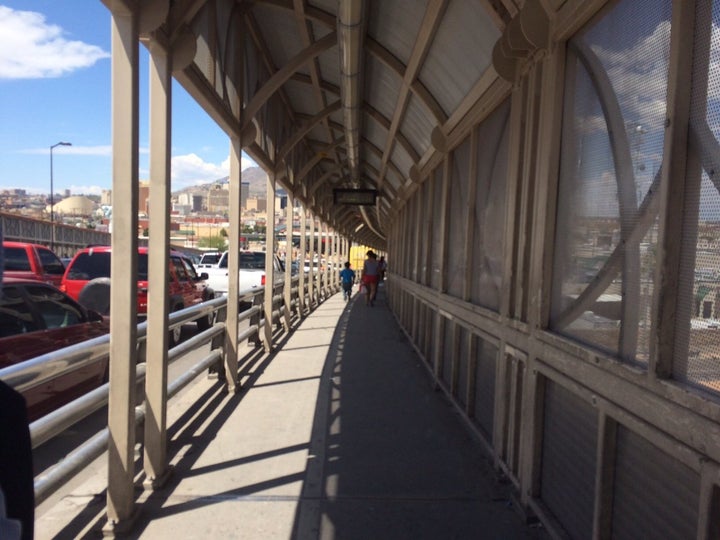 El Paso is the second-busiest port of entry along the southern border, with $90 billion worth of goods and services passing through last year alone. One in every four jobs in El Paso's economy is tied directly to cross-border activity, according to the Federal Reserve Bank of Dallas. Additionally, the U.S. Chamber of Commerce found that 6 million U.S. jobs, or one in every 24, are connected to the trade that flows through border cities like Juarez and El Paso.
The 560 program is an example of how dollars invested on the border are multiplied many times over, CBP's Maier said. "A congressman in Kansas isn't going to understand why it's important to fund officers on the border in El Paso, Texas, until you articulate that you have international trade coming through the border that's going up and supporting factory work in Wichita," he said. "And if there is a slowdown here there is a slowdown there, and it's going to be an economic hardship for people in the heartland of America." 
The United States-Mexico Summit in early August came just ahead of Texas' annual tax-free holiday, a three-day period meant to save parents on school supplies, backpacks, tennis shoes and all the other "back to school" basics. 
"All the stores have huge sales," Maier said. Shopping is a major reason people cross the border, he said, noting that in the final weekends before Christmas 2014, some 30,000 passed over Paso del Norte daily from Juarez into El Paso.
In preparation for August's tax-free weekend, the city of El Paso spent over $40,128 generated from the 560 program to allow CBP to staff up. The boost in funds allowed CBP to keep 12 additional lanes across two bridges open for the weekend.
While the 560 program has made crossing the border easier, it's not a perfect solution. CBP's El Paso port director Beverly Good notes that the agency would still benefit from improvements in technology, infrastructure and increased overall staffing. The overtime program is helping, but it's just that -- an overtime plan, not one that hires more officers. Plus, it is only utilized during peak travel times, or when El Paso is holding special events. 
"I would be crazy if I told you I don't need more staff," she said.
To McElroy, an El Paso native who returned to his hometown after serving in the military, the 560 program is about "thinning out" the border, shedding the "artificial" distance a more secure border has built up between the two cities.   
Moving forward, on top of paying for officers' overtime, McElroy said, there needs to be additional federal funding to hire more CBP officers. Recent renovations to the Paso del Norte -- which expanded the number of vehicle and pedestrian lanes and added a larger air-conditioned waiting facility for those crossing on foot -- have improved safety and traffic. But without extra manpower, it's not easy keeping all lanes open.
While Paso del Norte now has 12 car lanes and 14 pedestrian lanes, during the middle of a busy weekday in August, only eight car lanes were open, resulting in huge backups that spanned the entire bridge.
At the Bridge of the Americas, a main inspection site for cargo trucks hauling trade, the wait times are even worse. McElroy spent an hour and 45 minutes waiting to cross from Juarez on a test run just before our interview.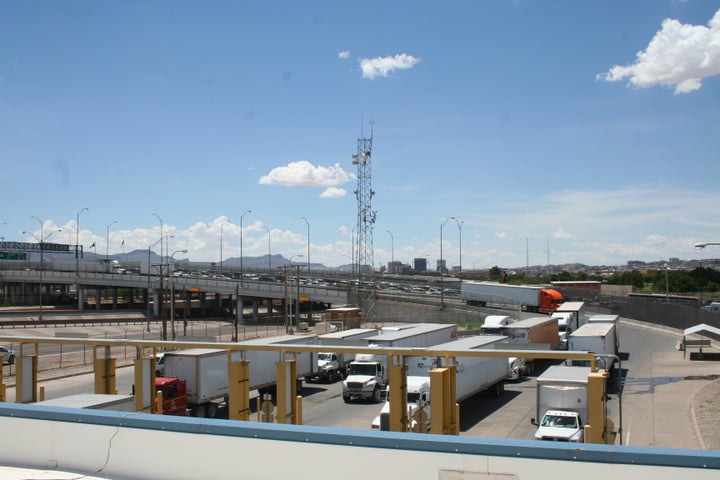 But McElroy also acknowledges that more staff on the border isn't enough. "I think ultimately the answer is we need to take a very long and hard look at all of the systems that interact," he said. "The intuitive reaction is fix it by throwing more people at it. We know if we throw more people at it we will improve wait times, but there are probably a dozen other systems we need to work at."
McElroy is particularly annoyed by rhetoric from Washington that suggests that hiring more Border Patrol agents -- the green-suited officers that carry guns and patrol the desert looking for illicit migrants -- would solve the problem. "We don't need Border Patrol agents," McElroy said. "What we need are [Customs and Border Protection officers] -- the guys that are actually doing inspections for legitimate travel and trade. That is where the greatest economic benefit comes to the rest of the U.S."
Indeed, a study highlighted in a 2013 Government Accountability Office report found that each additional CBP officer leads to a direct gain of $915,000 to the U.S. Gross Domestic Product. The study found that at seven of the biggest commercial vehicle crossings on the southwest border, having one additional officer open one additional primary inspection lane during the most congested hours of the day would reduce wait times for commercial vehicles by as much as 7.2 minutes.
"As a voter, which would you rather pick?" McElroy said. "If you understood that was the impact: would you rather have the guy in the green suit with the binoculars in the desert, or would you rather have millions in economic opportunity in the U.S.?"
The 560 program is "really a local response to the federal government's inability to provide the number of CBP officers and infrastructure necessary to protect the volume of trade and jobs tied to the U.S. relationship with Mexico," McElroy noted.
"Eventually, people need to see the flow of trade with Mexico as a strategic resource, no different than the Alaska oil pipeline," he said.
Other potential fixes proposed for the border are more high-tech and would require Congress' help. Two-term Rep. Beto O'Rourke (D-Texas), who represents El Paso, has advocated for investing in technology like energy readers to help speed along cargo inspections, improved infrastructure and programs that speed up travel and make it more affordable.
Technologies like radio frequency identification cards, or RFID, which enable both Mexican nationals and Americans to go through "ready lanes" or scan their document through kiosks, are already in place. The RFID cards, called "Trusted Traveler" identification, enable frequent border crossers to travel much more quickly through inspections. To become a Trusted Traveler you have to fill out an application with the CBP, undergo an extensive background check and pay a fee. During the process, applicants have to prove they have not been convicted of a criminal offense and satisfy CBP's low-risk status, among other criteria. The issue now is how much they cost -- about $122 per person.
O'Rourke praised the RFID technology at the August summit, but highlighted the cost concerns. "They are very unaffordable for people who live in this community," O'Rourke said, sitting side by side with the head of CBP at the summit. "We'd probably save more money, make this community and this country more secure, by subsidizing further those cards."
Eva Aguirre Rosales, a 57-year-old Juarez native, is one of the many who can't afford a Trusted Traveler card. Aguirre Rosales has crossed the border from Juarez to clean houses in El Paso several times a week for the past six years. She is the head of a family of 15, and her income currently supports her husband, a daughter and a grandson.
Aguirre Rosales speaks softly in rapid Spanish, mentioning only in passing that she earned a bachelor's degree in business administration years ago, which isn't necessarily obvious from her current occupation. Since she can't afford the Trusted Traveler card, it comes down to the luck of the draw for Aguirre Rosales when she needs to cross -- one day the wait will be long, the other quick; one day she will get a nice officer, the next day she'll get one that is a bit gruff.
Officers are constantly required to balance their duties of helping travelers with keeping the U.S. secure, which can conflict at times. Aguirre Rosales knows this all too well, but said if she could, she'd tell American officials to have more compassion for people who need to cross the border. 
"The people who are at the bridges need to be more conscientious that we are human beings and should be treated with more dignity," she said. "Sometimes we feel like we are treated like we are nothing, so maybe just have them be nicer and at the same time have them do their work." 
In the absence of a bigger shift in border mentality in the United States, residents say that innovative efforts like the 560 program are crucial to helping reclaim border communities as places that are safe and vital to the nation's well-being.  
"If people understood how many jobs in Texas and across the U.S. were tied to our trade relationship, most of the noise related to securing the borders would shift abruptly to meaningful investments in things like truck-crossing capacity, more commercial truck X-rays, and CBP staffing at commercial crossings," McElroy said. 
But it gets even harder during election season for officials like McElroy, who want to make it easier for people like Aguirre Rosales to flow back and forth across the border. The border McElroy and Aguirre Rosales call home is far different from the one a business mogul-turned-Republican presidential candidate has described as "a great danger" that threatens the U.S. with "drugs" and "rapists."
Drug smuggling is a problem, as any CBP officer will attest. But the fearmongering on the campaign trail that danger, violence and chaos are spilling from Juarez across the border simply is not true. Even during the height of the gang and drug cartel carnage in Juarez from 2007 to 2011, El Paso remained virtually untouched. Over the last four years it has held steady as the safest city with a population over 500,000 in America, according to annual City Crime Rankings by CQ Press.
Asked if the 2,000-mile-long wall that Donald Trump has vowed to build (and other candidates have endorsed) would help here at the meeting place of El Paso and Juarez, McElroy pushed back.
"El Paso already has a border fence, and it functions as an artificial symbol of separation," he said. "The people who live here recognize how interrelated El Paso and Juarez are, in everything from families and culture to employment patterns and joint manufacturing to retail spending."
Calling all HuffPost superfans!
Sign up for membership to become a founding member and help shape HuffPost's next chapter