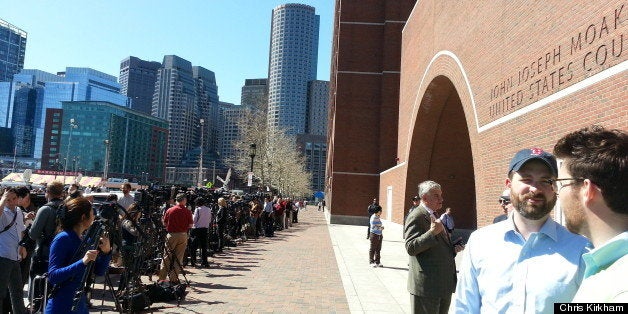 BOSTON -- For nearly three hours Wednesday afternoon, the federal courthouse overlooking Boston Harbor was swarmed by hundreds of reporters, cameramen and spectators waiting for a drama that never unfolded.
As unconfirmed reports spread throughout the media about an arrest in the Boston Marathon bombings on Monday, Boston Police and the FBI started to dispute them. But crowds still gathered to catch a glimpse of someone -- anyone -- being brought into the courthouse.
News helicopters circled overhead. Satellite trucks were readied for live broadcasts. Dozens of workers gathered on nearby bridges, some with binoculars. Even the construction crew building the Fan Pier luxury condominium complex next door stopped working, instead watching for approaching police cars with darkened windows.
The scene Wednesday afternoon was an illustration of how, in the age of Twitter and up-to-the-second developments, news stories like the Boston bombings can quickly devolve into a circus.
Richie Praginel, James Furlong and Anthony Ruzzo –- all ninth-graders on spring break -– were two miles away from the federal courthouse early Wednesday afternoon, about to start a game of basketball. They heard about the supposed arrest of the bomber, and followed the helicopters to the courthouse.
"You don't get to see this every day," Ruzzo said, as they waited on the sidewalks, dribbling the ball next to reporters furiously typing emails and practicing live shots.
In the end, the crowd had front-row seats to a bomb scare at the courthouse. Officials ordered everyone out of the building, pushed the reporters back into the parking lot and locked everything down.
As time went by, it became clear that no suspect was coming. The FBI issued a statement Wednesday afternoon urging the media to "exercise caution." "Contrary to widespread reporting, no arrest has been made in connection with the Boston Marathon attack," it said.
About an hour after the lockdown began, officials gave an all-clear and allowed employees back inside.
Mike Murphy was expecting a celebration. He works as a longshoreman on the docks near the courthouse, and always keeps a set of bagpipes in his car to cheer up co-workers. Walking slowly toward the courthouse after his shift, he started playing "Amazing Grace" to the assembled crowds.
"I wanted be here to show my support," Murphy said after the performance. When reporters told him there was a lockdown but likely no suspect arriving, he turned around and walked away, bagpipes low to the ground.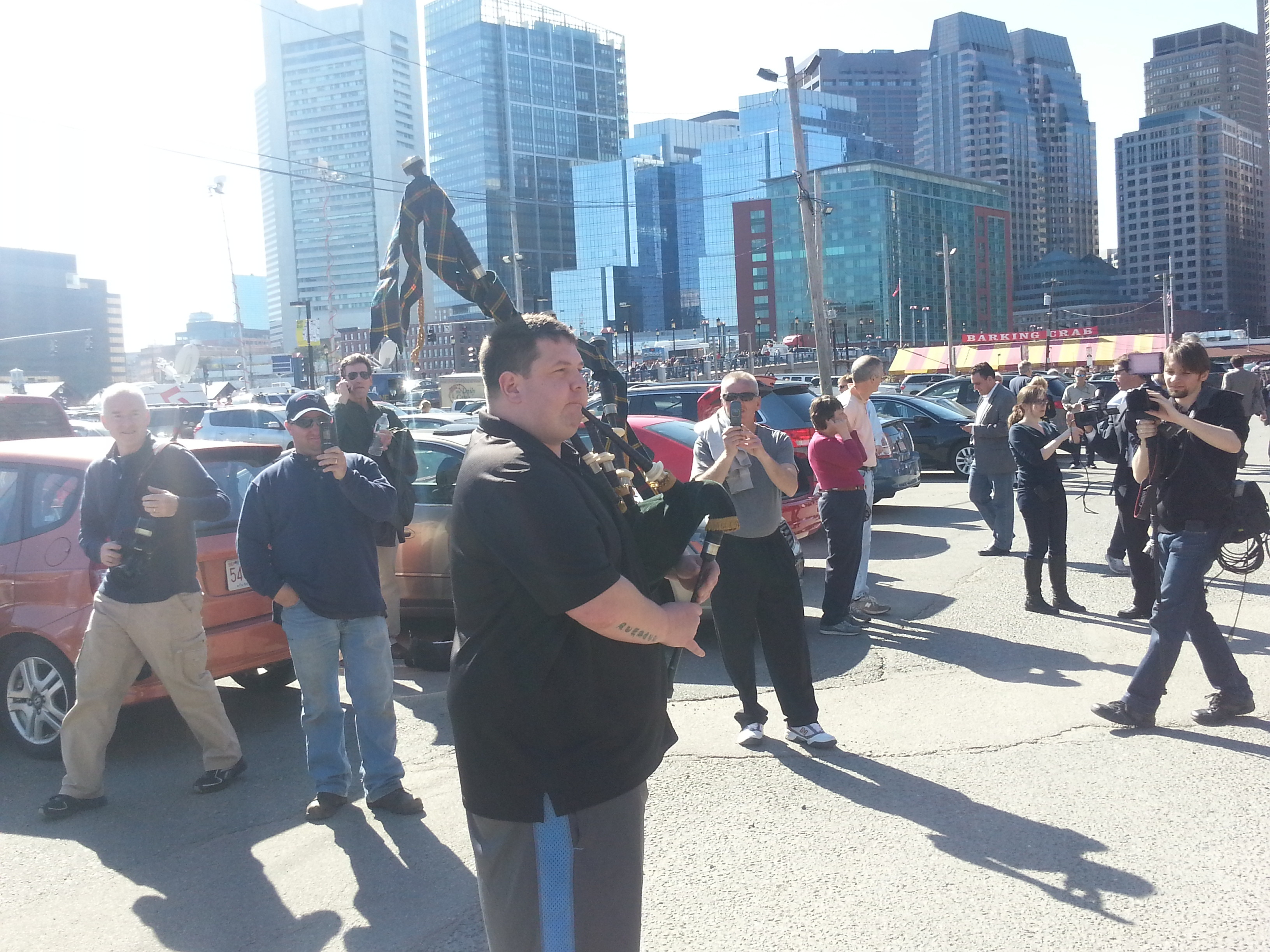 Mike Murphy (above) plays "Amazing Grace" on the bagpipes for a crowd of onlookers outside the federal courthouse in Boston on Wednesday.
Calling all HuffPost superfans!
Sign up for membership to become a founding member and help shape HuffPost's next chapter
BEFORE YOU GO