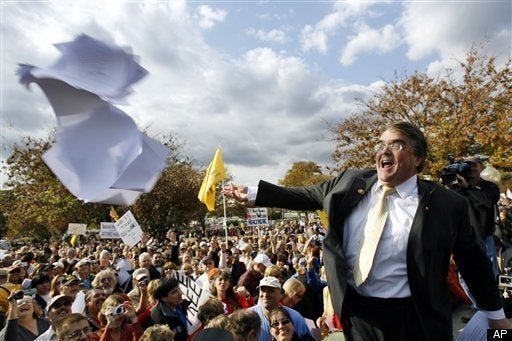 In the wake of the disastrous explosion of the Deepwater Horizon rig in the Gulf of Mexico on April 20 and the ensuing oil spill, even longtime supporters of the oil industry returned campaign contributions from BP.
Early in May, Joe Barton (R-Texas), the oil giant's infamous apologist who has received over $27,000 from BP since he entered Congress, returned a $1000 donation from BP's political action committee. Other lawmakers who have returned BP money include Jon Kyl (R-Ariz.) and Charles Gonzalez (D-Texas). Both Saxby Chambliss (R-Ga.) and John Shadegg (R-Ariz.) claim that they never received checks from BP, which were listed in FEC filings but were apparently rescinded by the oil giant.
But even as BP's reputation suffers -- through more disclosures of cost-cutting measures that endangered the lives of the workers on the rig that are the subject of a federal criminal investigations and amid new revelations about the company's role in lobbying the British government to release Libyan prisoners including the Lockerbie bomber -- at least 20 members of Congress appear to be keeping money the company has contributed to them since December 2009.
Several prominent lawmakers, including House Majority Leader Steny Hoyer (D-Mich.), Blanche Lincoln (D-Ark.), James Clyburn (D-S.C.), John Culberson (R-Texas) and Lisa Murkowski (R-Alaska) are keeping the money, according to a HuffPost analysis of the latest FEC filings.
Some representatives contacted by HuffPost didn't see a problem with the donations.
Hoyer's spokesperson stated:
It is Congressman Hoyer's policy to accept legal contributions and to pursue the policies he believes are in the best interests of our country irrespective of such contributions.
Culberson's office emailed the following statement:
Tens of thousands of my constituents earn their living in the energy industry, including many from BP. The contributions I receive are an expression of support for my voting record, and they have no connection with the Deepwater Horizon tragedy nor do they influence the way I do my job as a representative.
Several members of Congress have given BP contributions to charity -- Michael Benet (D-Colo.) gave his $1000 to the Coalition to Restore Coastal Louisiana. When first contacted by HuffPost, the spokesman for Kent Conrad (D-N.D.) denied that the lawmaker received $1000 in December 2009 but later said that Conrad was giving his donation to United Tribes Technical College in Bismarck, ND.
BP has been a campaign fundraising machine in Congress, giving $6.2 million to nearly 1,000 candidates for federal office over the past 20 years, according to the Center for Responsive Politics. The single biggest recipient of its largesse (from both BP's PAC and individual employees): President Obama, who received $77,051, most of it during his presidential campaign.
Such donations can be potentially toxic during close elections and as midterm elections approach, says John C. Green, University of Akron political science professor and director of the Ray C. Bliss Institute of Applied Politics, a bipartisan research and teaching institute dedicated to the nuts and bolts of practical politics. But he cautions that it's still too early to predict whether BP money becomes as problematic as contributions from Enron and other such tainted firms. Bliss does warn that politicians will be increasingly more cautious when choosing to accept or return a BP donation, adding that BP's handling of the Gulf oil spill cleanup will a huge factor in determining the future of their contributions.
See what lawmakers have done with contributions from BP Corporation North America Inc. Political Action Committee since 12/09:
Calling all HuffPost superfans!
Sign up for membership to become a founding member and help shape HuffPost's next chapter