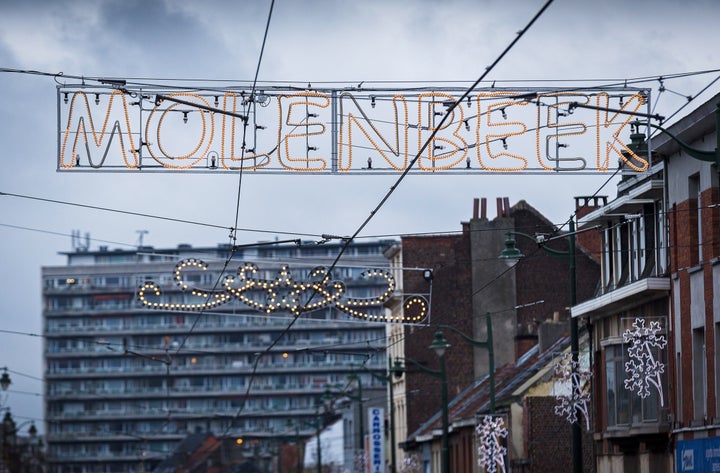 BRUSSELS, Nov 17 (Reuters) - Two weeks ago, the mayor of Molenbeek ordered the closure of a neighborhood bar where Brussels police had found young men dealing drugs and smoking dope over the summer.
Last Friday, the owner blew himself up at another laid-back corner cafe, this time in Paris, on a mission of retribution from Islamic State.
Brahim Abdeslam's journey from barkeeper to suicide bomber remains a mystery, along with the whereabouts of his younger brother Salah, now on the run as Europe's most wanted man but until recently the manager of Brahim's bar, Les Beguines.
The brothers sold the business just six weeks ago.
There is a seeming disconnect between the ownership by Muslims - whose religion forbids the use of alcohol and tobacco - of a bar, where drugs were being dealt, on a quiet street in the low-rent Brussels borough of Molenbeek who have become the focus of a manhunt for violent Islamists with ties to Syria.
Yet time and again, investigations after attacks like those that killed 129 people in Paris have uncovered tales of workaday Arab immigrant lives, assimilated to the profane daily cares and pleasures of European cities, that have turned, unseen to family and friends, into explosions of pious, suicidal fanaticism.
"It's shocking, especially when it's people you've hung out with," said 25-year-old Nabil, as he walked home from work to his apartment nearby, past the cafe on rue des Beguines, now shuttered by court order, which Brahim Abdeslam, 31, had owned.
"They were regular guys, who enjoyed a laugh," he said, still wearing his workclothes and a Nike baseball cap. "There was nothing radical about them. ... They were here just last week hanging out. ... I think they were indoctrinated. ... There is some mastermind behind it all."
"LIKE SYLVESTER STALLONE"
Hicham, also 25 and in blue tracksuit and sneakers, echoed that view of Brahim and Salah: "They smoked. They didn't go to the mosque or anything. We saw them every day at the cafe," he said. Brahim, with a voice "like Sylvester Stallone," could, he conceded, at times be "a bit crazy."
"We played cards. We talked about football," he added. "We talked about the everyday. Nothing jihadist, not about Islam."
Those sentiments were echoed by family including a third brother, a local council employee, who was released on Monday after two days in custody, and by former workmates of Salah at the tram repair shop - though the latter told public radio that the "joker" Salah lost that job in 2011 for absenteeism.
Belgian media also reported that Salah spent time in jail for robbery five years ago alongside another Molenbeek man, Abdelhamid Abaaoud, 28. French investigators believe Abaaoud may have ordered the Paris attacks from Syria, where he has become an Internet propagandist for Islamic State under the nom de guerre Abu Omar al-Belgiki - the Belgian.
Belgian police could not confirm any previous record for the brothers or whether they had been under surveillance.
What is clear is that the bar the brothers ran had annoyed some of its neighbors and, in August, been raided by police.
Details posted on the door, on the ground floor of a typical brick-built 19th-century townhouse and confirmed by police to Reuters, stated: "The premises have been used for the consumption of banned hallucinogenic substances."
The notice ordered a five-month closure from Nov. 5, and said police found "a strong smell of drugs" and ashtrays containing "partially smoked joints," while a number of customers were found to be carrying drugs on their persons.
The notice said the manager had been given a chance, on Sept. 4, to object. "But he did not reply to our invitation."
Molenbeek Mayor Francoise Schepmans has described Molenbeek as a "breeding ground for radical violence," suffering from high youth unemployment and overcrowding. Belgian ministers have promised to "clean it up."
The Abdeslams do not appear to have figured among the jobless. Legal documents reviewed by Reuters and first reported by Belgian newspaper L'Echo show that Brahim, a French citizen born in Brussels, formed a company in March 2013 to run the bar.
In December that year, Brahim stepped aside as manager of the company in favor of Salah, but remained the main owner. Two other family members held small stakes at various times.
On Sept. 30 this year, after the closure warning, the family sold out to an individual who gave an address in southern Belgium. That person could not be contacted by Reuters.
The documents listed both brothers' address as the family home in a four-story house facing Molenbeek town hall across a cobbled square. There, Mohammed Abdeslam, the brother held by police, told reporters the family were stunned by events.
"We've never had problems with the law," he said on the doorstep. "My parents are in shock and can't quite take in what's happened," he added, saying they had had no idea Brahim was going to Paris on Friday or where Salah now was.
According to French police, Brahim detonated a suicide vest at the Comptoir Voltaire, a cafe close to the Bataclan music hall where gunmen killed 89. The explosion seriously wounded several other people.
Salah, police say, rented a Volkswagen car that was found near the Bataclan with Belgian plates and he was later checked, but not arrested, near the Belgian border, in a car with two others.
A lawyer for Mohammed, who works for the town hall, said Mohammed was released because he had an alibi putting him in the French northern border city of Lille, where he was helping renovate a bar.
Lawyers say the two men in the car with Salah when he was stopped by French police early on Saturday near Cambrai are among three people in Belgian custody. The lawyer for one, Mohamed Amri, said he had taken a call from a friend saying he had broken down in Paris and drove south to fetch him. Amri said he had known nothing of any involvement in the attacks.
Outside Les Beguines, just over a mile from Molenbeek town hall, another acquaintance of the Abdeslam brothers, 23-year-old Amir, who works installing shop tills, said a friend had called him on Friday night asking him to drive the 280 km (180 miles) to Paris to pick up Salah. Amir told him he could not go.
He was told Salah offered to pay the fuel costs, but Amir did not want to run up such big mileage on his leased car. "It's incredible," he said of the arrests of those who did drive Salah. "It could have been me. ... I had no idea."
With television running hours of live coverage on Monday from the armed police siege of a house in Molenbeek in the hunt for Salah, his brother Mohammed stressed that Salah had been found guilty of nothing: "But with things as tense as they are," he said, "we don't know if he'll dare give himself up."
So what took Brahim from running a marijuana-scented beer joint named for a medieval order of Christian lay nuns to blowing himself up at a bar named for Voltaire, the 18th-century critic of religion?
His brother Mohammed had seen "absolutely nothing." Brahim and Salah were, he said, "two brothers who were totally normal."
(Additional reporting and writing by Alastair Macdonald; Editing by Leslie Adler)
Read More Paris Coverage
Related
Popular in the Community