Cate Blanchett, Hugh Jackman, Naomi Watts, Miranda Kerr, Elle Macpherson -- the list of recognizable Australian actors and models is fast approaching the length of the Great Barrier Reef. But how often do you hear about breakthrough Australian Aboriginal talent? Enter, Samantha Harris. With her long limbs, full pout and arresting gaze, the stunning 20-year-old has soared to the apex of the Australian modeling scene lately. I had the pleasure of working with Harris at Rosemount Australian Fashion Week in May, where she walked at 18 shows. At each outing, I found her to be unfailingly sweet. She even bonded with two of my daughters who accompanied me. So far this year, Harris has been on the cover of Vogue Australia, shot a major campaign for Aussie swimwear brand, Seafolly, and is now gearing up to take on the global glamour world. I spoke to the model about her upbringing, her heroes and what's next in her brilliant career.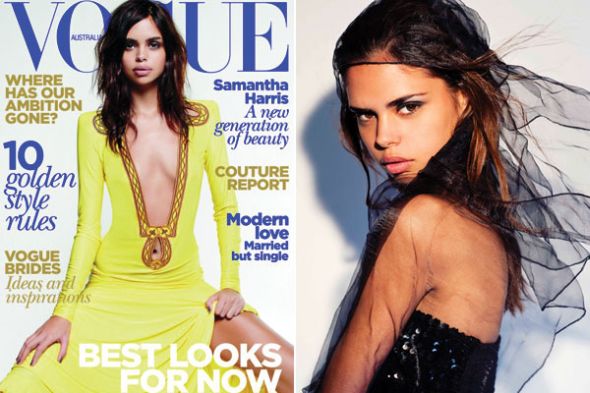 Above, from left: Samantha's Vogue Australia June 2010 cover; Photo by Joseph Paradiso
Tell me about growing up in Queensland, Australia.
We lived on the Gold Coast close to the beaches, so I was at the beach every day. It was fun. The weather was always perfect. I have three brothers so I was a bit of tomboy when I was younger, but luckily I soon grew out of that. Doing beauty pageants certainly helped, and I did my first one when I was four. It was a really amazing period, and the pageants were something my mum and I did together.
I noticed at Fashion Week in Sydney that you have a very close bond to your mother.
She still lives on the Gold Coast, but we speak everyday. She used to come with me to all my jobs, but now that I'm older and living in Sydney, not so much. When I'm traveling, I do get homesick sometimes, but my mum or boyfriend always call me even if I'm on the other side of the world.
How did you break into the modeling industry?
I entered a competition for [teen magazine] Girlfriend in 2004, and made it to one of the six finalists from around the country. I was only 13 at the time so it was very exciting. The magazine flew us to Sydney for a shoot. The winner that year was Abby Lee. I signed to the Chic agency in Sydney in the same year.
Who are your modeling and fashion heroes?
My model inspirations are Miranda Kerr and Naomi Campbell--minus the attitude, of course. Naomi's 40 now and she's still going strong. Like Miranda, I'd love to be a Victoria's Secret model. I'd also love to work with designers like Gucci or Prada. And I'm a big fan of Aussie designers Camilla and Marc.
Can you talk about your Aboriginal heritage and what it means to you?
Being Aboriginal means a lot to me, as there's so few of us in the industry. Being a role model is equally important to me--I didn't have many growing up. I support the charity One Laptop Per Child (OLPC), who provide computers to children in rural communities. It gives kids out there the same opportunities as city kids and inspires them. As far as my culture, I don't follow any tribal practices. They typically do that in outback communities, where they follow their traditions and live how their ancestors lived. In the cities we have events like NAIDOC (National Aboriginal and Islander Day Observance Committee) Week, where we celebrate Aboriginal culture and remember all the bad things that happened. I participated in the one in Sydney last month, and I took along my younger brother.

Your cultural background has given you such a positive role in the fashion industry. What do you make of that?
I think it's great. I definitely think the industry is changing in a good way. Now you see models from all different backgrounds on runways and in shoots. It's no longer about equating beauty with one look.
What's been the best advice you've heard?
Follow your dreams and, if you believe in yourself, you really can accomplish anything. Also, a makeup artist once told me not to compare myself to any other girl, which I think is valuable. Just be you. Don't worry about anybody else, or that you don't look like them.
Do have plans to relocate to New York like so many models do?
I hope so. If not this year, it will be next year. I'll certainly be visiting again in the next six months. I've been to New York a few times already, but it's always been very short trips and taken up by meetings. I'd like to see the sights next time.
How did you feel walking in 18 shows at Australian Fashion Week?
I was honored that the designers wanted me to model their clothes. Even more exciting was opening fashion week at the Lisa Ho show. It was a memorable moment for me because my mum and dad got to watch, which was great.
I hope you're using my products Samantha!
Your NP Set Memory Foundation is my favorite base. It's so light it doesn't feel like you're wearing any makeup at all. I like the natural look. I prefer a nude pink gloss to red lipstick any day.
Related