Unless you have been residing in a cave or perhaps just a comfortable state of denial, surely you are already aware of the dreadful reality of plastic debris poisoning our oceans, toxifying our precious environment and causing serious harm to our delicate minds and bodies. On Saturday, November 6th, TEDx: Great Pacific Garbage Patch, an independently organized TED event, took place at the Annenberg Community Beach House in Santa Monica to tackle the most critical issues surrounding plastic pollution. Hosted by The Plastic Pollution Coalition, the exclusive and historical event featured an amazing guest speaker line up of ocean crusaders such as the legendary, Dr. Sylvia Earle, 3rd-generation underwater explorer, Fabien Cousteau, "Plastiki" pioneer and eco-adventurer, David de Rothschild, brilliant environmental artist and activist, Chris Jordan, sea turtle defender extraordinaire, Dr. Wallace "J" Nicols, award winning human rights and clean energy advocate, Van Jones, TED speaker and Plastic Pollution Co-founder, Diana Cohen and the great Captain Charles Moore who first discovered the plastic garbage patch, an area often described as "plastic soup" and estimated to be twice the size of Texas, on a sailing expedition back in 1997.
The idea of hosting a diverse and international conference on plastic pollution was one of the initial goals that Plastic Pollution Coalition set out to do. Bringing this under the TEDx format was also our desire from the beginning. We are very happy to have accomplished this on our first year of existence as an organization, but we did not do this alone: dozens of people and organizations have supported this endeavor and have made it possible.
The 150 invited attendees included environmental experts, community leaders, local activists, youth ambassadors, renown artists, actors, musicians and scientists, while more than 75 satellite events were organized across the globe, allowing thousands more to participate simultaneously via the livestream web broadcast. While topics of discussion varied, the central component of each talk highlighted the overwhelming effects of plastics on the oceans, environmental and public health while focusing upon finding solutions for reducing the human plastic footprint and exploring ways to eliminate plastic pollution through individual action as well as public and private-sector participation. A full list of the incredible speakers can be viewed here as there are too many too list and each of his/her individual contribution is far too valuable to be missed.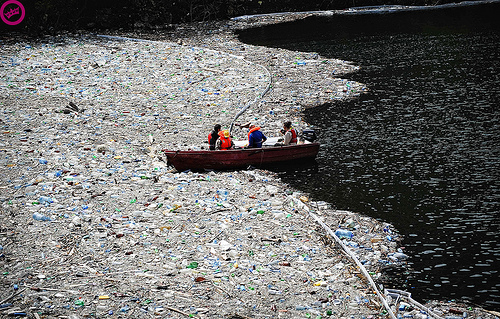 Plastic Pollution, Bulgaria Photo Courtesy: TEDxGP2
The day was filled with both informative talks and shocking statistics. I was horrified to learn that sixty percent of the plastic found in the oceans is comprised of "one life plastic"--plastic bags, Styrofoam food containers and plastic drink bottles which can have a life expectancy of over 500 years. Beth Terry, author of the Fake Plastic Fish blog, further shared that the average American uses 100 lbs of plastic each year! During his talk on Environmental Justice, Van Jones suggested that the root problem is the false notion of disposability itself. "In order to trash the planet, you have to trash people. But if you create a world where we don't trash people, we can't trash the planet," he added.
Environmental artist and activist, Chris Jordan, perhaps best known for his mind blowing work on human over consumption opened his segment on Being the Change, by pointing to the insidious number of times during his quick flight from Seattle in which he was accosted by the offer of single use plastics, not to mention- which he did- the plastic laden vessel that he flew on in order to attend the event. His shocking images taken during his recent journey to Midway Atoll to expose the plight of the endangered albatross, have since become the poster child for the "anti-plastic" movement. Every year tens of thousands of albatross chicks die on Midway from starvation, toxicity, and choking due to their diet of human trash. Upon witnessing these haunting images of human imposed devastation upon natural habitats and innocent species, banishing myself from society to live out the rest of my life "in a cave" was starting to sound like an excellent future option. However, as the day unfolded I realized that, sadly, there seems to be no place left on Earth to escape the harmful toll of destruction that man made plastics have left on their- our- path.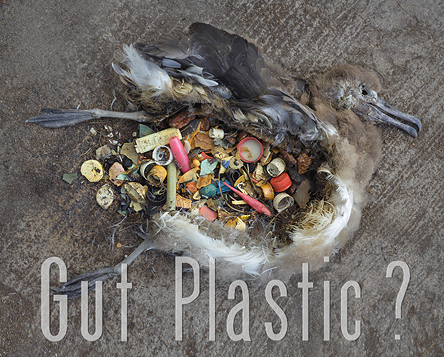 Unaltered stomach contents of a dead baby albatross, Midway Atoll, July, 2010, Photo: Chris Jordan
During his talk entitled, Tackling Our Nature Deficiency Disorder, David de Rothschild befittingly quoted the late American design guru, Richard Buckminster Fuller stating that, "You never change things by fighting the existing reality. To change something, build a new model that makes the existing model obsolete." No one is more familiar with the latter concept than the British Eco-adventurer who recently sailed his "Plastiki" boat made of over 12,000 recycled plastic bottles across the great pacific garbage patch in order to raise awareness about the destruction of the world's eco-systems caused by plastic pollution.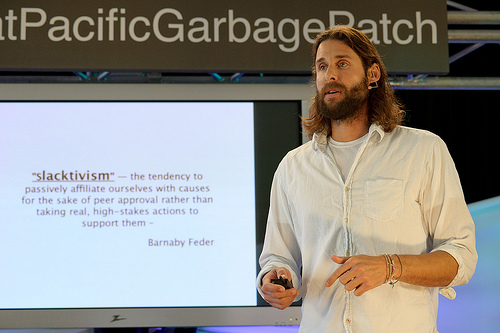 David de Rothschild delivers his talk on plastic pollution at TEDx, Photo: Nels Israelson/ TEDxGP2
While I must admit the conjured visual of spending weeks on end at sea with Mr. De Rothschild was somewhat distracting, I was most impressed by his seemingly inherit common sense approach to the serious issues. Questioning the very sanity of human beings and pointing to man's disconnect with nature and the amazing planet that we should be so humbled to share with other species, De Rothschild challenged guests and viewers to incorporate creativity and collaboration into action while taking advantage of the abundance of readily available technology, including location based software, in order to get the message across to the masses. "We are at war with nature," he warned, but yet we are a society armed with "weapons of mass distribution," and he suggested that we need to harness this technology to our advantage during this pivotal time. He also proposed the creation of "International Fishing for Plastic Day," every November 6th as a way to turn the tides on the often "boring" environmental movement into one where younger generations can become enthusiastically involved through an eco-challenge that would involve winning points for removing plastics from the world's beaches and oceans.
Fabien Cousteau, founder and director of Plant A Fish, a nonprofit dedicated to restoring our water planet and educating youth about the importance of conservation and restoration honored his grandfather's pioneering work to protect the oceans with his famous quote, "People protect what they Love," which he paused to remind attendees during his presentation on the effects of plastic pollution on the ocean's living inhabitants.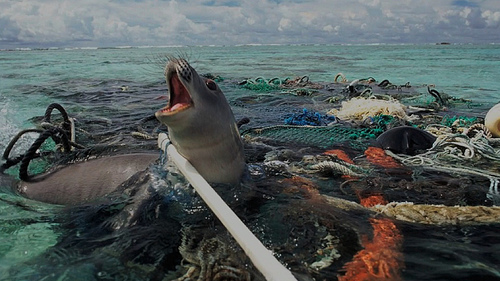 Seal trapped by plastic pollution, Photo courtesy: TEDxGP2
In addition to the on-line event, the organizers launched a REFUSE campaign, encouraging the "4 R's":
REFUSE- Say NO to disposable plastics!
REDUCE- Reduce your plastic footprint: buy in bulk, choose products with the least packaging, look for products and packaging made from renewable resources, and avoid plastic packaging and containers. Choose products that have the least amount of disposable parts.
REUSE- Reuse preferably nontoxic (glass, stainless steel) containers and goods to make less waste.
RECYCLE -Recycle what you can't refuse, reduce or reuse. Recycling is a last option because it uses energy, and there may not be a market for the refabricated materials.
This campaign presents four strong challenges for change which will have an immediate impact on our environment. The window of opportunity is now. We need to make these changes together. We promise to work with individuals, businesses, and government policy makers to ensure we stop the devastating, toxic plastic pollution of our oceans, our environment and our bodies.
Targeting business, policy makers and individuals to refuse disposable plastics these four challenges will be implemented into the core goals of the Plastic Pollution Coalition's 2011 international campaign to end plastic pollution.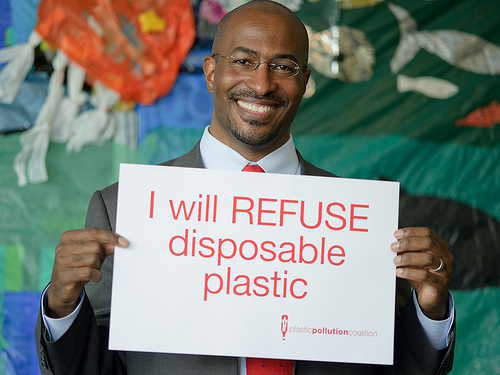 Van Jones joins the campaign to REFUSE disposable plastics, Photo: Nels Israelson/TEDxGP2
Former Deputy Director and Advocacy Manager of Campus Progress at the Center For American Progress Erica Williams delivered the first challenge to individuals and businesses: REFUSE Disposable plastics. According to Williams:
Nothing justifies the use of disposable plastics for personal or business use. These objects, created to be used for only a few moments, stay with us forever at a tremendous cost to the planet and the environment. We challenge all individuals and businesses to end their dependence on disposable plastic, today.
Delivered by scientist and self proclaimed "turtle geek," Wallace "J" Nichols, Phd, the second challenge was aimed at manufacturers of virgin resin product, plastic packaging and plastic products, encouraging them to, "take responsibility for products, develop alternatives, and voluntarily cap non-biodegradable virgin resin product." He stated:
We challenge you to own the responsibility of your product until the very end. The packaging you choose for your products is your responsibility, not the buyer's. We want industry to begin investing resources into developing a new generation plastic product - plant-based, non-toxic in any stage of its existence, and biodegradable.
A passionate community organizer and Research Associate at the California Academy of Sciences and Founder of Ocean Revolution, Nicols spent the day handing out his infamous blue marbles as part of The Blue Marbles Project. "We live on a beautiful planet and from a million miles away it looks like a blue marble. Every heartbeat in the universe has happened on that blue marble. The question is what are we going to do with that blue marble," he stated.

The third challenge, aimed at policy makers and political leaders around the world, focused on the development of policies that curb the irresponsible use of plastic. Leslie Tamminen, Ocean Program Director for Seventh Generation Advisors, urged public leaders to adopt policies that support and incentivize individuals and businesses in their efforts to eliminate disposable plastics, such as the bans on plastic bags in regions of India or the tax on plastic bags in Washington, DC.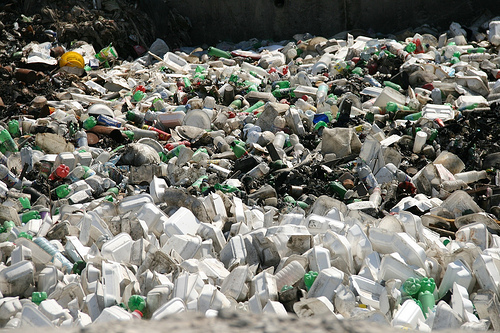 Plastic Pollution, Haiti, Photo courtesy: TEDxGP2
H.E. Mr. Stuart Beck, Ambassador and Permanent Representative to the United Nations from the Island of Palau addressed the fourth challenge to plastic manufacturers from the Ocean Nations to come together and form a union against the assault of plastic on the environment, economic well-being and public health. Speaking on behalf of all small island nations, he urged that "Plastic pollution is destroying our ocean, our planet, and ultimately our own individual bodies and health. The time has come to a put a stop to it."
The final speaker of the evening was the beloved Dr. Sylvia Earle who is often referred to as "Her Deepness" and whose long lists of achievements include the prestigious TED Prize which she was awarded in 2009 for her Mission Blue Initiative. Hands down the most influential and accomplished female marine biologist of our time (read: my hero) Dr. Earle remains positive that there is a light at the end of the deep dark plastic tunnel:
There is plenty of reason for hope and the solution is really right here in this room. Just imagine a world without plastic. I can because my parents did everything they did without the convenience of plastics. I hope to see a beach, a wave that is plastic free.
"We're letting nature slip through our fingers," she continued while quoting American Biologist Ed Wilson, and added on a more cautionary note that if we don not get our act together that, in actuality, "Nature may let us slip through her fingers."
The last treat of the day was the closing acoustic performance of a song written especially for the event by world renown musician Jackson Browne. "They say that nothings last's forever, but all the plastic that we made is still here and no amount of closing our eyes will make it disappear," sang the long time environmentalist and supporter of the Plastic Pollution Coalition.
Browne, along with several other notable celebrities including Jack Johnson, Ed Begley Jr., and Benicio del Toro has taken the pledge to REFUSE disposable plastics through the recently launched REFUSE video campaign. Please take the pledge today!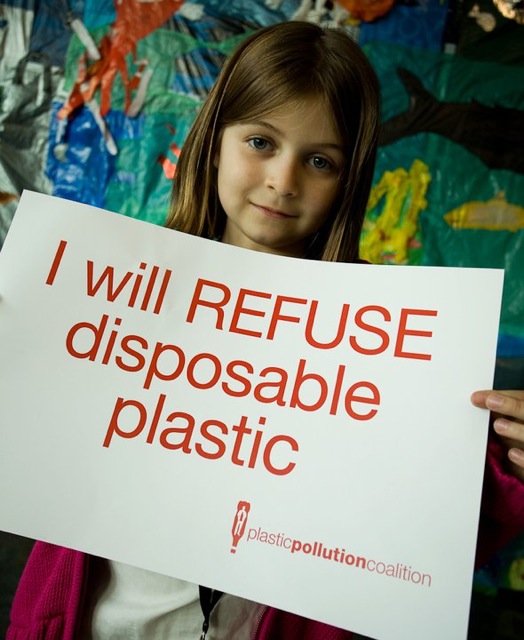 Plastic Pollution Coalition Youth Ambassador takes the pledge, Photo: Jan Vozenilek
About Plastic Pollution Coalition
Plastic Pollution Coalition is a global alliance of individuals, organizations and businesses working together to stop plastic pollution and its toxic impacts on humans, animals and the environment. Plastic Pollution seeks to elevate plastic pollution to the forefront of global social, environmental and political discourse.
About TEDx
In the spirit of ideas worth spreading, TEDx is a program of local, self-organized events that bring people together to share a TED-like experience. At a TEDx event, TEDTalks video and live speakers combine to spark deep discussion and connection in a small group. These local, self-organized events are branded TEDx, where x=independently organized TED event. The TED Conference provides general guidance for the TEDx program, but individual TEDx events are self organized.
*This independent TEDx event is operated under license from TED.
About TED
TED is a nonprofit organization devoted to Ideas Worth Spreading. Started as a four-day conference in California 25 years ago, TED has grown to support those world-changing ideas with multiple initiatives. The annual TED Conference invites the world's leading thinkers and doers to speak for 18 minutes. Their talks are then made available, free, at TED.com.
Related
Popular in the Community