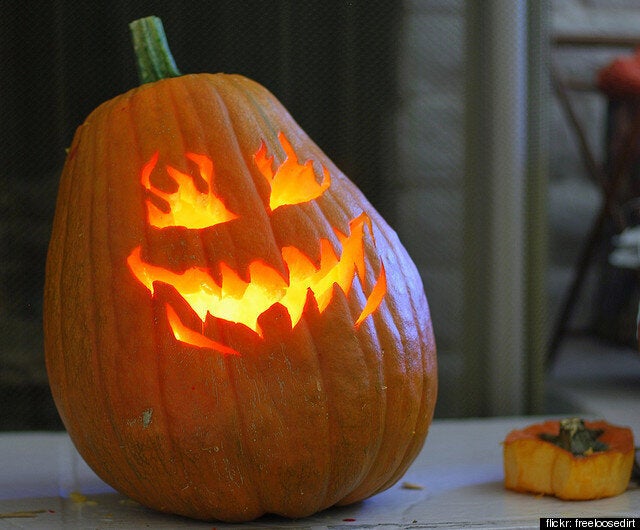 When trick-or-treaters come knocking on my door, my friends and neighbors know to bring along their "to-go" cups, as our house is always packing a punch -- or signature cocktail -- to share with the adults. This year, I'm planning on serving a batch of my Spookatinis to add to everyone's ghoulish delight. Witches on the fly everywhere would bring their broomsticks to a screeching stop for just a taste of this delish citrus cocktail in the perfect shade of creepy crimson. Black sugared rims add just enough sweetness to taste, so drink up my pretty!
To go with the cocktail, I put out a big batch of Turkey Chili and basket of cornbread muffins with mini bowls and plastic spoons for a quick fright night bite on the run. After all, Halloween is the original "pop-up" party so when friends ring your bell this year, be ready.
Don't forget to spook it up this Halloween, and light up the night with lanterns and lights, line walkways with luminaries, and carve pumpkins with glowing personality.
Now that you have the cocktails, don't forget the candy. Mix up a batch and be re-fill ready!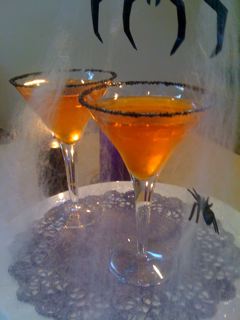 Spookatini
By Colleen Mullaney
Serves 4
8 oz. Mandarin Orange vodka
4 oz. Fresh lemon juice
4 oz. Grand Marnier
2 oz. Grenadine
Seltzer to top it off
In a pitcher filled half-way with ice, pour all ingredients except seltzer. Let chill. Pour in martini glasses and top with seltzer.
To sugar rims:
Rub rims of glasses with lemon juice. Flip over and gently press into a shallow dish filled with decorative black sugar. If you can't find black sugar, just add a few drops of black food coloring to regular sugar and mix.

Popular in the Community