What the heck is a ZECC? Just bricks, sand, and a wet sack. Put them together and you have a simple but effective device to protect vegetables from decay.
Fresh fruit and vegetables spoil rapidly in tropical countries. Keeping fresh produce cool will prolong its useful life, but refrigeration equipment is seldom available or affordable for many farmers and traders in developing countries. Without suitable storage facilities for harvested vegetable crops, farmers discard as much as 40% of their fresh produce, which reduces their incomes and offers less choice for consumers at the market.
To keep harvested vegetables fresh, the World Vegetable Center has been testing the zero energy cool chamber (ZECC) — a practical, low-cost alternative to refrigeration that works by evaporation.
A ZECC is a double-walled chamber easily built from bricks. Sand is tamped into the space between the walls. The farmer saturates the walls and sand with water, places the vegetables inside the chamber, and covers the top with damp sacking. Through the process of evaporation, the temperature inside the chamber is lowered by a few degrees, and the relative humidity is increased. Fresh leafy greens are less prone to wilting and fruit vegetables retain their integrity longer in the cool, moist atmosphere. A ZECC helps to put a brake on the natural process of decomposition.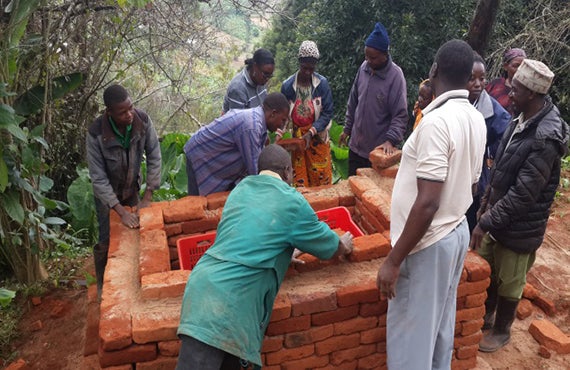 Trials in Arusha, Tanzania with traditional leafy vegetables such as amaranth found the high level of humidity in the ZECC storage chamber reduced wilting caused by water loss from stored produce. Demonstrations sites were established in Lushoto and Morogoro regions to evaluate the ZECC technology under farmer-managed conditions. Eighty-five participants (27 women and 58 men) learned how to build and use ZECCs. These farmers can now keep leafy vegetables for up to three days instead of one, while fruit vegetables can be kept up to seven days. Traders with access to ZECCs use them for temporary storage while they bulk up their produce prior to delivery to market. Members of the Kilimo Farmers Group in the Nduruma area of Tanzania reported that they were previously earning US$ 7 per sale of about 100 kg of leafy vegetables, but since they started using the ZECC, they are now getting US$ 9-11 per sale.
Farmers growing leafy vegetables in Svay Rieng province, Cambodia incur losses if produce is not marketed on the day of harvest. Leafy produce such as amaranth, morning glory, and leaf mustard wilts within hours of harvest and must be sold quickly to obtain the best price. Farmers often store their leafy vegetables at home before bringing them to market the following day. Losses of more than 20% are common due to weight loss, wilting, and loss of visual quality.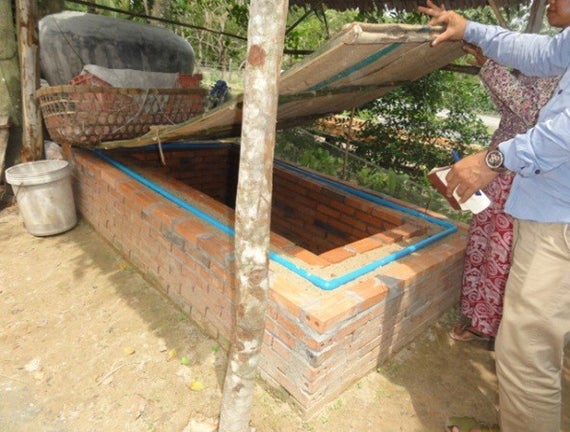 The World Vegetable Center's postharvest project at the Royal University of Agriculture, Phnom Penh introduced simple evaporative coolers through several training of trainers' workshops and technology forums. A Japanese nongovernmental organization, International Volunteer Center of Yamagata (IVY), working on agriculture and community development programs at the grassroots level in Svay Rieng, learned about the technology and disseminated it among about 90 farmer beneficiaries. These farmers were able to keep their leafy vegetables fresh for marketing the following day, had no more worries about losing income, and were truly able to enjoy the fruits of their labor.
ZECCs are among many low-cost, effective tools small-scale farmers can use to help prevent food waste from the field to the market. I'll write about more of those tools soon!
This post is part of our "Reclaim" initiative, which showcases solutions to the issue of food waste and engages our readers to take action. You can find all the posts in this initiative, as well as feature pieces, investigative stories and video, here. Follow the initiative on Twitter at #Reclaim. And if you'd like to add your own thoughts to our series, sign up here for a HuffPost blog account.
REAL LIFE. REAL NEWS. REAL VOICES.
Help us tell more of the stories that matter from voices that too often remain unheard.