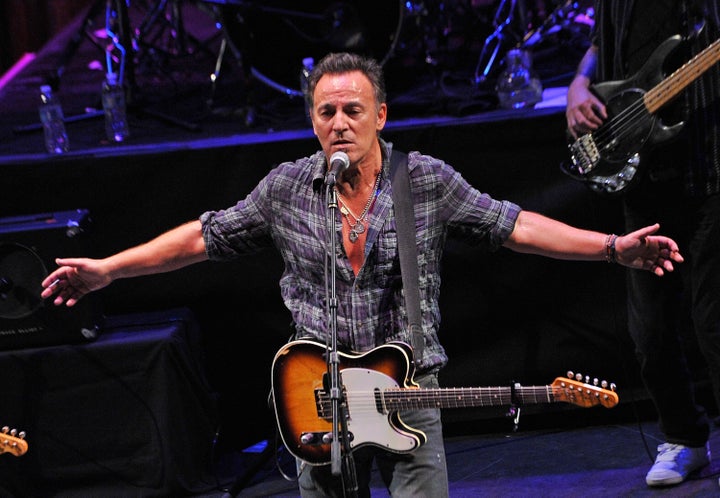 Wrecking Ball, Bruce Springsteen and the E Street Band's new album, is a wake-up call and a punch to the gut, if not the side of the head. Springsteen has reached deep inside and crafted a stunning collection of many melded musical styles. First off, the joyful moments on the record are the ones that draw a listener in, and push you to go back and repeatedly experience songs that resonate and get deep inside your bones. The darker stories lay it all bare, the sadness and outrage, and the terrible truth about how we as a nation allowed incompetent, greedy human beings to lead us to this land of increased inequality and broken dreams.
There are plenty of raucous moments, rising voices and blended influences. The musical touchstones power up the songs and carry you along with echoes of Soul, Folk, Dark English Ballads, Gospel, Johnny Cash, Hip-Hop, The Pogues, Stadium Rock, Protest, Irish Reels, Americana, and sometimes all of these influences converge within a single song.
Several of Springsteen's characters in the songs have hit an economic and emotional wall, repeatedly. They wander through burnt-out and broken urban landscapes, searching or a sliver of redemption, or maybe just a sympathetic ear. The overall feeling is one of righteous anger spilling out on the tracks, and how economic pain has impacted millions of lives.
Shuttered businesses and jobs shipped overseas are a cold reality for the people inhabiting
Wrecking Ball. There's a strong undercurrent in the songs, a whispering voice telling the listener how Occupy Wall Street and hard times on Main Street have met in the middle and a new dialogue has begun. Taken as a whole, the songs present a stark view of the current state of America, and while the lyrics may not say explicitly say how we arrived at this point, the songs show how people act and react when desperation becomes a part of daily life.
Springsteen's subject matter in many of the lyrics is the broken social contract, how whole towns have been gutted by mega-corporations, and how the long-term unemployed have struggled for so long they have grown not just disillusioned of a system that could let this happen, but are thinking of ways to retaliate.
In the song "Rocky Ground" the female background voices are strong and hopeful. The singer in the song is determined to make it through the dark times and come out the other side, stronger, more passionate about life, and more compassionate about fellow travelers on this challenging journey. He has a vision of a new day ahead, and this sustains him as he continues along the rocky road of hard times.
With Wrecking Ball, Springsteen has created a time capsule for listeners of the future. It documents America's historical now, the one we all live and survive in, and this album is one future generations can listen to and get an accurate glimpse of what these times were like.
Related
Popular in the Community