 Bubba Watson is the hovercraft-riding, swashbuckling, devout Christian, self-taught 2012 Masters winner who recently came under fire at the Travelers Championship after he berated his caddy on the 16th hole. The 34-year-old had been two strokes ahead, only to finish the tournament in fourth place, four strokes behind the winner.
Before the Travelers began, Watson caught up with The Huffington Post via phone to discuss his struggles since winning at Augusta in 2012 (he hasn't won an event since), his stance on the controversial belly putter, and why he has "never" feared Tiger Woods.
What was your take on the US Open at Merion?
A US Open doesn't really show you, score-wise, if you're playing great or if you're not playing so good. If you win, obviously you're playing great. I felt like I played good. I hit some good shots. They set it up where you can play great and still shoot over par, so that's just the facts.
How has life changed on and off the course since winning the Masters?
We adopted our baby boy the week before the Masters. My life changed right there. Winning this Masters made it that much more different. The crowds are bigger, more fans, more media attention. When I go places now to practice, people recognize me more. My son is the most important part, that's the part that's changed my life the most. Being a father. Trying to set an example for him. As he gets older he's gonna hopefully look up to his dad. That's my goal; trying to represent my family the right way.
Has having a son changed your perception of success, or how you define success?
You know, a little, yes. I don't judge my life based on if I'm No. 1 in the world or if I have the most wins. But having a son has helped me see that more and more. That shows you a lot more what that means. Watson has not won a tournament since winning the Masters in 2012. (AP)
Do you feel more pressure because of the fans and added media attention?
No more pressure. My thing about that is I haven't won since then. I haven't played as well as I've wanted to. In my first five years on tour, I didn't have a win and then I had four in a short period of time; one was the Masters. And so golf is about ups and downs. Tiger [Woods] is an exception to the rule. Phil Mickelson is an exception. For the most part, an average guy on the PGA Tour, it's hard to get a multiple-win season. But no, it's not pressure on myself just wanting to perform at a high level.
The belly putter, which will be banned, has been a huge topic of debate. What is your stance on it?
I've always liked what the USGA said. USGA said that basically it's a short version of a golf swing, the putting stroke itself. When you put it in your belly, it's not really the same putting stroke. It's not the same motion. I agreed with them on that, and that's where I stand on that. I can see where the game is going that way. We've heard people say that it takes away the nerves. I mean, the nerves are still there -- don't get me wrong. If you have a belly putter and a putt to win, you're still nervous. Obviously I'm no scientist, so I haven't checked it out myself. I agree with the USGA, 100 percent.
Are guys talking about it though, perhaps off the course?
No. I haven't heard anybody talk about it. The USGA banned it, but it's not until 2016, so it seems weird. That'd be like, you're not allowed to take drugs but you can take them the next two years. It doesn't make sense. Pretty much their rules run the Majors, so I would have to see that the PGA Tour will fall in line, so I don't see any way around it.
You're pretty well known for your idiosyncrasies and superstitions.
Oh, I do some weird stuff on the course but I don't think it helps me any. It makes me just weirder I guess. I always gotta have three tees in my pocket, and right now they gotta be white and have my name on them, in pink. I've got my own ball markers that say "Bubba" on them. As soon as I break a tee, I've gotta get another in my pocket.
Have you always been like that?
You get used to certain things. Golf is so mental. They change your attitude on the golf course. For some reason, I always carry chapstick everywhere I go. I don't even use it some days, and I left it at the US Open. I was calling my trainer, who texted my wife, and my wife brought me chapstick. Little things like that. Different feel. You practice golf one way and it doesn't feel the same. It'd be like playing without my watch on.
What value do you place on your diet, in terms of nutrition and hydration?
I always drink water and cranberry juice; maybe some apple juice. I don't drink any soda, no caffeine. I try to work out six days a week, at least. My trainer's always with me.
Have you noticed what happens when you're not hydrated?
Oh yeah. I'm a little bit more tired and stiff. The energy level is down. The more hydrated I am, the more bubbly and happy I am.
What would you say are your short- and long-term goals in golf?
I always want to play in the team events. I've always had a goal to have 10 wins. You wanna compete in the Majors. The Majors are the ones that everybody talks about. Career[wise], I would love to be a Ryder Cup or President's Cup Captain. That would be an honor, a privilege.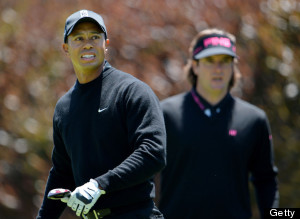 Of Tiger Woods, Watson tells HuffPost: "Truthfully, I've never felt a fear-factor with him." (Getty Images)
With his recent success, Tiger Woods has become relevant once again. Is there a fear factor there or are you more aware of his presence throughout a tournament?
Truthfully, I've never felt a fear factor with him. The media has talked about that. It's one of those things -- like the US Open -- nobody feared who was in the field. Everybody fears that golf course. I think people fear a bad shot. When I'm trying to chase down the stretch on a Sunday afternoon, I'm trying to make a 10-footer. I'm not thinking about who's on the leaderboard. I'm think about, I'm one back, I'm two back. Obviously, when he doesn't play at his highest level, you're like: 'Well, he didn't feel right and he's not going to tell anybody.' We don't fear him. We fear the golf course.
Email me at jordan.schultz@huffingtonpost.com or ask me questions about anything sports-related at @Schultz_Report. Also, be sure and catch my NBC Sports Radio show, Kup and Schultz, which airs Sunday mornings from 9-12 ET, right here.
Calling all HuffPost superfans!
Sign up for membership to become a founding member and help shape HuffPost's next chapter