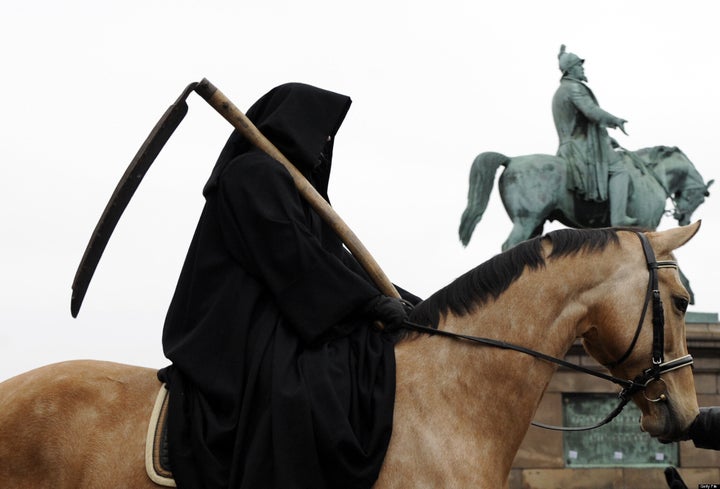 The tiny French hamlet of Bugarach is known for its serenity and quaint charm. But in recent months, the village -- which boasts a population of a mere 189 people -- has been besieged by tourist hordes comprised of New Age followers who are convinced a nearby mountain will help them escape the end of the world in 2012, the BBC is reporting.
Mayor Jean-Pierre Delord says these visitors believe the world will end on Dec. 21, 2012, or the end of a 5,125-year-long cycle in the ancient Maya calendar. In addition, the myth of a 2012 doomsday is reportedly supported by claims that Nibiru, a supposed planet discovered by the Sumerians, is headed toward Earth, according to the U.S. space agency NASA. That theory, in turn, became linked to dates in the Mayan calendar.
The Telegraph reports that many of the tourists see Bugarach -- which reportedly inspired both Steven Spielberg's hit film "Close Encounters of the Third Kind" and Jules Verne's classic novel "A Journey to the Center of the Earth" -- as one of perhaps several "sacred mountains," or an "alien garage" somehow sheltered from the cataclysm.
"I'm worried because the population of our village is only 200 people and... we risk having a flood from all the corners of the earth," Delord told RTL radio. "There are already some websites in the U.S. with some people selling tickets for trips to Bugarach. They are doing some business, and people are already organizing visits and prayer and meditation workshops," he added.
Residents seem to feel similarly. "There is a special feeling here, but if I really believed the world were about to end, I'd have a whale of a time over the next two years rather than look for salvation." Valerie Austin, a British woman who's lived in Bugarach for 22 years, told the Daily Mail. "It's a beautiful area, but now you find people chanting lying around meditating."