Hurricane, Utah, is usually a peaceful place, but the giant genitalia of a bull statue atop a local restaurant has pricked the calm environment of this normally serene city.
Since then, the copper statue has aroused controversy, in part due to its location across the street from a local high school.
At least 600 of Hurricane's 14,576 residents have signed a petition demanding that the Hurricane City Council "refuse the business license renewal."
As a member of the Hurricane City council has already said, Barista's has given Hurricane, UT a "black eye". It's owner is a terrible representation of what our community stands for. He takes advantage of every person that walks into his restaurant. They intentionally take excessive advantage of those that are visiting our community from other parts of the world. They have a horrible reputation that shines a bad light on the rest of Hurricane, UT. We as a community will not stand aside and allow this false representation be made!
Locals have raised such a cow over the bull statue that one man allegedly came to Barista's and assaulted an employee, according to Fox13Now.com.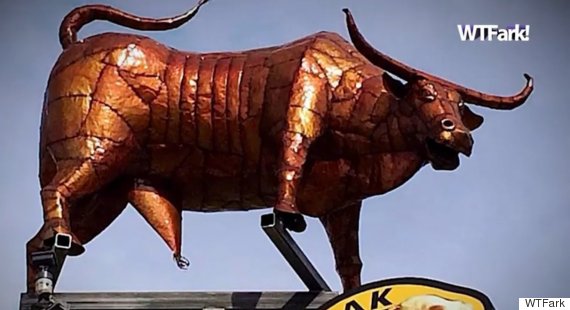 Barista's owner Stephen Ward said he refuses to back down, and is planning to sue the city for, among other things, refusing to upgrade his limited license.
City Manager Clark Fawcett said that the uproar over the copper bull, has officials evaluating whether it should be modified or removed.
Ward disagrees vehemently.
"The reason they don't like the bull is because they know it's beautiful and amazing and it's going to get me even more business, which it already has," Ward told the paper. "It has nothing to do with the genitalia. If you drive around the LaVerkin area, there's (a business with) a horse's weenie hanging out that's 15 inches long. I've never heard anyone say anything about that. It's not the bull; it's me."
Calling all HuffPost superfans!
Sign up for membership to become a founding member and help shape HuffPost's next chapter
BEFORE YOU GO
PHOTO GALLERY
Oops! Accidental Porn