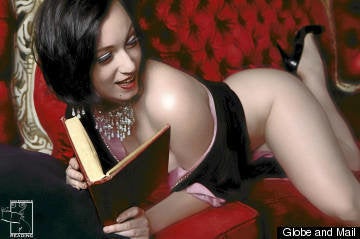 Burlesque is back! Every few years I read about the resurgence of burlesque. However, burlesque performance never truly disappeared. Perhaps at times burlesque remained quietly behind the curtains or under the satin sheets, yet has existed in the United States and thrived in New York City over the decades. There is something about hip-shaking and swinging fringe that keeps this art form alive. It seems that burly-q (as it is fondly referred to by performers) never died, but instead changed over generations and is constantly "rediscovered." Over the past ten years the media repeatedly told us that burlesque was back, publishing various stories regarding its revival.
In 2001, Utne published an article that excitedly told us that burlesque "Is back in town." (Yet they never told us -- back from where?)
MTV News credited Hollywood, and the likes of Christina Aguilera, Gwen Stefani and Dita Von Teese, for bringing back burlesque in 2002. The mainstream, but also PG-13 appeal of The Pussycat Dolls brought attention to the strip tease. However, compared to the current music videos, the Pussycat Dolls look like the Powerpuff Girls.
An article in the Guardian published in 2004 asked, "Who Said Burlesque was Dead?" I am curious as to why burlesque is constantly murdered.
In July, SF Appeal announced that burlesque was back again with the release of the documentary, Behind the Burly Q (released in May 2010.)
CBS even threw in a few conservative words regarding the burly Q scene.
Has the bump-and-grind ever completely disappeared?
More important than solving the survival versus revival of burlesque: what are we really discussing? Burlesque as a mainstream art form seems to be a major source of controversy and tender spot for some performers, as well as those non-lovin' spectators. As a fan, I have heard many off-color comments slaying burlesque performers. I've also read comments stating that performers are "glorified" strippers. Are burlesque performers strictly strippers? What if anything, distinguishes burlesque from peep show workers or nightclub strippers? Is it important to make a distinction between these groups?
Performers glam themselves up, and piece together their own costumes so they can express themselves on stage. The acts are full of imagination, which is why I am drawn to these shows. One difference I have noticed is that burlesque is performed for audiences while strippers usually perform for only a few clients at a time.
Michelle Baldwin, author of The New Burlesque attempts to define it: "The base, the kernel of burlesque, is that it's all female driven, sexy satire. That's about the only thing that holds together every generation of burlesque."
Part of what keeps the burlesque community vibrant is that it is loosely defined and open to personal and regional interpretation.
Instantly mesmerized by glittery, sparkly costumes, my attention shifts quickly to the performers. Endless styles of performance grace the stages of burlesque. It seems that performance is only limited by creativity. Or lack thereof.
New York City burlesque attracted my attention because women and men of every possible physique are celebrated. Perhaps this ruffles a few ostrich feathers for the general public? Burlesque challenges the status quo of women, and societal ideals of sexuality, gender and physique. The performers appear confidant and content in their bodies, something I have always battled.
Both Christina Aguilera and Cher star in the ingeniously titled film, Burlesque. To be released November 24, the film will probably garner some attention. Perhaps the "Hollywood-ization" of burlesque dancers could start a new craze. Although I only watched the trailer, I think the film might ignite some negative emotions relating to the burlesque scene. From the trailer the film seems to be more of a "girl-seeking-fame" type of story where Aguilera gets to showoff of her powerful vocal chords. Or then again, this glamorous film could just flop.
Why is burlesque gaining popularity again? Or is has it just garnered more mainstream attention? There are burlesque classes, many books, documentaries and even festivals. There is even a do-it-yourself handbook, performer Jo "Boobs" Weldon's The Burlesque Handbook. How will this affect performers, acts and shows? Will everyone or just anybody strut their stuff onstage?
Are there too many venues? In New York City, every night of the week one can find a glitter and tassel-twirling event. Has burlesque become over enthusiastic, with too many shows and too many performers? Dan Savage, writer for The Stranger, complains that is exactly the problem, when he says, the barrier to entry is too low, "A girl just has to be willing to take off a dress."

All right, I suppose anyone could strip... But not everyone is willing to do it in front of an audience. Most likely a burlesque performer is not in the business for the money, as it is quite difficult to make a living solely from stage performance. Is burlesque more than just taking off a dress? Actually, I have seen a ton of brilliantly themed shows: Ghostbusters, Beatles Burlesque, Weimer Burlesque... and there is plenty more happening then just taking off a dress. And what about the attendees, who love seeing the bump n grind? Obviously, I love a good shimmy show. Burlesque is empowering. My respect for performers is endless, to create a piece that means something to them and then show it off for an audience. On a Saturday evening a few weeks ago, I took in 25 amazing performers at one of the New York Burlesque Festival shows. Each performer brought something unique to the stage. Among the acts were classic strip teases, performing duos, politically charged performance pieces and sizzling hot seductive numbers. The show blew me away. The bump-and-grind is alive and thriving and surely that is something to shake a tassel at.

REAL LIFE. REAL NEWS. REAL VOICES.
Help us tell more of the stories that matter from voices that too often remain unheard.