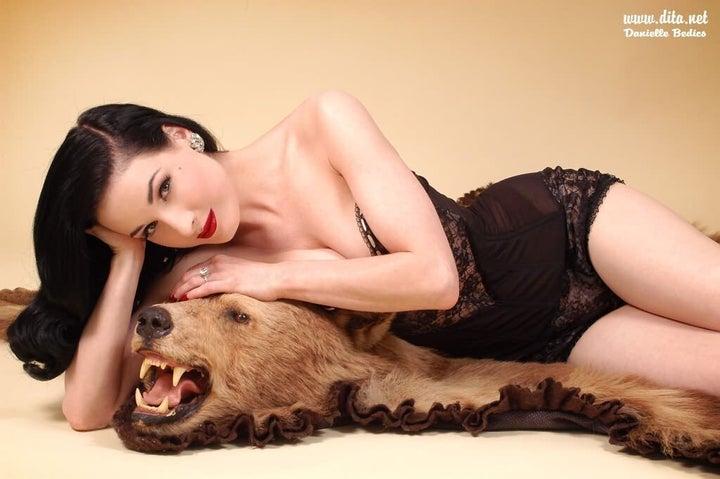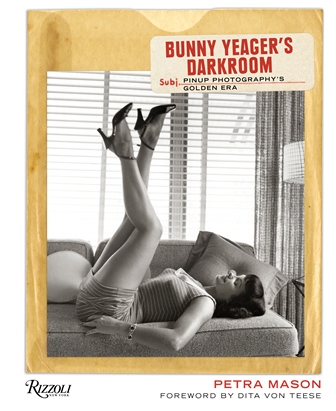 Bunny Yeager's Darkroom
Few comebacks are as richly deserved as that of Bunny Yeager, the 82-year-old photography legend and former model whose wholesome-yet-erotic shots have come to define pin-up culture. On Wednesday, Oct. 24 and Thursday, Oct. 25, Yeager will appear at Books & Books in Coral Gables and Bal Harbour, respectively, for a signing of Bunny Yeager's Darkroom (Rizzoli), a new collection of more than 250 photographs curated by author and cultural historian Petra Mason that includes iconic shots of Bettie Page, whom Yeager is credited with discovering, and many previously unpublished images including Yeager self-portraits.
Yeager resides and works in Miami, and her Magic City roots extend far back to the 1950s, long before South Beach boomed, crashed and was reborn as we know it today. Interestingly, her love affair with photography began on the other side of the lens, as a model, before she discovered a penchant for photography that would see her works published in dozens of the leading men's magazines and secure her position as the sole female pin-up photographer of the era. Far from slowing down, Yeager recently signed a contract with German lingerie and bikini line, Bruno Banani, and is featured in Bettie Page Reveals All, a Bettie Page-narrated documentary featuring Dita Von Teese and Hugh Hefner that will make its South Florida debut on Thursday, Nov. 1, at Miami Beach Cinematheque.
To reserve your tickets for Bunny Yeager's personal appearance and book-signing of Bunny Yeager's Darkroom on Wednesday, Oct. 24, at 7 p.m. at Books & Books in Coral Gables, or Thursday, Oct. 25, at 6:30 p.m. at Books & Books in Bal Harbour Shops, visit here.
Tara Solomon: Your family moved to Florida when you were 17. What are your fondest memories of late-40s and early-50s Miami?
Bunny Yeager: It was like I was in a movie. I'd been a fan of movies all my life growing up in Pennsylvania. I loved glamorous actresses like Dorothy Lamour, or anyone in a sarong or hula skirt. I was in love with the tropics, and found it here in Miami.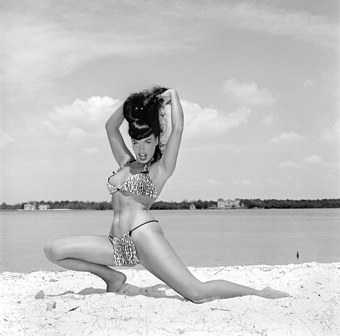 Bettie Page on beach at Key Biscayne (Vizcaya in background), 1954.
TS: You're credited for discovering Bettie Page, "The temptress of Tennessee" and one of the most famous pinups of her era. What characteristics, physical and otherwise, made you realize she was a star in the making? How would you describe your working relationship?
BY: Our relationship was excellent -- I was a director and she was a performer. She did everything I asked her to do. I liked that. I didn't like models who pushed their poses on me, because they thought they were doing something fantastic, and waited for me to snap the shutter. I like to pose my models, and she let me pose her the way I wanted to pose her. We had a good time. It was a like a workout on the beach for two pretty girls.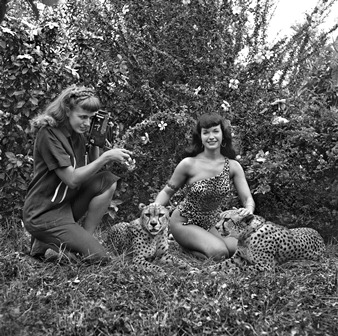 Bunny Yeager and Bettie Page with cheetahs in Boca Raton, 1954.
TS: One of your most well-known photo shoots - featuring Bettie Page in a cheetah-print bathing suit that you made yourself by hand, surrounded by live cheetahs -- was staged at the old Africa U.S.A. theme park in Boca Raton. This series of shots included a topless Bettie frolicking with the cheetahs. Were the two of you ever worried about working with live animals?
BY: Not at all. I checked with Bettie when we were going to shoot -- I asked if she liked animals, and said, 'I'm going to take you to a wild animal tourist attraction, and they have live cheetahs, zebras, giraffes and all sorts of things running around free, without cages. We have to get with the animals to photograph them with you.' She was very excited that we were going there. I have always liked animals, especially wild animals. They have a mind of their own, and you have to be very clever to catch them for the shot. I was very lucky with the cheetahs. The trainer said, `If they don't like the way you are -- the way you smell or act -- they'll walk away and have nothing to do with you. They have to like you.' We didn't have a bit of trouble with the cheetahs. TS: Do you have a favorite Bettie Page photograph that you've taken?
BY: Oh, my. I have things I've shot of Bettie Page that are funny. She's so beautiful, and I made her into different characters because I wanted to show how women are viewed by men, who of course have different ideas of women. They don't see the real girl -- they see her as something else. I had Bettie as a housewife where her hair's not combed or anything because she's so careless -- things a glamour girl doesn't normally do. It was one of my favorites, because she had fun putting outfits an ordinary housewife might wear, and would let her hair be messy. She did everything I wanted to do - without changing my thoughts or ideas -- and I liked that.
I had the feeling Bettie really enjoyed working with me more than other photographers, because I was always coming up with strange new ideas. For me to make a living, I had to sell to men's magazines. At the time, there were many men's magazines -- 75 or 100 nice men's magazines -- that I could offer my pictures to. For me to get my pictures in, and not some other photographers', I'd have to do something outstanding and very different. I couldn't submit pinup girls in studios. The magazines weren't used to receiving pictures of girls on location -- on Miami Beach, and the tropics, and the jungle things I shot at Africa USA. They snapped up those pictures like they couldn't get enough of them.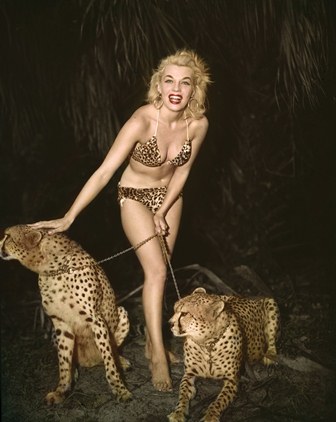 Glamazon on the beach, 1954. TS: Although Bettie Page was your most famous subject, you had a stable of beauties that you photographed over the years. How did you cast them? Are you in touch with any of them today?
BY: Well, I'd really love to be in touch with them, but I don't know how to reach them. Every now and then, a girl will call me on the phone and say, `I bet you don't remember me.' I always remember them. I never forget my models. I'm so happy to speak to them, and see them when they come and visit me. They show their figures off even though they've gotten older, and they like to be photographed. I get the feeling they'd like me to take their picture. I don't have time, I'm pretty busy with all the new things I'm doing, but I do plan to shoot some of these older women. And it's funny, because they've tried so hard to keep themselves looking like they did when they were teenagers. I'm not sure if I'd have enough for a whole spread of old ladies, but it's kind of interesting. They remember the excitement of posing and want to relive it.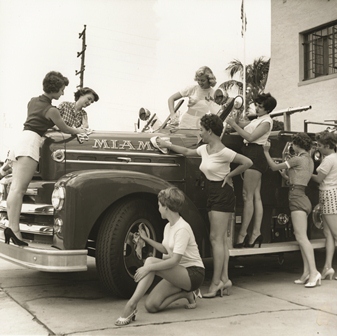 Girls at Miami Fire Department, 1955. TS: Your diverse locations ranged from exotic ruins in Mexico to a humble bathtub to a fire station. You also shot at landmarks of the day such as Funland amusement park. How important was the location in creating your visual story?
BY: The location was secondary -- the model came first. It had to be a background where I could show the model off to her advantage. My competition was men shooting in photo studios in New York City, and that's where other photographers were competing with me for space in men's magazines. At that time, I was in every men's magazine, and they looked forward to me discovering a fresh, new face and body.
My typical girl next door was Carol Jean Lauritzen. I happened to be downtown in Miami and was looking through a shoe store [window], and I came across this beautiful girl. She was very young and I could see she'd been shopping there with her mother. I asked her mother if Carol Jean was a model, and if she'd maybe do some modeling for me in a bathing suit at the beach one day. I told her, `You have to sign a model release form. I'm not interested in taking pictures for personal reasons, I sell them to magazines and I will pay her a fee for posing.'
Carol Jean was only 16 when I got her. But I got her in a magazine, and Howard Hughes at that time contacted me, and wanted to know if I could find out if she could come to California and be interviewed. He was going to send a member of his staff to Miami to take some other shots of her and interview her. He was trying to discover a new movie star he would make famous -- I don't know whether he was sending them to school out there or what, but that's what happened to Carol Jean. He put her through dancing school and singing school and dramatics -- everything she'd need to know to be groomed to be a star. They stayed several months, but Carol Jean's mom couldn't stay because she had a little boy, and her husband was getting upset she was gone so long. Carol Jean had to give up her career and come to Miami, but all opportunities were given to her. If someone had been hired to stay with Carol Jean who she trusted, it might have turned out differently. But I was so proud I'd caught the eye of Howard Hughes -- practically a recluse at that time -- and that he wanted to meet her.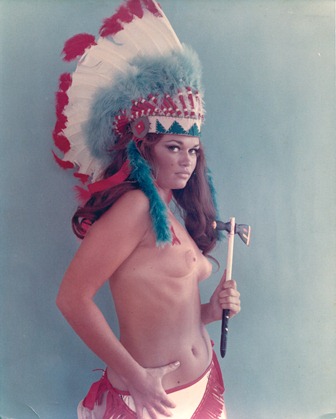 Campy studio pinup shot, 1960s.
TS: How would you describe the transformation of the pinup, from the more innocent days of the 30s and 40s to the centerfold of today?
BY: There's quite a difference from the really old ones, to the 50s when I was shooting, to today. They've really gone overboard. I don't like some of the pictures I see in the men's magazines. All of my photos are what you call "clean, wholesome cheesecake," and could be shown to anyone. That's how I tried to shoot.
I was going to photography school at the time and was learning how to use transparency film using a large format camera to shoot it with. The instructor was so thrilled with what I'd brought in, he said, `You know, this is good. I think you should send this in to a magazine and try to get it published.' I did and sold it right away. That's how it all began.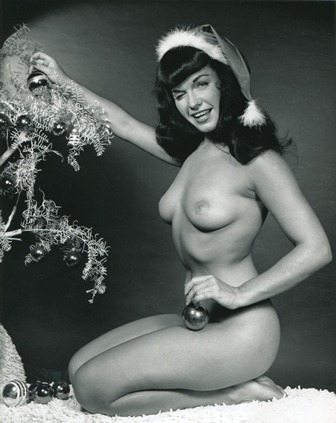 Bettie Page in Santa hat, the first Bunny Yeager shot to run in Playboy magazine, 1954.
I decided I didn't know where to send the pictures I was shooting. I was walking by the magazine stand and saw a new men's magazine [Playboy]. I called them on the phone and asked if I could submit my photographs. As soon as they got them, Hugh called me up and was all excited, and wanted to buy one of the photos for Playboy. The picture was of Bettie decorating a Christmas tree, in just a Santa hat I had made for her. Hugh and I have remained close friends. We stay in touch, he sends me his Christmas cards with his various girlfriends or wives or whatever. I follow his whole career, and he never forgets me.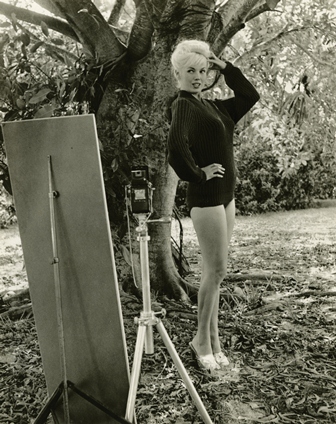 A Marilyn-esque Bunny Yeager self-portrait, 1954.
TS: Whom do you consider the quintessential pinup, and why?
BY: I'm sorry, but it's Marilyn Monroe. I always admired Marilyn Monroe. I identified with her a little bit, though I was never as big as she was.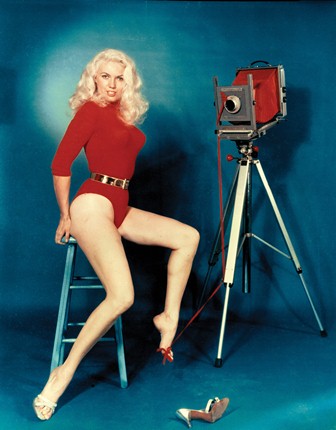 Self-portrait, 1960s.
TS: How did starting out in front of the lens impact your experience as a photographer?
BY: I always liked to pose for pictures, and I became a professional model, so I knew pretty much what a model should be able to do when I was getting to be a photographer. It was a natural thing to photograph model friends I had, rather than a man, or a family, or people. I didn't' take any serious pictures. I liked glamorous things. Even though I went to photography school [The Lindsey Hopkins Vocational Education School, in Miami], everyone was shooting dogs and cats and family. I started bringing my models into class to be guided by the instructor. I learned all I could there. Color was very new then, so I did that one time. I did a lot of shooting, developing in black and white, then blowing my photos up and showing them off to the other members of the class. We'd critique each other's work, and the teacher would then critique. I was getting some good grades and advice from the instructor, and the instructions were: 'You need to sell your work, it's good.'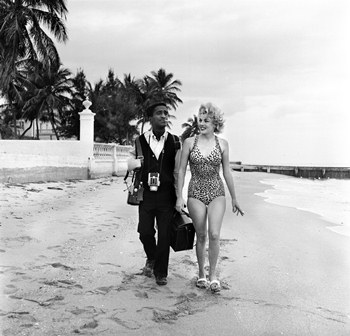 Sammy Davis, Jr. and Maria Singer, Miami Beach, 1955.
TS: What attributes or life lessons helped you succeed as a photographer in a field that was dominated by men?
BY: I always hated it when people said, "You can do this as good as a man," or "Why don't you do it like the men do it." They kept bothering me. I wasn't interested in competing with male photographers, or doing anything that had to do with them, because I wanted to be original and have my own feelings and abilities to put forth my ideas and execute them into photo stories. I wanted to do what I wanted to do, not what men had done. That's when I really went on a straight road of following my ideas and what I wanted to shoot.
TS: Did you ever feel that you had any competition as a female photographer?
BY: No. I was the lone trailblazer.
TS: What advice would you give to current or aspiring photographers?
BY: You have to learn how to be a photographer. Look for a photography school; it doesn't have to be expensive. The [vocational] school I went to was one that taught people how to work in restaurants and other things. That school was very inexpensive, and could be in business now for all I know. Find a photography school where you can learn without paying high fees -- there are too many fraud-type schools that want thousands of dollars. At my school, you didn't have to graduate, you could keep learning new things about photography. That's how I learned to shoot pictures, and how to develop them, print them. The class I was in had two other women aside from me, and the rest were men. I liked that, because I just felt comfortable. But the one girl was just taking it as a hobby, and the other was the wife of the instructor, trying to learn what her husband was teaching.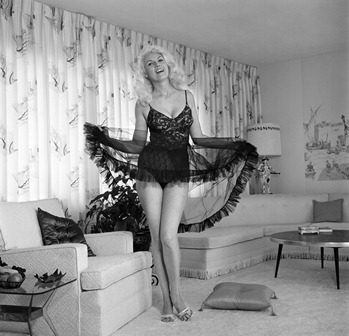 Self-portrait, 1950s.
TS: Do you think the art of the pin-up is a dying art?
BY: Yes, yes, yes -- it's dying. It'll come back. I'll bring it back. I'll bring it back with my book.
Related
Popular in the Community