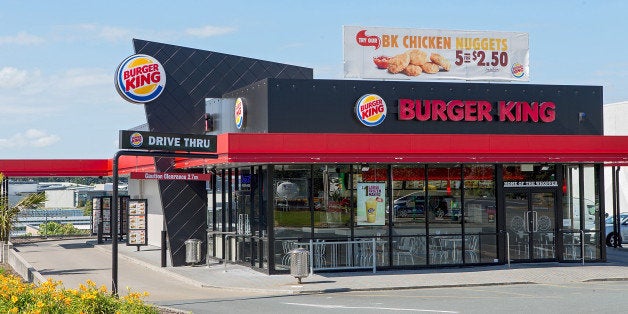 Tens of thousands of workers and activists staged protests at fast food outlets across the country on April 15, Tax Day, to demand increases in the minimum wage -- or at least changes at the corporate level.
It's probably a safe bet that David Edgerton wasn't out there carrying a sign.
In an interview with Time magazine published that day, the 87-year-old Burger King co-founder said that higher wages for fast food workers could come at a price. Specifically, higher prices for burgers and fries, and even the end of "dollar menus" as we know them.
"You're not going to get these dollar hamburgers anymore that both Burger King and McDonald's had. I see a lot of $10 hamburgers arriving on the scene," Edgerton told Time.
But is he right? Edgerton isn't exactly a disinterested voice here. He's a founding member of the fast food establishment (albeit one who sold his company back in 1967) that's committed to maximizing profits, whether or not that entails providing a living wage for employees. It comes as little surprise that he's trying to quash popular support for fast food employees' raises -- or, at the very least, raising skepticism about the arguments in favor of such raises.
In fact, economic studies have consistently concluded that higher wages for fast food employees wouldn't translate into the kinds of higher menu prices that Edgerton is describing. One study, by economists Michael Reich, Arindrajit Dube and T. William Lester, predicted that a 10 percent increase in the minimum wage would increase corporate costs by only 1 percent.
And it's not a given that fast food companies would pass all -- or even any -- of this cost increase onto consumers. The fast food industry is deeply competitive. If Burger King started charging $10 for Whoppers, many of its customers would jump ship and take their business to places like McDonald's and Wendy's. These are vast corporations with profit margins ample enough to absorb wage hikes. Indeed, companies like McDonald's have already started to give employees raises without announcing any concurrent end to their value menus.
Calling all HuffPost superfans!
Sign up for membership to become a founding member and help shape HuffPost's next chapter
BEFORE YOU GO