Canadians tend to believe that their government tightly legislates the buying and selling of firearms. Everyone needs a Possession and Acquisition Licence (PAL) to purchase a gun — whether it's classified as restricted or non-restricted — and a would-be gun buyer needs that licence at the point of sale, both in-person and online.
That's all true, in theory. The system works fairly well when you are dealing with guns bought and sold at licensed businesses. It breaks down, however, when it comes to private deals.
When a private owner buys, sells or trades a non-restricted firearm to another private citizen, there is no legal requirement for a seller to verify a buyer's gun licence. Things get especially murky when it comes to online sales: guns can be transferred between buyers and sellers on opposite sides of the country, and a seller simply has the option to verify a buyer's licence if he or she suspects wrongdoing.
While authorities have not specified the type of gun used by Matthew Vincent Raymond to allegedly kill two civilians and two officers in Fredericton on Aug. 10, they have confirmed that it was classified as non-restricted.
Buying non-restricted guns online
Private sellers take great pains to verify every buyer for fear of legal repercussions, according to one lifelong gun enthusiast.
"The gun community in Canada is extremely self-policing," Andre Perreault of Lethbridge, Alta. told HuffPost Canada by phone. "We're extra careful about following the rules because when a PAL holder commits a crime, politicians use that to implement even tighter restrictions on law-abiding gun owners. So, by and large, we're a self-regulating community."
Perreault is the founder and owner of GunPost.ca, an online forum for private citizens to buy, sell and trade firearms. He started the website four years ago as a way to conveniently sell guns from the comfort of his home.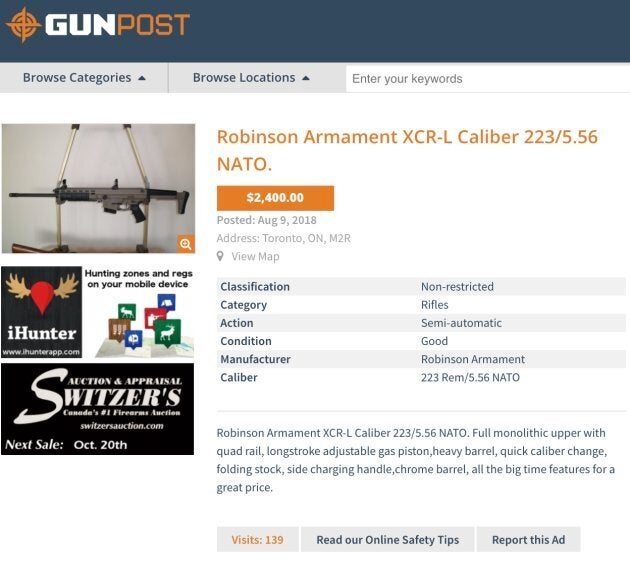 While popular online marketplaces like Facebook, Craigslist and Kijiji have banned the advertisement and sale of firearms, privately owned websites can still facilitate transactions between individuals.
Restricted firearms, like non-prohibited handguns and some semi-automatic rifles, are registered to each individual owner. Ownership transfers can take days, sometimes weeks, to approve. But the majority of firearms available to buy on GunPost.ca are non-restricted, according to Perreault.
Here's what the RCMP website says about those types of guns: "Transfers of non-restricted firearms can be conducted without contacting the CFP [Canadian Firearms Program], as registration is no longer required for this class of firearm. The transferor may verify that the transferee has a valid PAL by calling the CFP toll-free number (1-800-731-4000) before making a sale."
"May" is the operative word: a seller may call the RCMP to verify that a PAL card is authentic, not flagged for any suspicious activity or reported as stolen. That means that while you must have a licence, you are not required to show it.
Too much 'wiggle room': gun control advocates
Some advocates for tighter gun legislation argue that the arrangement allows sellers too much "wiggle room."
"I think that the optional verification is a legal loophole in Canada's gun control system," Jooyoung Lee, a professor of sociology of the University of Toronto who writes about guns and trauma, told HuffPost Canada.
"This program puts the onus of responsibility on gun sellers — who, by and large, care deeply about gun safety and ensuring that the potential buyer of a firearm is and will be a lawful possessor of a PAL. But the fact that this is not compulsory leaves ... space for a seller to not follow through on the buyer's qualifications."
I think that the optional verification is a legal loophole in Canada's gun control system.Jooyoung Lee, sociology professor
Perreault's safety tips help GunPost.ca members protect themselves when buying and selling guns online. Advice includes reading a user's reviews, assessing a user's knowledge of Canadian firearm policies (improperly classifying various guns "should raise warning signs") and sending a friend to inspect the gun if you don't live in the seller's area.
"If they refuse that offer, they are 99% likely to be a scammer," the site reads.
He also advises that buyers only send key information — "name as appears on the card, PAL number and expiry date" — to sellers for verification instead of screenshots of the card, which can leave buyers vulnerable to fraud.
System not designed to flag suspicious activity
Perreault's tips primarily ensure that fraudulent sellers don't scam buyers out of their money. "The likelihood of PALS being stolen for the purpose of buying firearms is not a thing," he said.
In those cases, the buyers' e-transfers were successfully halted before reaching the fraudulent sellers, but the scammers had already obtained PAL numbers. At that point, the police encouraged buyers who suspected their licence number had been compromised to report it.
But PALs don't work like credit cards: the system isn't designed to flag suspicious activity. There are no caps on the number of firearms you can buy and no mandatory tracking of where or when a non-restricted gun was purchased. A holder must first notice their licence number has been compromised and then take it upon himself to report it.
"The government doesn't restrict how you share your PAL," Perreault said. "The way to know yours had been compromised would be that you sent a PAL to a seller and you never got a gun."
Story continues after video:
While Perreault maintains that suspicious activity on GunPost.ca is exceedingly rare, it does happen, and it's up to law-abiding gun owners to report it.
Earlier this year, Perreault received reports from several clients that a user was attempting to make a gun trade without presenting a PAL number.
Perreault blocked the user, but soon a new account cropped up with a different email. GunPost.ca members continued to report the user so Perreault blocked that account, too.
The user attempted to verify his identity to a seller with his driver's licence. When Perreault got a hold of it, he reported the user's identity to authorities.
"I have a disclaimer in my Terms of Use that plainly says we'll report any illegal activity," Perreault said. "I put it in there precisely for situations like this."
Perreault said that local police issued a warning. While Perreault suspected the user was already in possession of firearms — he was attempting to facilitate a trade when he was reported — police never tried to seize any guns.
A few days ago, that user returned. He opened a fourth account with the same first and last name.
Once again, Perreault reported the account to the police. He is now waiting on next steps.
The 'domestically-sourced' question
That stance, first taken by Toronto Police Services detective Rob Di Danieli and then echoed by several public figures, has since been challenged. According to data currently available to the public, it appears that there is no credible surge of domestically sourced "crime guns", such as guns stolen from people who bought them legally or sold by those owners to criminals.
For some gun rights advocates, the findings are a kind of vindication.
"[Politicians] torque these numbers deliberately to make the public believe they are in danger," Tony Bernardo, president of the Canadian Shooting Sports Association (CSSA), said in an interview with HuffPost Canada. "Our side is getting tired of the belittling of our characters."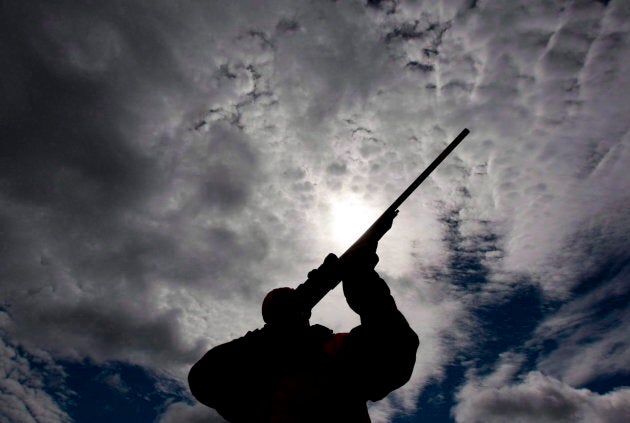 While it's a criminal offence to sell a firearm to anyone who is not licensed by the RCMP's firearms program — intentionally or unwittingly — Ed Burlew, a lawyer who represents the CSSA, says these cases occur so infrequently that he considers them "statistically insignificant."
"A licensed gun owner deliberately selling his or her legally acquired guns to a person without a RPAL or PAL has little documentation because it is so rare," Burlew said in an email. He said he had personally been involved in "two cases over the last 20 years."
But gun control advocates are skeptical of such claims. They believe that Canadians are blind to the origins of weapons recovered at the scene of violent crimes largely because details about gun owners and gun sales are thin.
"We don't have reliable long-term information about much of anything when it comes to firearms, much less complex things like online sales and how they contribute to both fatal and non-fatal shootings," Lee said. "The scope is unbelievably ambiguous."
Better laws vs. better education
While Perreault does not support any further legislation around guns in Canada, he believes that authorities could be doing more to keep gun enthusiasts informed.
"The RCMP should be educating people who want to use modern platforms to exercise their rights with ease but need to protect themselves at the same time," he said. "They should be sending emails or newsletters that tell people not to screenshot their PALs."
Gun owners are checked and re-checked endless times. Pedophiles don't have that much scrutiny.Tony Bernardo, Canadian Shooting Sports Association
Lee maintains that verification shouldn't be the responsibility of any one individual, but established through legislation that tightens the rules around online sales.
"Self-regulating is a very dishonest way of talking about human nature," he said. "You may very well be a responsible individual who does your due diligence to make sure you're not transferring or selling to the wrong person, and you may flag the authorities when you suspect something. But if the system isn't working right, individual behaviours are nullified."
We can't just assume that every single gun seller will follow every single best practice, says Lee.
"A critique of the system is not a critique of the individual."
Gun rights advocates, unsurprisingly, disagree.
"Gun owners are checked and re-checked endless times," Bernardo said, describing "rising anger" in the gun community around broadening legislation in the wake of the fatal shooting in Toronto's Danforth neighbourhood. "Pedophiles don't have that much scrutiny."
CORRECTION: An earlier version of this story indicated that handguns and automatic weapons are classified as restricted firearms. It has been updated to read that restricted firearms include non-prohibited handguns and some semi-automatic rifles.
Related
Popular in the Community