It's not every day, or actually any day that I venture out to interview a successful entrepreneur and they are under 30 years old, and certainly not under 20 but 14?! Caleb Maddix is 14 years old. And way back when he was 12 he authored the best selling Keys to Success for Kids and became a huge entrepreneurial success.
Caleb is now a sought after Motivational Speaker who has shared the stage with the likes of Gary Vaynerchuk and Grant Cardone and more importantly to him, he's spoken to thousands of school children around the country. He is the founder of Kids 4 Success and operates as a life coach one-on-one and as a daily motivator to literally millions (2MM plus You Tube views).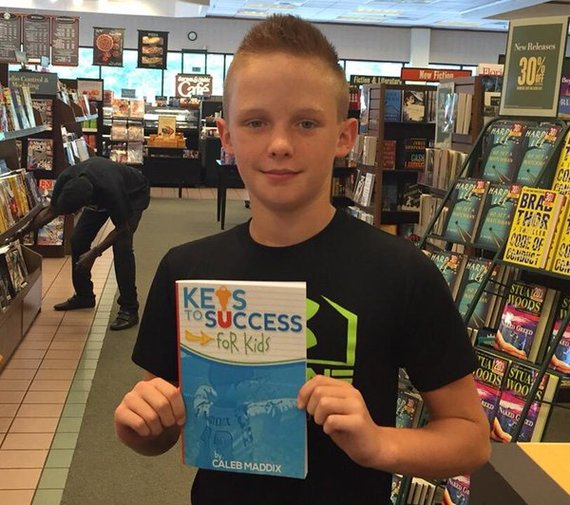 This "kid" is a hustler in the true meaning for the entrepreneurial world. The day we spoke he was wrapping up a 2-day whirlwind tour from Florida to LA to Philadelphia which included speaking at 4 schools, 3 back-to-back interviews, so far that day and a couple business meetings from which he broke off to speak with Entrepreneur Magazine, Forbes, and with me for Huffington Post and Success Fast Lane and then has the discipline to answer all of his incoming email and social media traffic before getting some shut-eye. The next day was to be FOX TV, speaking and a book signing, relatively light!
I asked if he drinks Red Bull or coffee to keep up? To which he laughed: "No, my dad owns a health company so I drink natural juices with vegetables and fruit. I do also find time to rest, relax and rejuvenate by taking a couple days off, reading books and setting new goals."
Anything still make you feel like a child? "I am a kid, I know that. I get punished, I learn lessons. I like to play baseball, rollerblade and all that. I'm not trying to grow up too fast; actually as slowly as possible. I want to enjoy everything I do."
Do you play video games? "No, I don't. Maybe every once in a while with a friend, but probably in the last year less than 8 hours total. I get an edge on doing other things, like reading - or even hanging with friends, or out with a girl. It's what I'm doing with that time that's moving me forward."
What's your biggest fear? "One of the only things is illness for me or my family. Nothing else matters. Anything else outside of that, I know that it's going to pass. I don't worry about failure as it goes away quickly. I feel blessed to have my health, my Dad's and want that for family and friends."
What makes you feel like a boss? "My fans and my critics. People write things about me and I feel reminded of where I'm going and that's about my business as a boss. But, for every critic out there there are so many more that say I inspire them and that helps me get past that."
Would you share a comment or story that touched you? "My favorite message I've ever gotten was from a Mom whose son had been suspended 3 times in a month, almost got arrested, had the worst grades in his class and was constantly depressed. She signed him up for my Kids 4 Success program and within a month he stopped getting in trouble, got to 3rd in his class grades, and started his own company. He was on fire, inspired and focused on his future - I got to talk to him on the phone too. That's the biggest thing for me, getting that message out."

"You'll hear me this say a lot I don't care how many people show up at my funeral; I care about how many people cry. It's not how many people know me but how many I've impacted on a deep level."
Is this a life's work or just something you're doing for now? "I am in this for the long-term. I enjoy every milestone and every shout-out along the way. I strategically plan for the future to keep helping others. I want to be a millionaire by 16 and a billionaire by 30 as money goals. I want to speak to a 100,000 people under one roof, do a Ted Talk, and other goals like that, but my biggest want is to be in the position to just give a single-mother a large check to help her and give that family a new chance to survive and succeed."
So what's the most important, proactive thing you're doing for parents who are impressed with what you're doing and kids who want to achieve success? "My number one focus right now is my company Kids 4 Success. When kids sign-up, I become their mentor for an entire year. Honestly that's how I can keep impacting lives."
Caleb Maddix is on a mission to motivate and educate kids around the world and he's got a head-start; we'd all be smart to join him. He lives in St. Petersburg, Florida with his father, Matt Maddix, the "older" entrepreneur who he considers the biggest supportive influence on his life. He can be found on SnapChat @calebmaddix13.
Popular in the Community