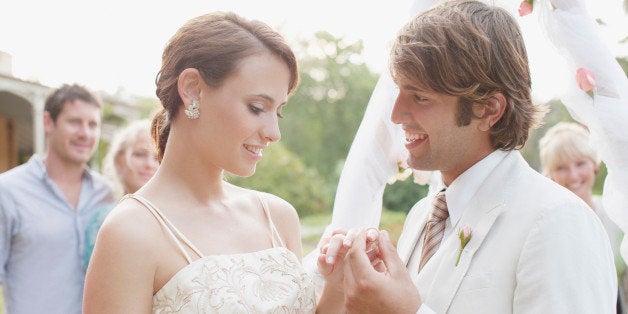 I was recently contacted by a bride who was getting married in a castle-turned-wedding-venue in New York State. She explained that although she and her groom were raised Catholic, neither followed the faith they were born into. She, in fact, was a practicing Wiccan and he was a staunch Atheist.
It was important to the bride to have a spiritual blessing upon their union. It was important to the groom to not have it be too over the top. And, as you can imagine, it was important to both sets of religious Roman Catholic parents not to have a ceremony that would make any of their 250 guests run screaming from the room from witnessing an unfamiliar pagan ritual or a flat out exclusion of God.
Some people might say, "Why are these people are getting married in the first place?" But I see this situation over and over in my interfaith wedding ministry: A wonderful couple falls in love. They come from different backgrounds or cultures, or they may just have different beliefs. Whether they are Wiccan and Atheist, Buddhist and Jewish, Christian and Hindu, or not interested in religion at all, they have to find a way to merge their lives in a meaningful ceremony that is also respectful to their families.
Luckily, there are many beautiful and loving ways for couples to celebrate the spirit of the occasion, honor their relationship and their loved ones, and make their guests feel included.

The best approach it to create a ceremony that highlights the parts of the experience shared by greatest common denominator. For example, participants of any faith or belief system can relate to the love between the wedding couples, the joy shared by two families that are blended on that day, and the spirit of love that is sizzling in the air to be breathed in by all present.

The core of the ceremony can be a celebration of a couple's relationship and of love. From there they can be creative and seek ways to include elements of spirituality that are pleasing to all and offensive to none.
Obviously, there are some family members who could be uncomfortable with the omission of certain elements familiar to their faith, or may feel uncomfortable that a couple is avoiding the inclusion religious elements, but this is where family members and wedding guests must respect the wishes of the couple.
Look for rituals, readings, sentiments that are meaningful to you both. Trust that even a non-religious ceremony can be sacred, and formulated with elements that flow very naturally. Here are some of the ideas I shared with the couple mentioned above that can be adapted for other unique couples:
• Blessings. Begin and end with blessings that evoke a sense of spirit, but do not mention God or Goddess in particular.
• Love. Use the language of love, such as, "May we all be surrounded by a circle of love," or "May all those who came to witness this ceremony be uplifted by the light of love that radiates from this wedding altar."
• Honor family. Somewhere at the start of the ceremony it would be great to honor the families and loved ones, even by giving a shout out and a thank you to the parents. Let them know you appreciate their love and support over a lifetime.
• Hand wrapping In Wiccan ceremonies a hand-fasting is the classic ritual to bind your love. Consider a more generic hand blessing or hand wrapping.
• Unity Candles. In some Catholic ceremonies, unity candles represent the blending of two families and two people with God. Consider a non-religious version that focuses on blending your two lights as one brighter light.
• Reading. Select readings that capture the essence of romance, love, marriage and life that you and your beloved truly relate to, or use a reading from a book you adore.
• Music. Include songs or music you both love, or have a loved one or friend perform.
• Vows. Write and share personal vows that truly capture your love and admiration for one another. Have the words you speak from the heart be the highlight of the ceremony.
There are also many non-religious rituals that are fun for the family, such as a sand ceremony, where everyone pours different color sand into a clear container, symbolizing the union of two people, two families, and two life stories.

Or include a wine ceremony, where the chalice of wine is symbolic of your union, a container into which you pour all your hopes and fears, your joys and challenges. By sipping from it you acknowledge you will stand together through the sweet and the challenging times.
The main idea is to focus on the love between the couple, and the importance of family, and build a ceremony from that perspective.
Popular in the Community