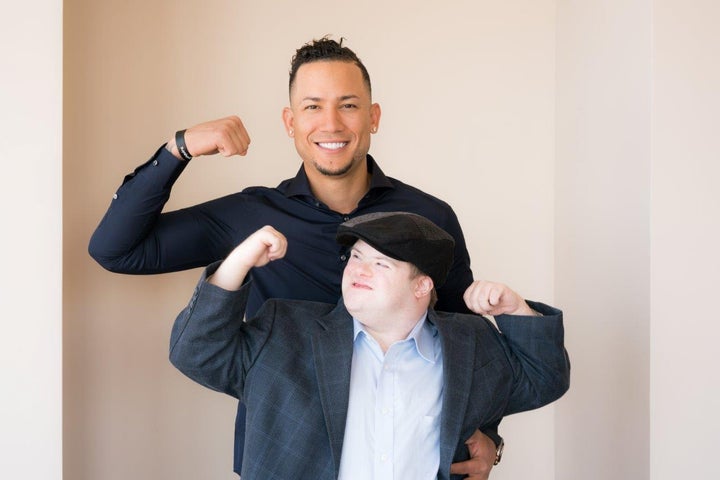 A Life Uncontained
We weren't dressed for a baseball game, but when CarGo gives you tickets to "tonight's Rockies game," you go.
We took out seats, Marcus in a Black Day t-shirt, a suit jacket, and a Colorado Rockies hat. Me in a hodgepodge of dress shirt, woolen vest, and a long, not-really-matching, sweater. The sun disappeared behind the mountains and the bright field lights kicked in. People around us asked, "Aren't you cold?" Surprisingly, we weren't. Chilly, but not cold. Personally, I felt alive and awake.
The night game was a perfect cap to a big day that was, for me, full of reflection. I thought back to twenty-six years ago when, at the time of his birth, Marcus was diagnosed with Down syndrome. From that moment on, there have been those who proclaim labels and then paste them upon him. Labels that, at times, covered the best parts of him. There were, and are, people who only see those labels that put him in a box. A box where he "belongs" in order to fit into the space they want to allot him. A box to keep chances out. A box to contain.
The thing about Marcus is: he doesn't fit into their box.
Marcus has Down syndrome, it is a scientific descriptor of the fact that every cell in his body carries 3 of the 21 chromosome. In fact, I've heard Marcus say, "I am Down syndrome" and it is a verb misplacement that I am not quick to "correct." These are his words. I cannot deny him. The labels I speak of are limitations that have come from outside of him, sometimes from professionals, sometimes from strangers, even on occasion those close to him. Labels that diminish his whole self and I am so proud that he chooses to own who he is while denying forced labels.
Speaking for myself, I admit there are times that curling up into the box assigned by society looks...easier. I expect the box may actually be safer, sometimes. The box moves when repositioned by outside forces, or is left in its space; the universe sits contained. However, to me, a full life means a life uncontained.
An uncontained life starts with taking chances. While Marcus and I sat at the baseball game, I considered how, no matter what position on the team, every player gets a chance at bat. That moment must be both incredibly terrifying and also exhilarating.
Have you ever hit a home-run? The ball, your obstacle, comes at you with the full intention of provoking a miss, strike out, or foul – also it comes at you with frightening speed. Yet, there you stand, with only one visible tool, and you swing.
Your obstacle flies away, away, away, you drop everything and go!
This sounds to me like the ultimate uncontained experience.
I witnessed Marcus hit his own home-run earlier that day. Marcus had his first "photo shoot" and he was partnered with CarGo, (Carlos Gonzalesz) outfielder of the Colorado Rockies, to appear on the cover of Down Syndrome World magazine. I've seen Marcus hit home-runs before, with his book and animated short, Black Day: The Monster Rock Band, with his book tour teaching moments, and sometimes when he says the perfectly right thing, at the right time, to the right person who needed to hear it.
Do you think it's possible to get used to hitting home-runs? I doubt it.
Carlos Gonzalez has hit 180 baseball home-runs in his professional career. As I witnessed him introduce Marcus to his wife, or when he took Marcus around the shoulder, or when they looked at Marcus' book together for the minutes longer than necessary for a photo op –
I thought Mr. Gonzalez understands the power of breaking from a label, of being uncontained, of continually striving for the next home-run.
In their short time together I watched Mr. Gonzalez' interactions with Marcus transform from appointment to ally. I watched Marcus' interactions grow from anxious to advocate. I know very little about Mr. Gonzalez, but I have no doubt that he too, has had to fight the injustice of other's labeling him and trying to keep him contained. This is an appropriate pairing.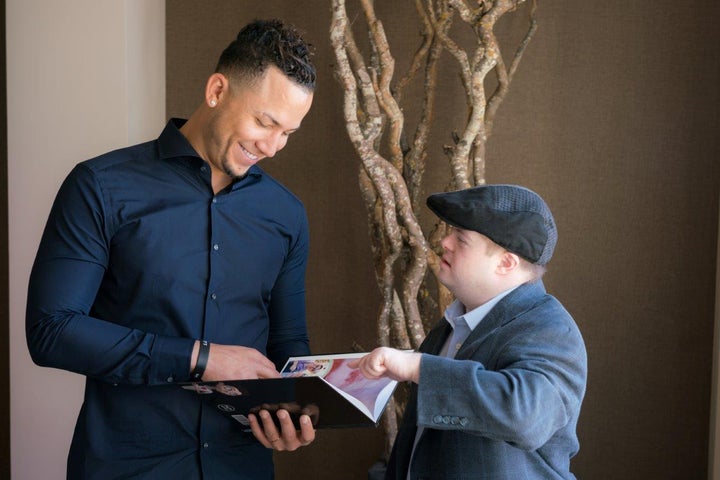 Another thing about a home-run is, sometimes, it moves other players as well. Your teammates are also given the momentum, the direction, the freedom to go for it! And go – they all do. I've learned from parents and educators how Marcus' home run(s) are helping them to see, to run, to do. I'm thankful his voice is making a difference to their perspective, to their homes, and their communities.
I am also thankful for the Global Down Syndrome Foundation. I believe in their vision and perseverance to chink away at the negative and overbearing labels applied to people with Down syndrome. Even more than that, I am thankful that Global works to improve the lives of people with Ds via research and improved medical care. Global is doing groundbreaking research in the areas that most often affect people with Ds. The funds raised directly benefit people with Down syndrome today and also for their futures.
Global Down Syndrome Foundation is pitching for a world were every person with Down syndrome gets his best chance at bat, celebrating home-runs, and experiencing a lifetime uncontained.
To see Carlos Gonzalez and Marcus grace the cover of the next issue of Down Syndrome World magazine, become a member of Global Down Syndrome Foundation. To read more about Marcus and his journey, check out the blog Grown Ups and Downs, and for information about Marcus' book check out BlackDayBook.com.
Popular in the Community