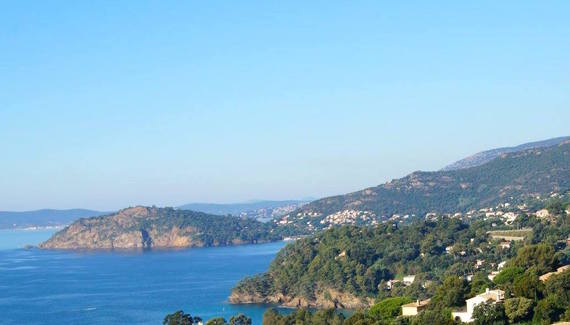 Expounding upon the true nature of art, the late impressionist Pierre-Auguste Renoir was quoted saying, "First it must be indescribable and next it must be inimitable". It is little wonder then that Le Cagnard whose remarkable medieval facade hovers over Renoir's Les Collettes (his final place of dwelling and work) effortlessly fulfills both of these criteria. As a masterpiece of a hotel, Le Cagnard is indescribable for the simple reason that so many have attempted to describe her - each epoch inflecting the milieu with its own aspirations and, in so doing altering the subject forever. As for Cagnard's inimitability... well, to do so one would first have to devise an elaborately diverse series of competing civilizations and then place each of them - along with the respective epochs that produced them - within the geographical context of a single Cagnes (an inhabited round hill) on the highly coveted seascape of the Cote d'Azur.
Like a distended torso cut from ivory, salt and air, Haut-de-Cagnes rises from a fishing and seaside resort. Bolstered by orange groves and carnation fields, her thick olive-branched arms stretch towards Nice on one side and a yacht-lined Antibes on the other. With stone homes leaning into steeply narrow alleyways, and ancient fortifications clustered in corbels like oddly giant spine-supports, the Medieval Village has the appearance of a vigorous knight being roused from a long slumber. As heavy gates and foreboding ramparts uncomfortably readjust themselves to make way for delicately flowered facades, one is reminded of how clumsily a heavily clad warrior might have carried around a lady's patterned kerchief as a token of affection. What had once been a baronial hall from the middle ages had, over time, developed into a massive Chateaux. In short, an ornate 17th Century helmet had dreamily been placed on what had been the war-weary head of a 13th Century town. As a final laurel wreath, the Chateau - by the late 20th Century - had become a bona fide member of (the globally esteemed) Relais and Chateaux luxury resort grouping.
When the reign of the mystical, chivalrous but, alas, incompetently feudal St. Louis had come to a close in 1290, Philip the Fair (his appellation being singularly ludicrous given his deeds) began - in the truly ruthless manner of France's first national sovereign and absolute tyrant - to build his anti-clerical kingdom. It was at this time that Rainer I (the Grimaldi whose Dutch victory earned him the honorary title of Admiral to France) was forced to temporarily retreat from his newly founded principality of Monaco and establish his Provencal residence in the hills of Haut-de-Cagnes. This peculiar era - wherein the fervent idealism of the former century was de facto abandoned but still employed as a tool for rallying the masses - is nowhere better represented than in Le Cagnard. Here, romantic and functional themes collide, creating an evocative pastiche of reality and lore. It is truly fitting that Nicolette and Aucussin (the Romeo and Juliet of France) were said to have fallen in love on this property. By the time D'Artagnan (years before Dumas-Fils fictionalized him in the Three Musketeers) was a guest of the very same estate, romanticism had come full circle having won out over conventionality with a vengeance. Interestingly enough, it was the year of D'Artagnan's birth (1620) when the musty castle was finally revamped becoming the culturally resurgent Louis XIII-style Chateau it is today.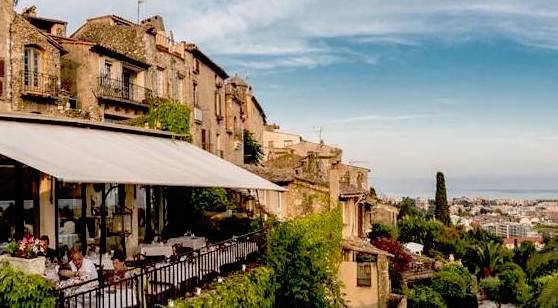 As lush furnishings collude with imposing beds to solidify ethereal spaces, elaborate weaves and robust colors dance in oddly pale lights. Fabled sea views flirt audaciously with otherwise stern parapets. A Guard's room with a Medieval fireplace deftly turns into a dining area while a grand archway veers towards a large terrace whose view takes in both the blue-cypress hills and the shimmering waters below. Pretty as a picture? Pretty as several hundred - at least if we consider the many artists who had come here to be inspired. Paul Signac, Yves Klein, Amedeo Modigliani, Auguste Rodin, Henri Matisse... The list is literally endless since it continues to this day. By 1925, Emile Wery had personally created imposing murals especially for Cagnard's splendid vaulting. When the sentence, "It is not in giving life but in risking life that man is raised above the animal" was written, one could be certain that Simone de Beauvoir had gazed out over this vast terrain of Le Cagnard, and witnessed the remains of many a courageous generation. Likewise, it does not take a great leap of imagination to understand how myth begets myth. After all, St. Exupery of the Little Prince renowned had spent many a night as a guest of the castle.
Acquiescing to the monarchical theme, the Chateaux serves up a meal that is not only - as the cliché goes - fit for a king but one that is capable of keeping a king fit. Surpassing the culinary knowhow of the most illustrious courts, the Chateaux's royal fete opens with a tantalizing Amuse Palais - a delicately roasted local Langoustine whose succulent texture can crawl into the hidden crevices of even the sandiest of palates. As for the Lasagne de Truffe Noir, the exquisite delicacy is endowed with an ethereal texture that, paradoxically, bears a substantial and earthy fragrance. Although the meal creates a sense of uncertainty as to whether one has imbibed, sniffed, or had a meaningful relationship with each ghostlike preparation, there is little doubt as to Chef Stéphanie Laurin's commitment to regal fare. Having worked under the world renowned (Hôtel du capp Ferrat) Chef Didier Anies - a 'Meilleur Ouvrier winner - her regal pedigree is hardly in question.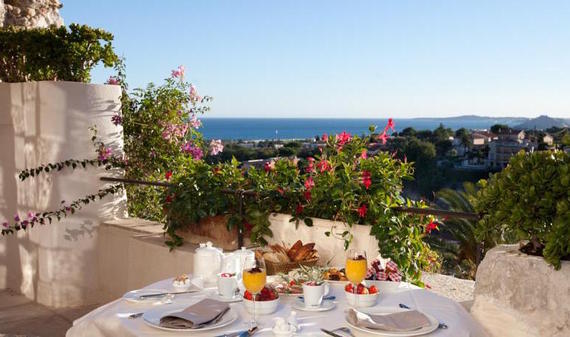 Whether ones opts for the succulent Pigeon Fermier with an amicably dissonant bean salad aside, or for a lamb whose cultivated flavor is refreshingly at odds with its matter-of-fact heartiness, there is little getting around the airy and seductive quality that can be had from a classical kitchen. In a restaurant that has already received accolades for its use of seasonal ingredients, and is justifiably respected for its turbot and its duck foie gras, it is an added delight to see the owner of many years pass nightly amongst his awe-struck clients asking if they are satisfied with their meals. After bathing in a battery of divine after-diner cheeses (each from the locality), one finally surfaces within the Strawberry Sable Rhubarbe with raspberry Sorbet or the liquor chocolate with pistachio ice cream. It is at this point that one realizes that one's entire artillery of gastronomical superlatives falls short when trying to describe several epochs of culinary art meeting on a single elevated hillside.

A final perfunctory visit to the Musée d'Art Moderne confirms that although Cagnes was never a resort besieged by the masses, it has unequivocally maintained its status as a harbor for the distinguished, a haunt of the cognoscenti. As majestic as ever, the castle museum stands adjacent the 16th Century frescoes of the Chapelle Notre Dame de Protection. At the Maison des Artistes, a virtual honorguard of contemporary painters pays homage to a region once rendered by Renoir. With Espace Solidor's jewelry as resplendent as one would expect from a museum sharing space with the opulent empires of the past, and with the Museum of the Olive Tree reminding one of the earlier distinguished Roman guests whose empire frequented this region as far back as antiquity, Le Cagnard remains a bastion for endless empires, countless dynasties, and as many different perspectives as western civilization has had on offer.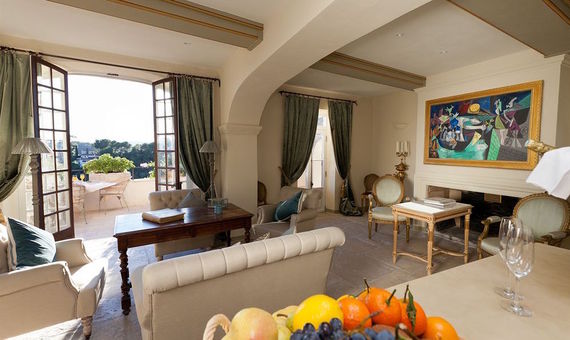 Though the region used to boast one of Europe's largest seaquariums, Marineland, it has as of late thankfully been closed. Whether this was a matter of conscience or practicality, the fact is that the most spectacular thing to have surfaced from the local sea was the beast known as civilization. It is not hard to understand why Renoir had once remarked, "the pain passes but the beauty remains." It is equally easy to comprehend why he added, "this is the place where I want to remain until the last day of my life". From the lowlands, where Renoir's home still stands -complete with museum, garden and mausoleum - one can take in the majesty of Le Cagnard. In a sense, Le Cagnard is a composite of all those who had beheld her. Harnessed to the soft sea air, she is a castle prominent enough to house a history's worth of dreams.
Rory Winston is a published author/poet/playwright/lyricist/comedy writer/columnist who serves as the Honorary Feature & Art Editor for the NY Resident Magazine, and writes for See.place on The Huffington Post.