Few theatrical experiences will ever top Odysseo. In it's final week in Salt Lake City, Utah before traveling to Portland, Oregon - Cavalia Odysseo is a show everyone should see sometime before they die.
An immersive theatrical experience, set under a 125-foot tall White Big Top, Odysseo features 65 horses, inspiring acrobatics and high-tech visual effects. The 2-hour show takes the audience through the desert and savanna of Africa, the American Southwest, the Northern Lights, an ice cave, verdant fields and Easter Island through a series of 15 instrumental scenes.
"The show was a fantastic display of athleticism from the riders and other performers," said Susan Markey who brought her daughter Jenna. "I've never seen so many six-packs all at one time!"
All of the music featured in Odysseo is performed live, to keep pace with the horses. Standing saddleback atop two horses with a motionless torso, single riders circled the stage with confident poise. Six white horses ran together in a perfect head-to-toe circle. Riders were draped in long silk robes that covered their horse's backside, unifying the rider and horse, as if they were one and most of the male riders sported pony-tails.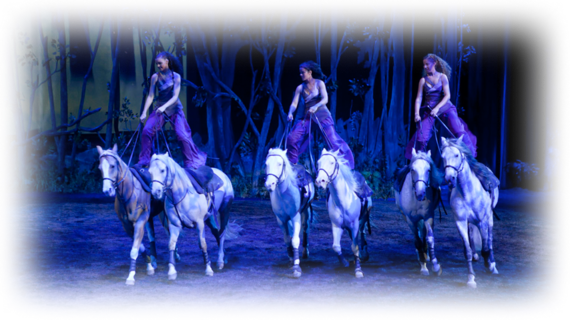 Perhaps the most impressive feat was performed by a rider whose horse ran circles in the giant arena ring. At a high speed, the rider pulled herself from the saddle and laid across the horse, her head toward the ground and legs extended skyward. Supported by circular momentum, she defied gravity and remained pressed against the horse without using with her hands, arms or legs.
"The girl seemed to have had velcro on her back," said Jenna Markey, impressed by the performance.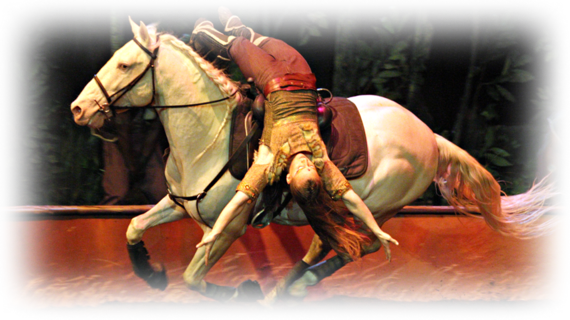 Truly a global team, the horses, riders, acrobats, dancers, musicians and aerialists hail from Spain, Portugal, France, The Netherlands, Germany, Australia, the United States, Canada, Brazil, Guinea (Africa), Poland, Russia, Ukraine, Japan and Italy.
Nine dancers and acrobats from Guinea performed the crowd favorite "Appel d'Afrique" while playing drums and jumping across the arena doing jaw-dropping flips. They enticed the audience to sing out, "O walu guere moufan!" (No more war!). An audience member in the front row couldn't help herself from throwing her arms in the air and clapping in the aisle, inspired by the high flying flips and performer's acrobatics.
Odysseo's press release says the show is designed to build bridges between cultures, to expand civilization and now to produce the purest form of art, one created through kindness, patience, and love. Having experienced the event myself, the performers and horses delivered on all of these aspirations - simply exquisite!
Calling all HuffPost superfans!
Sign up for membership to become a founding member and help shape HuffPost's next chapter