It has been described as the Mecca for Geeks. Thousands of press, industry analysts, buyers and enthusiasts attend the International Consumer Electronics Show each year in Las Vegas. I had the pleasure of attending the show as a registered blogger this year, which was my first time attending CES.
While I am a gadget lover, and would attend the show just for the sheer joy of seeing and playing with the latest toys and gadgets, I attended with a purpose -- eReaders. I have published a number of reviews in my eReader series here on HuffPost over the past few months. One of the main trends highlighted this year was eBook readers and accessories.
Although I will be covering them more in depth in my eReader roundup later this week, I was especially impressed by the Plastic Logic QUE proReader, the enTourage eDGe dualbook, the Copia eReader collection, the Skiff, and the Alex by Spring Design. All were officially introduced at the show, and each of these offers an advantage over the single-purpose e-readers like the Amazon Kindle. Check out my eReader roundup here on The Huffington Post later this week for details on these and others announced and shown at CES.
Alas, eReaders were not the only trend covered at this year's Consumer Electronics Show. Some of the others were:
Tablet/Slate Computers - Of course, the world is waiting with baited breath for the expected announcement of the Apple Tablet/Slate computer on January 27th. But they are not the only company introducing devices in this category. Companies like Dell, Lenovo, MSI, and HP all introduced products in this category. It will be interesting to see how this all shakes out over the next year.

Mobile/Wireless Technology - We couldn't have a consumer electronics show without wireless. Mobile phones and accessories were everywhere, especially those based on the iPhone and Android platforms. Google officially released their Nexus One Android phone at the show. There were iPhone apps for speech-to-text, sharing photos across the web, adding a second phone line to your phone, and even an app from TurboTax, to complete and file your taxes from your phone. There were protective cases and skins, custom art-inspired iPhone shells, neoprene phone and gadget cases and much, much more.

High Definition 3D Television - I was simply amazed at the amount of money and effort spent on pushing 3D television technology at the show. While it really looks pretty, and appeals to the gadget lover in me, I really do not get it. The technology is expensive, requires the viewer to wear 3D glasses in most cases, and there is little to no programming and few compatible media players on the market. For a technology that seems to be aimed at a niche market, the manufacturers are really going all out to push it.

Media extenders/players - With the integration of the computer into the home entertainment space, people are looking for ways to get their content to their TVs without putting the computer in the living room. This is where media extenders come in. With devices from most of the leading storage and networking companies (Seagate, d-Link, Western Digital, etc.) and services like Boxee, you can easily watch content from Hulu, YouTube, Flickr, Netflix without connecting your computer to your TV. You can even watch content stored on computers within your home or office from your TV.
Green - As you can probably expect, there were a number of companies showing green and eco-friendly products. In addition, many vendors were touting the improved energy efficiency and lower ecological impact of current products. Although I really did not focus on this area, one product I did see and try out was the PowerGenix NiZn (Nickel/Zinc) Rechargeable Batteries, that are environmentally friendly, contain no toxic materials, are non-combustible, and provide full alkaline-battery power levels (regular rechargeables have a lower power rating and are not suitable for all devices).
In addition to the eReaders, and some of the trends I listed, I saw several items that, while interesting, did not make my Top-11 List, nor fall into the areas above:
The Mint™ Automatic Floor Cleaner by Evolution Robotics - Combine a Roomba® with a Swiffer®, and you have the Mint™ Floor Cleaner. This robotic cleaner uses wet or dry cleaning cloths to clean your hard surface floors. It uses a kind of "GPS" to map where it has already cleaned, and is intelligent in handling obstacles, drop-offs, and other surface transitions. See the demo video below and visit www.mintcleaner.com for more information. It will be available this summer from select partners, and in the fall at retail outlets nationwide. Cost is expected to be under $250.00 for the cleaner and navigation system.
CarMD®/CarMD.com - Since 1996, all cars sold in the United States have been equipped with an Onboard Diagnostics port, or OBD-II. This allows mechanics to query the car's computer about the status of the engine and other important components. By connecting a portable reader to the port, the car can basically tell a mechanic what is wrong with it. The problem is that readers have traditionally been expensive, not easily available for DIY'ers and normal consumers, and output information that you then need to take to a mechanic to understand what the car is telling you and how to fix it.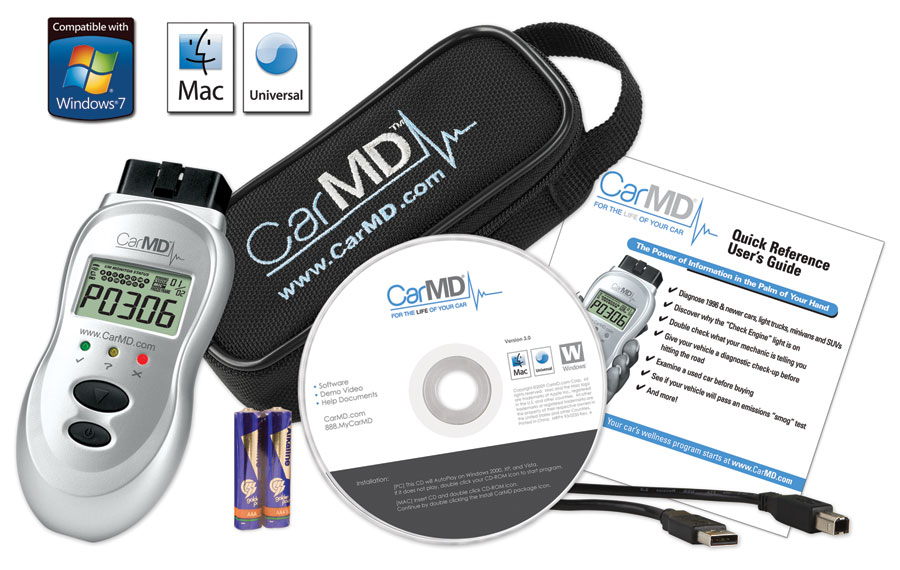 CarMD® has solved this problem with their CarMD® 2100 Handheld Tester & Software Kit. For about $100, you receive a code reader, cables and software to connect the reader to your computer, and access to the CarMD® database (up to 3 vehicles and 6 reports per month). This includes lifetime software updates and support.
To use the Kit, you connect the reader to your car to download the problem codes, transfer the codes to your computer where the software interprets the codes and checks against the CarMD® database to find a cause and solution to the problem, and an estimated cost for the repair. You can now go to your mechanic informed.
For more information, or to purchase the CarMD® Kit, visit their website at www.carmd.com.
WikiReader by OpenMoko - Have you ever been out and about, and wish you had access to an encyclopedia or computer to look something up? How about if you had the entire text contents of Wikipedia in your pocket? That is exactly what the Wikireader is. It takes 2 AAA batteries, has a touch screen keyboard, and contains the entire text content of the English-language Wikipedia on an internal microSD card. Updates are available for free through their website, or you can receive replacement memory cards twice annually for $29/year. The cost of the unit itself is $99. To purchase or learn more, visit www.thewikireader.com.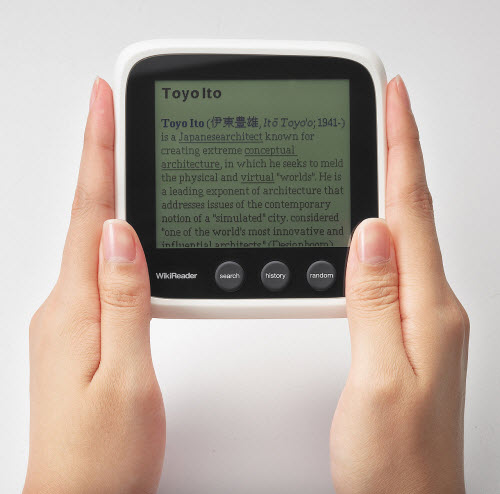 Shapeways 3D printing - Have you ever wanted to create your own jewelry or knickknacks? How about creating custom 3D gifts for friends and family? Have an invention that you want to prototype? Shapeways allows you to design a 3D object, and have it created in one of 5 different materials - Full-Color Sandstone, Nylon, Acrylic Polymer (Black, White or Transparent), Grey ABS plastic, or Stainless Steel. Words do not do these items justice. Watch the video below or visit www.shapeways.com for more information. In addition to custom items, they offer a storefront where you can buy items designed by others, or if you are the artistic type, you can sell items that you have created.
REAL LIFE. REAL NEWS. REAL VOICES.
Help us tell more of the stories that matter from voices that too often remain unheard.