A veteran police commissioner hired to guide civil rights reforms in the embattled Chicago Police Department may end up salvaging not just the department's reputation, but Mayor Rahm Emanuel's, too.
The mayor announced Sunday he had tapped Charles Ramsey, the recently retired Philadelphia police commissioner, as a consultant to help reform Chicago's police force, now being investigated by the Department of Justice for racial disparities and officers' use of force.
Ramsey's hiring comes two months after the now-infamous police video of Laquan McDonald's shooting was released, sending Emanuel's administration into a tailspin. Allegations that Emanuel's office knew about the damming video and tried to cover it up have prompted fierce calls for his resignation. Meanwhile, two more videos have surfaced of Chicago cops killing young blacks.
Samuel Walker, a civil liberties and policing expert, said the appointment of a police civil rights adviser is "very unusual."
"I do think it's absolutely the right choice, the right thing to do," Walker said of Ramsey's hiring. "But I would attribute it to the fact that you have a very high-profile mayor in serious political jeopardy."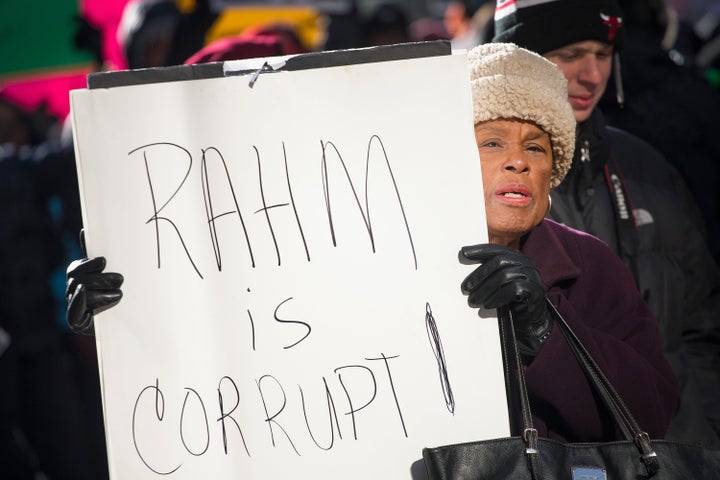 Emanuel, who famously said "you never want a serious crisis to go to waste" because "it gives you an opportunity to let you do things you never did before" selected someone uniquely qualified for the advisory post.
Ramsey, 65, a South Side Chicago native, rose though the ranks of the CPD to its second-in-command. (He was passed over twice for the top spot.) In the '90s, Ramsey helped craft the then-groundbreaking Chicago Alternative Policing Strategy before leaving to become chief in Washington, D.C., and later in Philadelphia. Ramsey, who retired from Philadelphia this month, also co-chaired President Barack Obama's 21st Century Policing Task Force.
"Ramsey is one of those gateway guys. He opens the door for the more progressive ideas," said Michael Woods Jr., the former Baltimore police sergeant-turned police reform advocate who made headlines last year for speaking out about police brutality and racism on the Baltimore force. "He's about as well-regarded as you have."
Walker said Ramsey's Chicago experience is more an asset than a liability. He brings an approach to police accountability, transparency and community engagement rarely seen in Chicago leadership, he said.
Ramsey has said the Black Lives Matter movement has the potential to be "the most significant civil rights movement since the '60s." As Philadelphia's commissioner, he instituted a policy to publicly identify police officers involved in a shooting within 72 hours. He called Chicago's withholding of the McDonald shooting video "almost more controversial than the shooting itself." During a 2012 Occupy Philly protest, he read his officers the First Amendment during roll call, outlining civilian rights to protest.
Ramsey's time leading police in Washington and Philadelphia wasn't without controversy. He issued an apology after D.C. police in 2002 arrested hundreds of World Bank protesters and bystanders. The unannounced sweep, in which some people were left hogtied and in custody for 24 hours, prompted an $8.25 million class-action settlement.
"I remember telling people, the name's Ramsey, not Moses. Don't expect miracles."
Ramsey's civil rights advice to Chicago police won't be a miracle -- and it won't be a mystery, either, predicted law enforcement expert Neill Franklin.
"I guarantee you the advice he gives will not be much different than the report from the president's 21st Century Policing Task Force," said Franklin, a Maryland State Police veteran who now leads the anti-war on drugs nonprofit Law Enforcement Against Prohibition.
Franklin called Emanuel's hiring of Ramsey "a bit of political maneuvering."
"It doesn't mean [Ramsey] cannot have an impact. But again, I don't think it's necessary," Franklin said.
Franklin said Ramsey's $350 an hour rate could be put to better use with enhanced police training.
Walker, however, said Ramsey's work "will produce some results."
"One of the major things you had in cities like Ferguson, Cleveland and Baltimore, the local political leaders aren't prepared to face up to the reality of how bad their place was," Walker said. "And Ramsey is very well-positioned to help [Chicago's leaders] understand what they're up against and what they've allowed to exist."
#ResignRahm Calls For Mayor Rahm Emanuel's Ouster
Popular in the Community