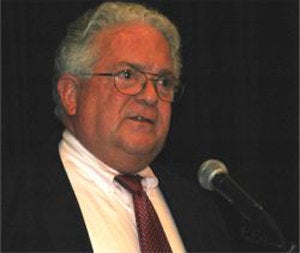 Nine members of the House of Representatives, including Minority Leader John Boehner (R-Ohio), are asking for an investigation into the financial ties of Barack Obama's National Intelligence Council chairman Chas Freeman.
In a letter to the Inspector General at the Office of the Director of National Intelligence, Reps. Eric Cantor, Shelley Berekley, Mark Krik, Sue Myrick, Patrick McHenry, Leonard Lance, Doug Lamborn, Bob Inglis, Mike Rogers and Boehner, expressed concern that Freeman's organization has "close ties to the Kingdom of Saudi Arabia," and made the case for an investigation.
"We are writing with concern over the appointment of Charles "Chas" Freeman as the next Chairman of the National Intelligence Council. Given his close ties to the Kingdom of Saudi Arabia, we request a comprehensive review of Amb. Freeman's past and current commercial, financial and contractual ties to the Kingdom to ensure no conflict of interest exists in his new position."
The letter stems from the donations that Freeman's think tank, the Middle East Policy Council, received from Saudi interests. Freeman himself previously served as an Ambassador to that country.
While the Saudi ties have proved problematic, Freeman's remarks on the Israel-Palestinian crisis -- and in particular, the United States role in resolving the conflict -- have landed him in equally hot water. Opposition to the appointment has come from Democratic and Republican Jewish groups alike, with critics pointing to remarks Freeman has made questioning the utility of America's special relationship with Israel:
"We abandoned the role of Middle East peacemaker to back Israel's efforts to pacify its captive and increasingly ghettoized Arab populations. We wring our hands while sitting on them as the Jewish state continues to seize ever more Arab land for its colonists. This has convinced most Palestinians that Israel cannot be appeased and is persuading increasing numbers of them that a two-state solution is infeasible."
All told, the Freeman appointment has provided the first real indication of the strength of the relationships Obama has built within the Jewish community. It has also tested the extent to which the president can and will be able to accommodate disparate viewpoints within his administration. Stephen Walt, author of The Israel Lobby, has praised Freeman's approach to the Middle East and called the opposition to his appointment an "all-too-predictable smear campaign." But criticism extends beyond reflexive reaction from the Jewish community. In addition to his ties to Saudi Arabia, Freeman has been whacked for being short-sighted in his "analytical" ability -- something that would seem to be a pre-requisite for a chair of the National Intelligence Council.
Calling all HuffPost superfans!
Sign up for membership to become a founding member and help shape HuffPost's next chapter