Almost 30 years have passed since "National Lampoon's Vacation" and the Griswolds' disastrous trip to Wally World. Now, five sequels later, the original cast is back for a mini reunion.
"Chevy's a genius and my dear friend. I love you and I'm so glad that the four of us can be together at the same time," D'Angelo, the 60-year-old actress who once played wife Ellen Griswold, told GMA. "Because it was a special time. You know, you kind of hope that you can touch somebody's life in some way and you don't think you're gonna do it unless you're getting an Oscar for it."
Barron, 46, who was about 16 when she first played daughter Audrey (a role later filled by Dana Hill, Juliette Lewis and Marisol Nichols), told EW that the original "Vacation" cast has stayed in touch after all these years.
Hall, who now goes by his middle name Michael, described how Chase's jokes haven't stopped.
"Going back to 1983, a hundred years ago, he would always rip you and give you s–t," the former Rusty Griswold told EW. Chase likes to pretend that he sometimes mistakes the actor for a lowly assistant. "When he pulled up for the Entertainment Weekly shoot I was outside with Beverly, and Chevy pulls up in his Benz. As he slowly starts to open his car door, he looked at me and said, 'Can I get a coffee?'"
"Vacation" was Hall's break-out role. He went on to star in '80s classics like "Sixteen Candles" and "The Breakfast Club" and become part of the infamous Hollywood "Brat Pack."
"He came to life," recalled D'Angelo during the ABC reunion interview. "This was a 14-year-old, and he'd do a take and [you'd] just go, 'Oh my God.' And then he became John Hughes' star. I mean, it was really amazing."
As for Randy Quaid, who played kooky Cousin Eddie, his life took a turn when he was arrested in 2010 and sought refuge from "the murderers of Hollywood" in Canada. He has not been heard from much except for a recent phone call to Chase.
"I heard from him when he called me from Canada, saying he's in jail," Chase told EW. Why did Quaid finally call? He wanted money. "Twenty grand! To get out."
The cast is reportedly set to hand over the "Vacation" reins to "Office" actor Ed Helms, who will allegedly star as Rusty in a new version of "National Lampoon," Variety reported in July.
PHOTO: Chevy Chase, Beverly D'Angelo, Dana Barron and Anthony Michael Hall reunite for Entertainment Weekly. Click here to read more about the shoot.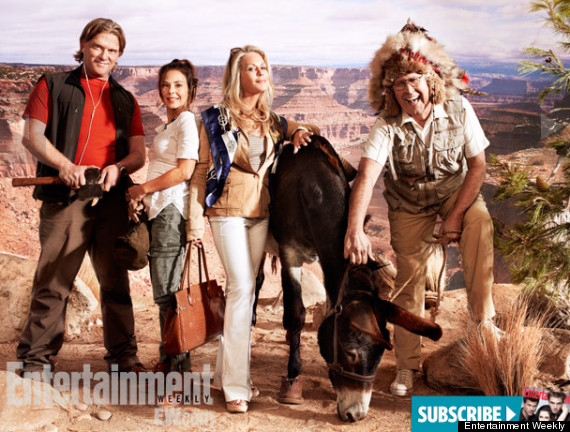 Other reunions in EW's double issue, on stands this week (and available online), include "Clueless," "Arrested Development," "Breaking Away," "Melrose Place" and "E.T. The Extra-Terrestrial."
PHOTO GALLERY
Star Audition Tapes
REAL LIFE. REAL NEWS. REAL VOICES.
Help us tell more of the stories that matter from voices that too often remain unheard.
BEFORE YOU GO