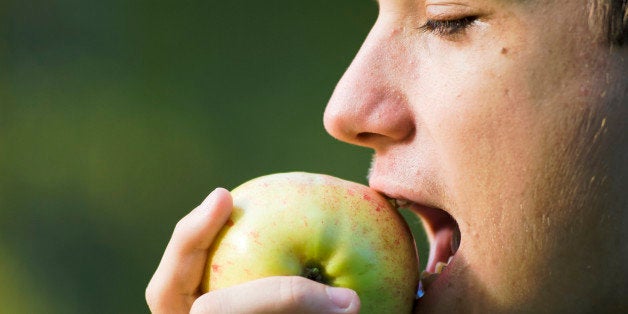 A new study suggests that middle and high school students are eating more fruits and vegetables, exercising more, skipping breakfast less often and eating fewer sweets. At the same time, childhood obesity rates appear to have leveled off for the first time in years.
"It was a bit of a surprise," said study coauthor Ronald Iannotti, a professor of exercise and health sciences at the University of Massachusetts Boston and a researcher with the Eunice Kennedy Shriver National Institute of Child Health and Human Development. "Over the last few decades -- the last five, really -- obesity has increased in U.S. adolescents and become a real epidemic."
But the new findings, which were published online in the journal Pediatrics on Monday, suggest that between 2001 and 2009 there was a "cresting," he said.
Researchers surveyed more than 9,000 students, in grades six through 10, about their health behaviors as well as their body mass index -- a measure of weight relative to height. During evaluations in 2001-2002, 14.9 percent of the students were considered overweight based on their BMIs, while 10.3 percent were considered obese. By 2005-2006, that had jumped to 17 percent and nearly 13 percent, respectively, but then appeared to level off. Researchers found in 2009-2010, that the percent of children considered obese dipped slightly.
Additionally, during the course of the study the number of students who reported eating fruits and vegetables daily increased, as did the number who said they regularly ate breakfast, which in studies has been linked to lower weight and healthier cholesterol levels. The amount of physical activity they got increased during the study period, and the time spent watching TV decreased, although the amount of video game-playing and chatting online remained largely the same.
However, the new research does not establish a clear cause-and-effect between the apparent uptick in healthy behavior and leveling off in obesity among adolescents.
"Since we were just taking samples of kids at three points in time, we can't say one is causing the other," said Iannotti. However, he said the significant attention in recent years to the health implications associated with obesity has increased parental awareness and may explain why children seem to be leading healthier lives.
Other experts are less optimistic.
"Even if obesity rates have stabilized, they're still unacceptably high," said Sara Bleich, an associate professor researching the escalation of obesity and its related diseases at the Johns Hopkins Bloomberg School of Public Health. "We're looking at 18 percent in the pediatric population -- almost 1 in 5 kids -- and among minority kids, it's even higher."
An American Heart Association study published last week found that 5 percent of children in the United States are now considered "severely obese," which is defined as having a BMI at least 20 percent higher than 95 percent of children of the same gender in their age group.
And though the number of those with healthier habits appears to have increased, or at least remained largely stable during the study period, the overall rates were still low; most did not do an hour or more a day of moderate exercise, or eat five or more servings of fruits and vegetables per day.
But at this point, with obesity rates as high as they are, any good news -- however minor -- should be considered welcome news, Iannotti argued.
"We're bending the curve. We're starting to reduce that increase [in obesity]," he said. "That's good news."