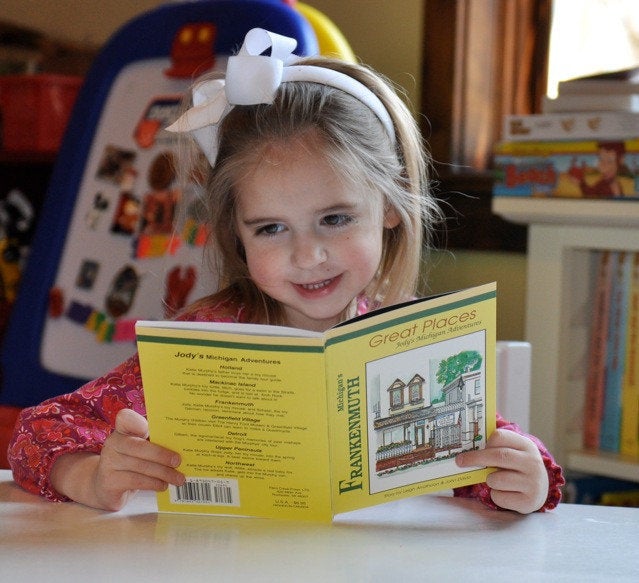 As a parent and published author, I stress to my children, ad nauseam, the importance of maintaining a healthy relationship with books. And not just trendy books about Spongebob Squarepants, Dora the Explorer or Archie Comics, but through the classics of our time. Reading, even if it is the books about the aforementioned characters, is good. I don't want to discount that. Any way to get a child excited about reading, is always good.
I just have a personal agenda, albeit selfish at times, to push the books that made me fall in love with reading. Getting the chance to reread Blume, Seuss and Dahl, for example, is pure parental indulgence and bliss. Every night I sit down with my kids and we read. We've gone through countless books this way. And it wasn't until recently, that I realized how much these books were teaching me about parenting and what it's like to be a genuine kid (not just a kid at heart). And with the recent success of books like Mansbach's Go the F*** to Sleep, I think it's important to choose and pick your books wisely. Not only for the kids, but for ourselves as their parents. (Don't get me wrong, I'm a HUGE fan of Mansbach, especially after this book came out, but would be slightly mortified if at the age of nine, my kids read that book aloud.)
I've taken it upon myself to pick out the books that I believe to have the most universally sound and rational parenting advice in them and to list them here. Whether it's through the antagonists or parents or heroes of these books, the lessons learned are powerful and make the book worth a second read as an adult.
*Of course I've left out innumerable great ones, I could probably list a thousand, so in the comments section, if you're so inclined, share the books you think belong on this list.
10. Bemelman: Madeline -- This shows the importance of picking the right education and schools for your children. Madeline was not only disciplined but loved. Although we never saw her as a grown adult, I'm sure she's a lawyer or doctor, probably a pediatrician, saving other little girls from Appendicitis.
9. Dahl: Charlie and the Chocolate Factory -- This covers all manner of the sins parents make against their children. Indulgence and patience being the omnipresent themes, although at first glance the kids are the ones in trouble, it's the parents who need reprimanding more than not.
8. Rowling: Harry Potter -- Don't be a muggle. Period. Abusing your child, mentally or physically, will just lead to mayhem and possibly death by the dark forces.
7. Williams: Velveteen Rabit -- The things that make you "real" in this world are often the things that are intangible. Love, friendship, health, etc. are how you become real. Not allowing materials to be your prison, at any age, is a good lesson to take to heart.
6. Paterson: Bridge to Terabithia -- Sometimes, the best lessons learned about love and friendship are made clear only after a tragedy. Teaching kids to enjoy their lives to the fullest and keep their friendships current, regardless of what others may think of them, is critical these days -- especially with the advent of social media and the bullying streak.
5. Cannon: Stellaluna -- There comes a time when all kids must leave the nest. Sometimes it's sooner than one should go. Learning to find your voice, regardless of which nest you end up in, is crucial.
4. Blume: Fudge -- Siblings happen. Get over it, move on and learn that once your folks are gone, they're often the only ones left who truly know you. Learning to get along with them, even at a young age, has lifelong repercussions and advantages.
3. Seuss: Green Eggs and Ham -- Take what's offered to you and be grateful. Being picky isn't an option for so many around the world and being grateful will get you through many of the ups and downs of life.
2. Sendak: Where the Wild Things Are -- Kids need to be allowed to be kids. Overactive imaginations are often a coping skill. Being able to get lost in a world where the good isn't always good and the bad isn't always that bad, is applicable to the adult world too.
1. Silverstein: -- Where the Sidewalk Ends: Every child, regardless of age, race, culture or financial means has a little bit of Sylvia Stout in them... every adult wishes they had a Magic Eraser and a tree house too and there isn't a soul in the world that wouldn't be happier if our actual wars turned into Hug-o-Wars. Dreaming, even in rhyme, is the best stress reliever and escape there is.

Related