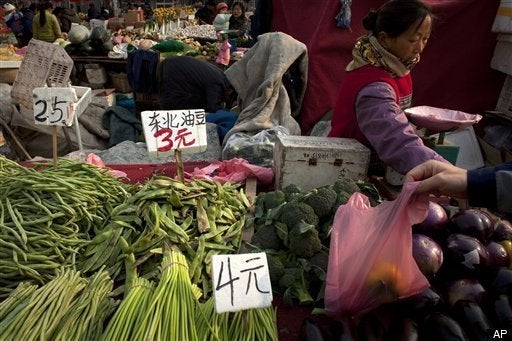 BEIJING/SEOUL (By Niu Shuping, Tom Miles and Kim Yeonhee) - China dumped plans to import several million tonnes of expensive corn in 2011 and South Korea unveiled cuts in import tariffs on some products, underscoring the dilemma over how to tackle rising food prices.
In India, where vegetable prices have risen more than 70 percent in the past year, the finance minister said the government would unveil measures later on Thursday to combat inflation.
However, a rally in grains prices after a U.S. report on Wednesday warned of dwindling global supplies suggested further price pressures may be in the pipeline.
World food prices hit a record high in December after adverse weather affected crops, the UN's food agency said in a report last week that raised concerns about inflation, protectionism and social unrest -- factors that contributed to the 2008 food crisis.
While most analysts doubt the world is heading for a crisis similar to 2008, when food prices spiked to fire up inflation and trade deficits blew out, a rise in oil prices is also looking menacing.
London Brent crude at close to $100 a barrel is trading at its highest price since 2008, when oil hit record highs and contributed to the inflation spike.
Wheat prices rose 47 percent last year, corn more than 50 percent and U.S. soybeans by 34 percent. The U.N. Food and Agricultural Organization (FAO) said in its report key grains prices could rise further, a view underlined by a U.S. report published on Wednesday.
The U.S. Department of Agriculture report reduced estimates for U.S. corn and soybean harvests, trimmed its corn and soy output forecast for drought-hit Argentina and cuts its outlook for wheat production in flood-hit Australia.
The report sent grains prices soaring and the rally continued in Asia on Thursday.
The rise in food prices so far has led to differing responses from governments, pointing to the difficulty of how to handle the issue.
For China, corn prices are just too high, so it has canned a proposal to import millions of tonnes of the grain in 2011, two industry sources with knowledge of the plan said on Thursday.
The initial Chinese proposal had been drawn up as a way to combat food inflation, a worry for Beijing because China's food inflation is running in double digits.
It has drawn down state food stocks to increase domestic supplies and keep a lid on prices, a measure that had also raised expectations in world food markets of increased Chinese demand.
China was a major factor behind the 2010 rally in corn prices after it imported about 1.5 million tonnes from the United States to mark its first major purchase in 15 years.
The country's rising currency is also fuelling expectations in commodity markets of higher import demand.
South Korea, on the other hand, unveiled measures on Thursday to try to calm prices by reducing import tariffs on some items, including fish and powdered milk.
The cabinet held an emergency meeting on Wednesday over the widening spread of foot and mouth disease in cattle that has raised pork and beef prices.
The central bank also raised interest rates on Thursday to combat what it said was a growing inflation threat, following a rate rise in Thailand on Wednesday, and the government froze electricity and rail fares.
In another response, Pakistan signed deals to sell surplus wheat stocks for the first time in three years to take advantage of higher prices.
India also promised to announce anti-inflation measures, which local media said would include a ban on wheat product exports and trading in some commodities.
Data earlier showed that India's food inflation pulled back slightly from a year high of more than 18 percent to just below 17 percent.
India's main price measure, the wholesale price index, showed inflation at 7.48 percent in November, which analysts said would prompt the central bank this month to raise interest rates.
India's food inflation is the highest among major economies in Asia and is an issue particularly sensitive to the government because roughly two out of every five Indians live on less than $1.25 a day, the World Bank's measure of poverty.
Finance Minister Pranab Mukherjee called on Thursday for calm, saying: "We have analyzed the situation. We have indicated what further steps we are going to take. We have also indicated there should not be any unnecessary panic."
Relieving some of the pressure in India, onion prices dropped nearly 16 percent on the country's largest wholesale market after new crop arrivals.
However, onions, used widely in Indian cooking, are still more than double the price of a year earlier.
(Additional reporting by Reuters bureaux; Writing by Neil Fullick; Editing by Nick Macfie)
Calling all HuffPost superfans!
Sign up for membership to become a founding member and help shape HuffPost's next chapter