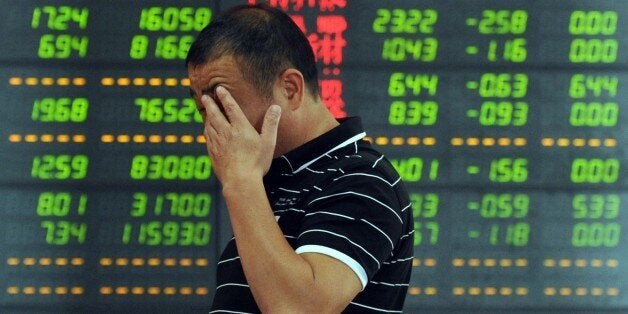 China's stock market gained about 6 percent Thursday after 3 1/2 weeks in free-fall. The nation's Shanghai composite index plunged 32 percent before Thursday's rebound. The crash has raised alarms both inside and outside the country, with analysts saying markets may be correcting years of overvalued stocks and unfettered buying.
The market is still up in the long run, growing more than 70 percent in the last year despite the recent shock, The New York Times reports. But the chaotic downturn is taking a toll, with the government trying drastic measures to prop up flailing markets and people who bought at high prices watching the value of their investments nosedive.
Hardest hit in this month's dip in China's turbulent market have been some of the nation's more than 90 million retail investors. This group includes individual stock purchasers, most of them ordinary citizens with no financial expertise who are often using borrowed funds.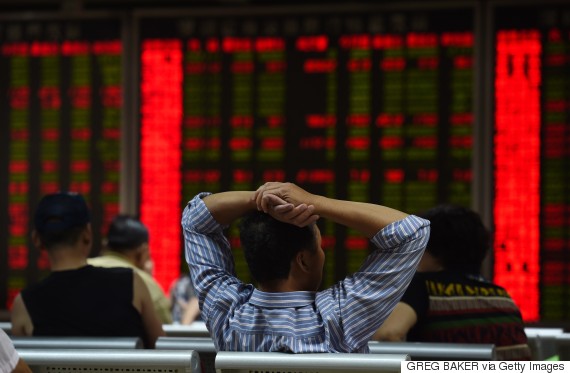 An investor looks at screens showing stock market movements at a securities company in Beijing on July 9, 2015. (GREG BAKER/AFP/Getty Images)
Before the downturn began on June 12, China's stocks were surging and China's main Shanghai composite index had more than doubled since the beginning of the year. At its zenith, the market was at a seven-year high.
The surging number of retail investors were part of the reason for the growth, with 40 million accounts added in the year before May. About 80 percent of China's shareholders are retail investors, and the immense demand for stocks drove up share prices.
As the chart below shows, the number of accounts opened in the past year was the most in recent history: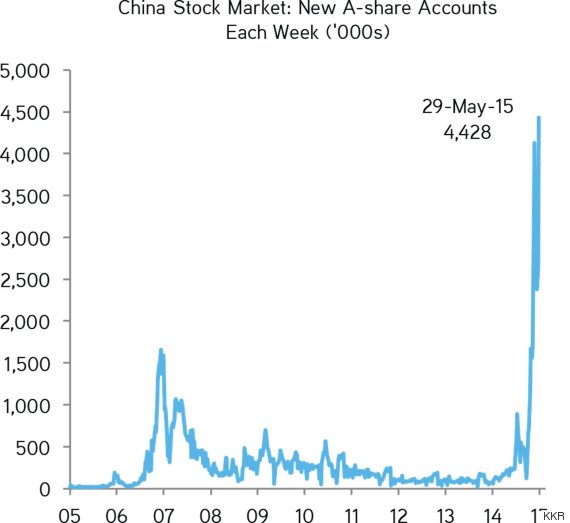 A chart from a report by a report by investment firm KKR shows the surge in accounts opening over the past year.
Despite Beijing's warning against borrowing money or selling property to purchase stocks, the buying continued. More than 7 million new accounts were opened last month. Most of the stocks bought by those new investors, analysts say, were overvalued and susceptible to a large-scale correction.
The market rise was fueled by factors that include new laws that made it easier for companies to be listed on the stock exchange, which then met with the huge influx of willing investors purchasing their shares.
When stocks began to fall after June 12, panic set in, with retail investors beginning the sell-off. This spurred weeks of selling, in which the market shed trillions of dollars in value.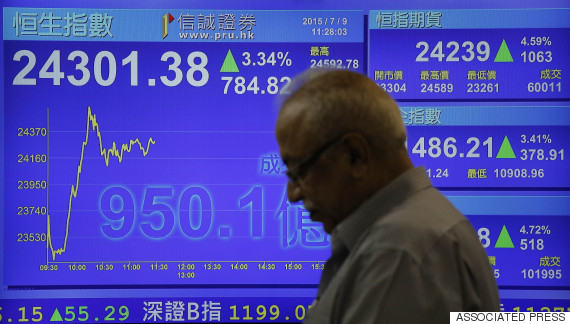 A man walks past an electronic board showing the Hong Kong share index at a Hong Kong local security company in Hong Kong, Thursday, July 9, 2015. (AP Photo/Vincent Yu)
China's government is frantically trying to halt the drop, implementing drastic measures that include banning shareholders with large amounts of stock from selling, Reuters reports.
While these measures allowed the market to rebound on Thursday, some economists said this is a temporary reprieve from a long-awaited correction.
Calling all HuffPost superfans!
Sign up for membership to become a founding member and help shape HuffPost's next chapter
BEFORE YOU GO
PHOTO GALLERY
New Year Migration