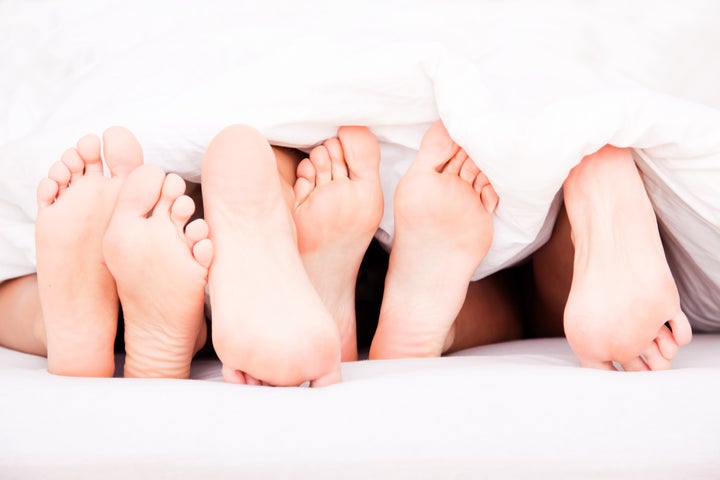 In a controversy of viral proportions, China's Sina Weibo microblogging site lit up last Thursday as users across the country shared a series of photos that appeared to show high-ranking Chinese officials engaging in a hotel "sex party," the Telegraph reports.
The photos reportedly showed a group of three naked men and two naked women in a hotel room in 2007, ChinaDaily wrote, and allegedly included Wang Minsheng, the Party secretary of Lujiang county in Anhui Province.
Government authorities quickly and vehemently denied the involvement of party officials. The pictures are not of "comrades in charge," and claims to the contrary are "malicious slander," the Lujiang county committee of China's Communist Party clarified in a statement to People's Daily Online.
Party secretary Wang said he suspected the false allegations were related to a corruption case he is handling. People's Daily, a government-funded publication, reports that blackmailing cases involving surreptitiously taken or doctored photos are on the rise.
The Global Times, which is also affiliated with the Communist Party, cited a police officer with the Lujiang county public security bureau as confirming the case was under investigation, but not if a suspect had been apprehended. Various sources, including the Times, reported that an Internet user named "Anhui1234567q" admitted online to posting the pictures in error, and apologized to Wang for misidentifying the party chief.
Faked or not, many Chinese took to Weibo, the country's Twitter equivalent, to voice their displeasure with perceived corruption in the Communist Party culture.
"The Lujiang incident is just a microcosm of China's corrupted society," posted user "Rillakumabear," according to the Telegraph.
The outpouring of Internet criticism is indicative of a general dissatisfaction with the ruling bureaucracy, Ren Jianming, a professor with the School of Public Policy and Management at Tsinghua University, told the Global Times. "There is a simmering hatred for officials, and some undisciplined officials have obviously undermined the image of the group."
Threesomes are technically illegal in China, and participants can be prosecuted under an obscure "group licentiousness" statute added to the Chinese criminal code in 1997, according to NBC News.
The law garnered international headlines in 2010, after prosecutors in Nanjing arrested and charged 22 people with wife-swapping. The alleged leader of the group-sex parties, 53-year-old associate professor Ma Xiaohai, organized the encounters at his home, but told NBC that he wasn't guilty of any wrongdoing.
"I've never heard of this crime before," Ma said, according to the network. "It's all done at home privately and willingly. Nobody has forced anyone else to have sex."
Calling all HuffPost superfans!
Sign up for membership to become a founding member and help shape HuffPost's next chapter