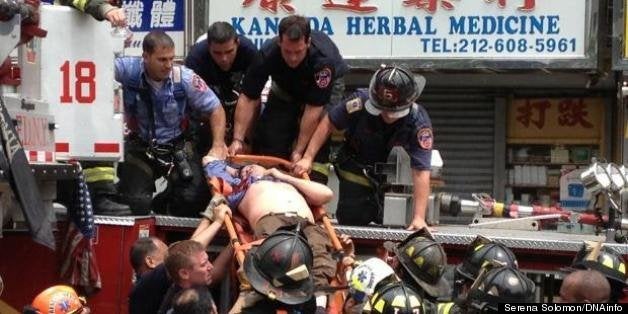 By Matthew KatzCHINATOWN — As many as 20 exploding bug bombs partially destroyed a Chinatown building and left eight people hurt Thursday afternoon, police sources said.
The explosion occurred at 17 Pike St. about 12:50 p.m., where the rear of the first floor collapsed, leaving three of the injured people in serious condition suffering from burns and smoke inhalation, fire officials said.
According to police sources, one of the nearly two dozen pesticide canisters ignited by a stove's pilot light went off in Piao Liang Ren Sheng Beauty Salon in the rear of the building's first floor, causing the rest to go off in succession.
The explosion had enough force to knock over a load-bearing joist. The bombs, also known as foggers, release gas to kill roaches and other pests.
Four firefighters suffered minor injuries during the rescue, according to FDNY Assistant Chief Robert Boyce, who added that the building had existing fire code violations.
The victims were taken to Bellevue, New York-Presbyterian, Beacon and Beth Israel hospitals.
The tenement building is home to the salon in the rear and a bus company in the front, along with four floors of apartments.
Investigators also stumbled upon evidence that the building might be stealing electricity and gas service, but it was unrelated to the explosion, the source said.
A spokesman for Con Edison said that the company sent a crew to turn off gas and power to the building as a precaution, but could not determine if there had been a gas leak.
Firefighters ripped out glass windows on the top floor of the building, while about a hundred people watched.Local business owner Tao Ping Ling said he heard a "very loud explosion."
"I heard explosions, saw fire, and called 911 right away," Ling said through a translator, City Councilwoman Margaret Chin.
Chin arrived on the scene after the explosion to make sure residents were able to get home as quickly as possible."It could've been a lot worse," she said.
Winnie Mui, 23, a teacher at nearby P.S. 2, heard the explosion.
"We heard a large pop," she said. "It was a burning smell."
One of the building's owners, who identified himself as Tom, said he was on his way to Manhattan from Trenton, N.J., but could not provide details about the incident or about how many tenants lived in the building.
"I don't even know what's going on there," he said. "You ask me, I ask God."
CBS New York says initial reports suggest there may have been a gas explosion on the first floor of the building.
The Fire Department got the call around 12:45 p.m. Thursday.
Popular in the Community