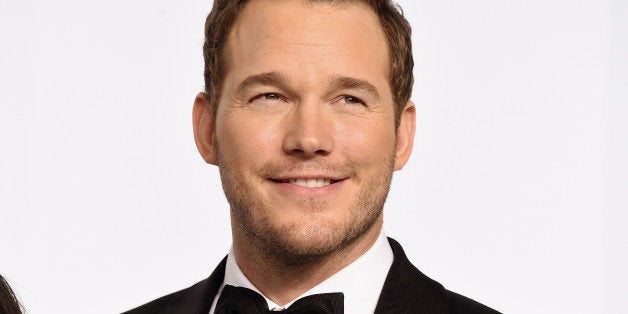 Well, Andy Dwyer was a secret pothead.
Chris Pratt revealed as much when he took to Reddit on Friday for an Ask Me Anything session. During the Q&A, Pratt opened up about his roles in "Parks and Recreation," "Jurassic Park" and "Guardians of the Galaxy," and got candid about his personal life. Read on for the most interesting revelations.
1. Pratt's "Parks and Rec" character Andy Dwyer was a big weed smoker.
When asked what Andy Dwyer/Johnny Karate/Burt Macklin would be doing right now, Pratt said they all had one common interest:
Here's something you might not have known about those characters. They smoked a lot of weed. they'd probably be doing that right now.
2. Pratt and Peter Quill, his "Guardians of the Galaxy" character, are very similar:
Quill and I are basically the same person. We were born in the same year. We loved the same movies. The same music. If I were kidnapped at 10, taken to space and based my ideology on the pop culture of 1979-1989 I would be Peter Quill.
3. Pratt loves Arya Stark:
I am a huge "Game of Thrones" fan. I love Arya Stark the most.
4. Pratt's marriage to Anna Faris is like a fairy tale:
Anna and I are meant to be together. Our relationship has made me believe in divine intervention and destiny, just as much as my crazy career and the way I fell into this life. She and I grew up 20 minutes away from each other but never met until we met in LA. We both got our start in horror spoofs. We both did an animated movie for Phil Lord and Chris Miller. We both made our careers playing guileless nitwits for laughs. We both have parents that have suffered with MS. The similarities go on and on. Anna is a great wife. Very patient and understanding. Very supportive. So kind and genuine always. And she gave me a wonderful son and family of in laws that I truly love.
5. Pratt's favorite dinosaur is the velociraptor:
They are pack hunters and super cool. But also I love the Mosasaur. That's the water dinosaur thing from the trailer that is SO FUCKING BADASS! Funny story, before I got Jurassic Park I gave James Gunn a wrap gift of an authentic Mosasaur Jawbone Fossil. So basically I can control the future.
6. The "Jurassic Park" films offer something different than the book:
Movies have a hard time of capturing the grittiness of a novel. Whereas novels have a hard time being done in an hour and a half. This is not a reboot. It plays as a sequel 21 years after the events of the first movie. And it deals with society's relationship with science and how much it has changed over the past couple decades. We are no longer impressed by magical and wonderful things. Imagine if dinosaurs were back, and had been around for 21 years, would anyone think they're cool anymore?
To see more of the star's responses, head over to Reddit.