WASHINGTON -- Following reports that Central Intelligence Agency employees improperly accessed computers used by U.S. Senate staff to investigate the agency, Sen. Mark Udall (D-Colo.) on Thursday called for the resignation of John Brennan as CIA director.
"After being briefed on the CIA Inspector General report today, I have no choice but to call for the resignation of CIA Director John Brennan," Udall said in a statement. "The CIA unconstitutionally spied on Congress by hacking into Senate Intelligence Committee computers. This grave misconduct not only is illegal, but it violates the U.S. Constitution's requirement of separation of powers. These offenses, along with other errors in judgment by some at the CIA, demonstrate a tremendous failure of leadership, and there must be consequences."
According to a CIA Inspector General's Office report first obtained by McClatchy, agency employees in 2009 hacked Senate computers being used to compile a report on the agency's infamous detention and interrogation program -- a move that some critics have characterized as a significant breach of the separation of powers. Brennan has apologized to Senate intelligence committee leaders, including Chairwoman Dianne Feinstein (D-Calif.), who took the floor earlier this year to excoriate the agency for skirting the law and attempting to intimidate Congress.
Brennan later adamantly denied that his agency had broken the law. "As far as allegations about CIA hacking into Senate computers, nothing could be further from the truth," he said. "We wouldn't do that. That's just beyond the scope of reason."
White House press secretary Josh Earnest issued a full-throated defense of the CIA chief on Thursday, telling reporters that Brennan had "been candid about the inconsistencies that the IG found."
Sen. Ron Wyden (D-Ore.), who has tangled with the intelligence community over spying practices before, also issued a statement expressing disapproval of Brennan and the CIA. But the public privacy advocate notably stopped short of issuing a vote of no confidence.
"What's needed now is a public apology from Director Brennan to staff and the committee, a full accounting of how this occurred and a commitment there will be no further attempts to undermine Congressional oversight of CIA activities," Wyden said.
Wyden's office also declined to discuss whether the computer intrusions might represent violations of the law, although the Oregon senator earlier this year got Brennan to admit that the CIA is subject to the Computer Fraud and Abuse Act, which, among other things, bars "having knowingly accessed an computer without authorization or exceeding authorized access."
Brennan has convened an accountability board, chaired by retired Sen. Evan Bayh (D-Ind.), a former member of the Senate Intelligence Committee, to investigate the matter.
In a softly worded statement released Thursday, Feinstein called the apology and effort to conduct a review a "positive first step." The report "corrects the record and it is my understanding that a declassified report will be made available to the public shortly," she added.
Senate Majority Leader Harry Reid (D-Nev.) slammed the intelligence agency in a statement later Thursday: "The CIA Inspector General's report describes actions by the CIA that are appalling and deeply threatening to our system of checks and balances. Congress has a constitutional responsibility to conduct oversight and the CIA's actions were an attempt to undermine that responsibility.
"What is even more disturbing is that the unauthorized CIA actions come in the context of the Senate's effort to complete a report of the CIA's interrogation program. The deeply troubling CIA actions show to what lengths some in the CIA are willing to stoop in order to prevent the report's release and to avoid accountability.
"The CIA is comprised of good men and women of integrity who sacrifice a great deal to protect our nation. The actions of a few risk tarnishing the work of many. The CIA's leadership must take action to address these misdeeds, restore its trust with Congress and ensure that this episode will never, ever be repeated."
The still-classified Senate report on enhanced interrogation techniques used following the Sept. 11 terror attacks is expected to be declassified soon, but details leaked Wednesday after the White House appeared to have accidentally emailed talking points to an Associated Press reporter.
Sabrina Siddiqui contributed to this report.
This story and headline have been updated to reflect Sen. Mark Udall's call for John Brennan to resign as CIA director. The story has also been updated to include information on the Computer Fraud and Abuse Act and to add Sen. Harry Reid's remarks.
Before You Go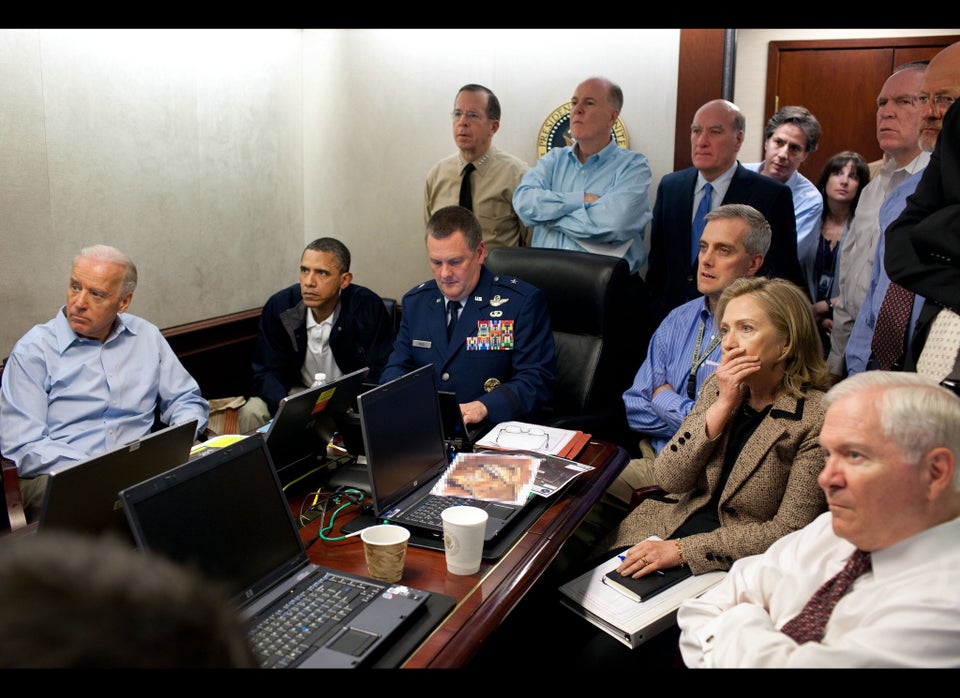 Most Iconic Photos Of Obama's First Term
Popular in the Community