"Ladies and Gentlemen!" The orchestra rose to their feet as the last of their bold notes danced off the curved walls and undulated ceiling of the concert hall. "Ladies and gentlemen!" exclaimed Stuart Chafetz with a showman's bravado. His smile was a wide, warm beam lighting a friendly face. "Ladies and gentlemen, I proudly present to you, your hometown orchestra!" The conductor's hand was outstretched to include all of those now standing behind him. Each holding their instrument, they assembled every age and race. "Your hometown orchestra, the Hawai'i Symphony Orchestra!"
The applause was a loud, fast roar, a surprise that turned me around. A wide sea of faces was rising, standing. Shiny eyes, bright smiles and flashing hands reflected the lights from the stage. Against the back wall stood those who could not get a seat to the sold-out performance. The balcony, swollen, hovered above, alive with motion. It was glorious. It was unanimous.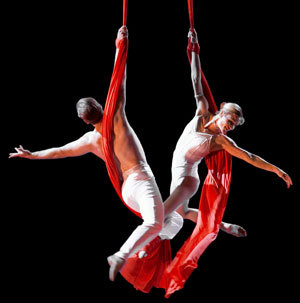 In the audience, two governors, an Italian prince and his princess, actor Jim Nabors and a delegation of consul generals also rose with applause. So did John Dean, the president of Central Pacific Bank, whose invocation before the show stressed the community of the symphony.
In front of me, an elderly spry man, whose suit, shirt and shoes were splattered with every mad color, yelled, "Bravo! Bravo!" In the seat next to mine, a raven-haired matron in reserved black was applauding with wild verve, a release from the tension she had harbored during the finale.
I could feel her arm, taunt with fear, quivering next to mine. On stage, two gold men, almost naked, moved slowly, with fierce deliberation. Their faces were grim, reflecting their physical tension. Joined by hard hands and arms of muscle and legs forced against gravity, the two acrobats pushed their bodies into a moving sculpture of physics that defied the belief of one's own eyes. The matron next to me was tense, shaking erratically. She wiggled higher against the back of her seat. The orchestra was a thunder. The grim majesty of Finlandia by Jean Sibelius (1899) changed the rhythm of every heartbeat in the room. Every beat in the music was a reflection of movement in the dance of steel by the two giants on the stage.
Jarek & Darek are strongmen, hand-balancing acrobats. Smooth as granite, almost twins, they have been performing together for twenty-five years, racing the pulse of their audiences. Tonight, they were the final act of a collaboration between the Hawai'i Symphony Orchestra and Cirque de la Symphonie, an international circus of high art and movement.
Returning to human form, Jarek & Darek took to the stage and bowed deeply. The audience, and the raven-haired matron, applauded aggressively, a release of fear, dire expectation and time-stopping suspense.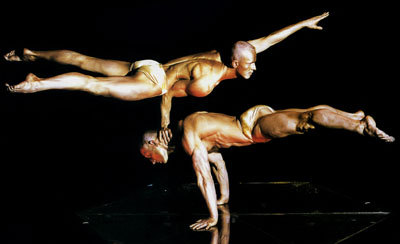 Soon to be celebrating its tenth year, the Athens, Georgia based troupe has been performing with the nation's finest symphonies. This night was Cirque de la Symphonie's first with the Hawai'i Symphony, an orchestra that has recently and ecstatically risen from the ashes of bankruptcy and reorganization.
The troupe presents a circus for the symphony. "It's all about the music," says Bill Allen, Executive Director of the cirque. Performances, on stage or flying high above, are choreographed to the symphonic score. "The visuals provide a three dimensional effect for the concert goer, amplifying the concert experience for all patrons. People who have not previously been classical music followers suddenly appreciate their local symphony in an entirely new way."
Looking up is a symptom. Christine Van Loo and Alexander Streltsov were dancing sixty feet above the audience, tethered to the stage by gravity and flowing silk fabric. Like swans, they flew. Tchaikovsky's waltz from Swan Lake is given a greater grandeur when the birds can leave the pond.
My guest nudged me in the ribs and whispered, "A lot of my students are in the audience tonight." Andrea Torres was looking up and beaming with admiration at Christine Van Loo. Light in the sky, aerialist Van Loo is weighted with awards, accolades and seven consecutive national gymnastic championships. Two nights ago, she hosted a special class at Samadhi Hawaii, the islands' foremost aerial academy. I was there to witness the awe-struck students. Torres, the elegant Samadhi founder, says, "Christine generously reached out to us! The students are so grateful to learn from a seasoned professional, someone who has performed before so many audiences."
As one who prefers hip-hop to Hayden, I loved the most contemporary number. American composer John Williams wrote an incredible score for the Witches of Eastwick. His "Devil's Dance" came alive with a wicked performance by Andrey Moraru. His costume and angular long limbs referenced Disney's Jack Skellington from Nightmare Before Christmas. His white make-up and smeared red lipstick evoked Heath Ledger's "The Joker."
All pop profundity aside, Moraru is an Eastern European circus-trained dancer and acrobat with a specialty in hand-balancing whose most recent claim to fame is a finalist on America's Got Talent. Now that's pop! His performance of great force and athletic agility was delivered with such humor and effortless grace, that the nervous matron seated next to me seemed to be enjoying herself.
Andrey Moraru shared a flirtatious acrobatic dance with one of the shows most beguiling performers Aloysia Gavre. She is a saucy sprite. A wide, engaging smile outshines her flaming red hair. Her unconventional beauty and laughing eyes won my heart. A veteran of Cirque du Soleil and director of several contemporary troupes, Gavre is held earthbound by her own Los Angeles Cirque School. Her prowess as a choreographer is touted by the Executive Director of Cirque de la Symphonie. Bill Allen says, "I send her a piece of music and she ingeniously integrates cirque artistry to provide a fine arts level of choreography."
Later in the show, Aloysia Gavre takes to the air with her specialty, aboard the aerial hoop.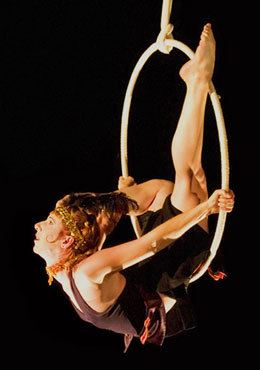 The sparkling threads throughout the show are two key performers. A mistress of grace and agility, Elena Tsarkova is a consummate performer. Her circus credits are international, extensive and impressive. She performs a beguiling dance of acrobatic contortion; its sensationalism is overwhelmed by its graciousness and beauty. With comic Vladimir Tsarkov, Elena Tsarkova presents a classic quick-change act that stupefied the audience. In the lobby after the show, I overheard gaggles of women trying to figure it out.
This mime can juggle! An audience favorite, Vladimir Tsarkov brought humor to the evening and a welcome relief from the acts of suspense and derring-do. His odd duck character was an audience favorite.
The fancy of aerial flight creates very serious safety and technical demands. High tension wires ground and support a metal truss from which performers hang and fly. A man wearing many hats, Alexander Streltsov also serves and protects the cirque as Technical Director. He works with each concert hall to install the equipment. Then he takes to the sky to give the equipment a test fly.
Aerial artist Alexander Streltsov grew up in the circus, the scion of a circus family. His goals and passions are the fire that founded the Cirque de la Symphonie. His drive and skill have earned him a gold medal at the Festival Mondial Du Cirque De L'Avenir in Paris, the Olympics for acrobats. This night, in an airborne duet with Christine Van Loo, Streltsov became the envy of all circus audiences everywhere, the Flying Man. With graceful ease, the acrobat flew above the orchestra and out over the awe-struck audience. Icarus, Superman, the iconic flight touches us deeply and primitively every time.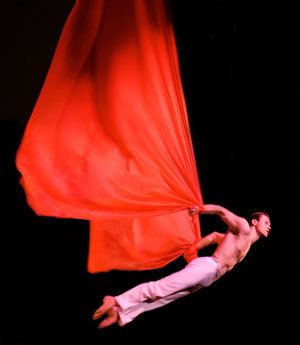 Across the country, symphonies, both large and small, endowed and struggling, are seeking new ways to attract an audience. A depressed economy has hampered disposable spending and charitable giving. The convenience of our hand held devices and wall-size screens have clouded the true joys of a live performance.
The visuals of Cirque de la Symphonie allow us to cognitively see music and therefore appreciate the orchestra in an entirely new way. Each phrase and note is given an added and welcome distinction. In truth, this circus troupe is not the headline act but merely an ocular lens that compliments and emotionally heightens the musical score. The Hawai'i Symphony Orchestra remains the star of the show.
This year marks the 50th Anniversary of the Blaisdell Concert Hall, constructed to present the state's orchestra that was founded in 1900. Rising high like a phoenix, the newly conceived Hawai'i Symphony Orchestra is building strong and fast upon a solid new foundation. "The enduring dedication of these talented musicians of the Hawai'i Symphony is awe inspiring!" says conductor Stuart Chafetz, "It is abundantly clear that musical excellence has been, and will always be, a priority! Onward and upward!!!"

Popular in the Community