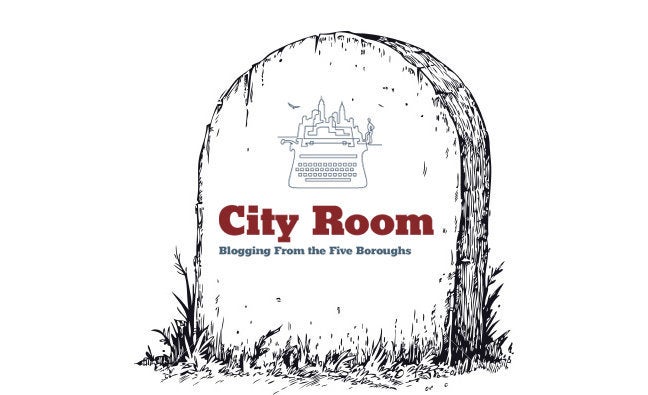 The New York Times' popular City Room blog, which chronicled New York City goings-on large and small, is no more. Times reporter Andy Newman announced the blog's closure in a post Monday, explaining that it was shutting down because of "mostly boring journalism-business stuff."
City Room, Newman explained to The Huffington Post, had been going dormant for a while, publishing fewer and fewer posts over the last two years. That few readers noticed the drop-off reflects how much potential blog content had already made it into the rest of the Metro section's coverage.
In his farewell post, Newman also hinted City Room was closing down for technical reasons -- blogs at the Times, which have dwindled in number from 80 to 20 over the past several years, run on a separate system than the regular site.
But the end of City Room reflects a more general evolution at the Times.
"The Times's digital operation is now the heart of the business, not a kind of appendage as it was in 2007," Newman said in an email.
City Room launched in 2007, a time when the Times operation was still largely oriented toward the print product and standards for what constituted an "article" were more stringent. Blogging allowed Times writers to be more "voicey" in tone, to tackle topics that might be considered too odd or silly under traditional Times standards, and to publish quick-hit posts on breaking news -- indeed, City Room broke news on many occasions because "it used to be the quickest way to get a story up," Newman said.
As the Times evolved, relaxing its standards to allow shorter posts with a sharper edge, the distinction between blogging and the rest of the paper disappeared.
"What was once a radical thing for the Times to do -- publish a super-fast blog post about the news, then update it as the story develops -- is what we do all day now, and we don't need a blog to do it," Newman said. "The liberties that City Room was allowed to take with tone and form because it was a blog, I now see widely on the Times site."
Newman said he hopes City Room has helped the rest of the paper realize that "speed does not mean sloppiness" and that "you can do all sorts of crazy things and still somehow be the Times." He also hopes it taught the newsroom a thing or two about reaching out to readers.
"If you reach out to readers and really engage with them, they will respond and communities will form," Newman said.
Monday's announcement prompted nostalgic farewells from fans on Twitter, another medium that was only emerging when City Room launched.
Lest City Room readers get too wistful, Newman reminded them that the blog's sensibility would live on at the Times. 
"We're not really dying: Our DNA has spread throughout the newsroom," he wrote. "Long may it replicate."