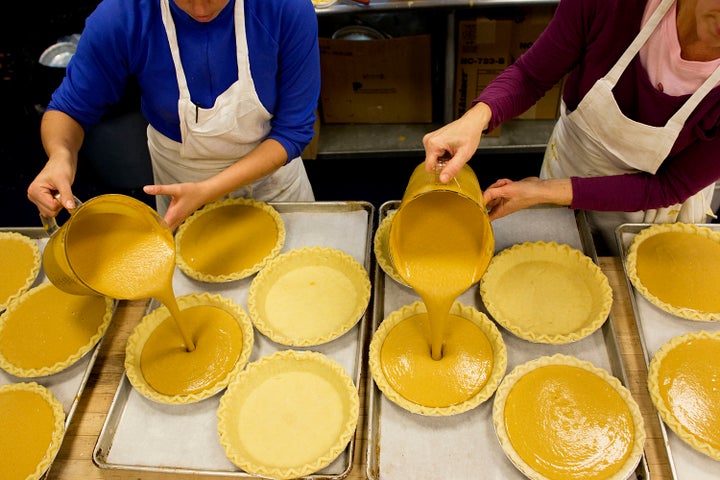 Illinois Gov. Bruce Rauner (R) signed a bill in August making pumpkin pie the official state pie. But climate change -- which Rauner has not publicly acknowledged is a thing -- may be a big part of the reason that some Thanksgiving tables lack the holiday classic this year. 
The canned food industry expects pumpkin yields to be down by as much as half for 2015 due to high rainfall this summer in Illinois, where 85 percent of pumpkins consumed in the U.S. are grown. This year's pumpkins are likely to be gone after Halloween.
Don't worry. Pumpkin spiced lattes will not be affected. Starbucks says the beverage contains 2 percent real pumpkin, but spokeswoman Holly Hart Shafer said the beverage chain has stocked up on pumpkin puree. 
But the pumpkin shortage has become a concern for other companies that rely on a strong crop. 
"We have never seen growing and harvesting conditions like this," said Paul Bakus, president of corporate affairs for the global food giant Nestle, at an an event focused on climate change last week. "If you want a pumpkin, you better get it now."
Nestle's Libby brand accounts for 80 percent of the world's canned pumpkin. Roz O'Hearn, Nestle's corporate and brand affairs director, told The Huffington Post the company believes it will have "enough pumpkin to meet the needs presented by the fall holidays." But it won't have much, "if any at all," reserve stock to carry into 2016.
Bakus wasn't directly saying that climate change has caused the pumpkin shortage. He was highlighting how companies like Nestle rely on normal weather patterns to produce food -- weather patterns that are increasingly unpredictable due to climate change.
Rainfall in Illinois has increased by about 10 percent to 15 percent over the past century, according to state climatologist Jim Angel. Scientists have linked major precipitation events like the June rains to rising surface temperatures, which are caused by burning fossil fuels.
Tim Reinbott, superintendent and research associate at the University of Missouri's Bradford Research Center, grows pumpkins at his facility. He explained that heavy rains that started in May delayed pumpkin planting in the Midwest by about two weeks. Then growers had to plant in wet soil, which meant the pumpkins' root systems couldn't get the oxygen they needed.
Another big problem was that periods between rains were longer and drier, so when crops needed more precipitation later in the summer, farmers had to irrigate. Reinbott said he's been growing pumpkins for 30 years and has never had to irrigate crops like this year. Still, yields were low and the pumpkins were about two-thirds their normal size.
Reinbott said that kind of uncertainty is enough to keep him up at night. He said he's concerned about all major crops in the region, especially soybeans, for which he said farmers in the lower Midwest are also expecting a 50 percent reduction in yields due to the heavy rains.
"Pumpkins are nice and pretty and everything, but soybeans are where you get your money, and those were really hurt this year," Reinbott said.
Meanwhile, Rauner, has dodged questions about climate change and whether human activity contributes to it. He was asked about climate change in a debate a year ago against then-Gov. Pat Quinn (D). Rauner would say only that he supports all forms of energy production.
Rauner's office did not respond to a request for comment on climate change and his state's pumpkin troubles.
Calling all HuffPost superfans!
Sign up for membership to become a founding member and help shape HuffPost's next chapter