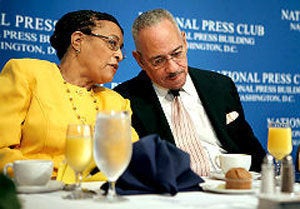 New York Daily News columnist Errol Louis writes:
The Rev. Jeremiah Wright couldn't have done more damage to Barack Obama's campaign if he had tried. And you have to wonder if that's just what one friend of Wright wanted.

Shortly before he rose to deliver his rambling, angry, sarcastic remarks at the National Press Club Monday, Wright sat next to, and chatted with, Barbara Reynolds.

A former editorial board member at USA Today, she runs something called Reynolds News Services and teaches ministry at the Howard University School of Divinity. (She is an ordained minister).

It also turns out that Reynolds - introduced Monday as a member of the National Press Club "who organized" the event - is an enthusiastic Hillary Clinton supporter. ...

I don't know if Reynolds' eagerness to help Wright stage a disastrous news conference with the national media was a way of trying to help Clinton - my queries to Reynolds by phone and e-mail weren't returned yesterday - but it's safe to say she didn't see any conflict between promoting Wright and supporting Clinton.
Read Louis's full column here.
National Press Club president Sylvia Smith responded today to a Daily News article reporting that club member Barbara Reynolds, a Hillary Clinton supporter, organized yesterday's breakfast talk with Dr. Jeremiah Wright Jr.

Smith said by phone this morning that she still doesn't know if Reynolds supports Clinton, and doesn't care either way.

"Reverend Wright is newsworthy, period," Smith said.

But Wright wasn't as newsworthy two years ago when Reynolds first pitched Barack Obama's controversial pastor as a potential speaker for the press club, according to Smith.

At that time, the speaker's committee--of which Reynolds is now a part of, but wasn't at the time--didn't move forward with selecting Wright.

"He wasn't newsworthy then in the broader context," Smith said.
REAL LIFE. REAL NEWS. REAL VOICES.
Help us tell more of the stories that matter from voices that too often remain unheard.