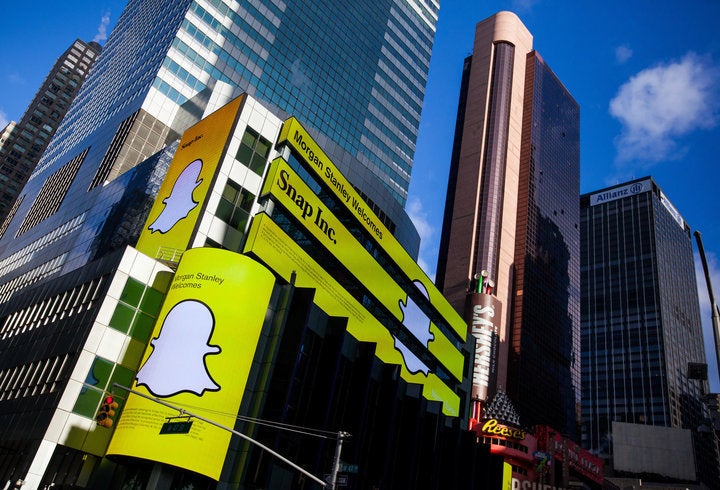 Does a supermodel and tech giant's matrimonial merger mean that countless observers will have a digital front row seat to a fashion-forward wedding if covered on Snapchat? Former Victoria's Secret Angel (and beauty mogul) Miranda Kerr and the billionaire co-founder (and CEO) of Snapchat Evan Spiegel are engaged. But we really don't know how big the Snapchat audience for this wedding might be because there isn't a way to tell if your Snapchat audience is engaging with your content as they have the option of skipping through content or not watching at all.
Snap Inc., the parent company of Snapchat, the popular messaging and social media app, recently made its market debut. It was the second-largest U.S.-based technology IPO ever, behind only Facebook. Snapchat allows users to take photos, record videos, add text and drawings, and send them to a controlled list of recipients.
There is much hype and excitement over the youth-driven, vanishing photo platform. Photos and short videos (called "snaps") self-destruct after being viewed by the recipient. Snap saw its stock open at $24 a share in its public market debut last week, valuing it at $33 billion. The parent company of disappearing-message app Snapchat priced its shares at $17 in its IPO on March 1, raising $3.4 billion.
The Snapchat app audience consists of mostly teens and millennials. Snaps disappear shortly after they are sent, so users feel comfortable sending photos of themselves that are risqué, imperfect or even unflattering.
Snapchat was perceived in the beginning as a sexting tool. The company then added videos and launched "My Stories." It has features, including lenses that superimpose over the user's face and geofilters that allow an overlay for the user's location.
Despite all the pomp and circumstance, brands looking to market themselves on Snapchat should proceed with caution. The teen demographic of Snapchat is not necessarily brand loyal. Snapchat also struggles to grow its user numbers in countries without the high bandwidth capacity that the app requires. In the fourth quarter of 2016, Snap posted the slowest growth rate for any of the 12 quarters for which it reported numbers.
Snapchat carries a number of risks for social media managers and marketing directors interested in tapping into the power of its platform for brand building and publicity. There is a minefield of copyright infringement risks. Snapchat may be in a perilous position of liability since reproductions of copyright-protected works without the owner's permission will constitute infringement unless an exception applies.
Equally troubling for brands is the fact that there is no way for them to monitor or manage the content - including offensive snaps - being created in the brand's name. It only takes one objectionable or racist user-generated video or photo for a company or campaign to be wreaked. (Snapchat was previously embroiled in a controversy by rolling out two different racially insensitive filters.)
It is difficult, if not almost impossible, to measure any direct sales from Snapchat and quality metrics are lacking on the platform. As such, any marketing effort that doesn't offer analytics might not be money well spent. From a marketing perspective, you want to track how successful your post is; how interactive the user-base is; whether clickable links start an end user down your sales channel; and you want to maintain data for future decision-making. The Snapchat app has its currency in "streak," a calculation of how many consecutive days you and another person communicate with each other. For brand building, that isn't an ideal metric that can offer valuable insight.
Other social media platforms - Instagram, Facebook, LinkedIn, Pinterest, and Twitter - have a multigenerational appeal. Snap's niche demographic might make brands nervous. The youth vote counts, but maybe not to the extent Snapchat would like as young adults do not have the purchasing power of their distinguished peers and parents, who have flocked to other social media platforms.
Going, going, gone! The single view nature of Snapchat is a disadvantage for companies as the prospective customer or client may miss vital information about the brand, which is the entire point of brand building and using social media as a marketing tool. Generally, images and videos sent by Snapchat users expire and can usually only be viewed once. Additionally, the number of views cannot confirm whether the video is watched or not. Because Snapchat is not a forwarding mechanism that can make messages go viral, it may be difficult for emerging brands to be found.
It isn't a snap to decide which social media platforms work best for a brand or a client, but a careful evaluation of which platform can drive targeted traffic; increase brand recognition; improve brand loyalty; and boost a website's SEO will help decide which social media tools translate to business success.
REAL LIFE. REAL NEWS. REAL VOICES.
Help us tell more of the stories that matter from voices that too often remain unheard.
This post was published on the now-closed HuffPost Contributor platform. Contributors control their own work and posted freely to our site. If you need to flag this entry as abusive,
send us an email
.