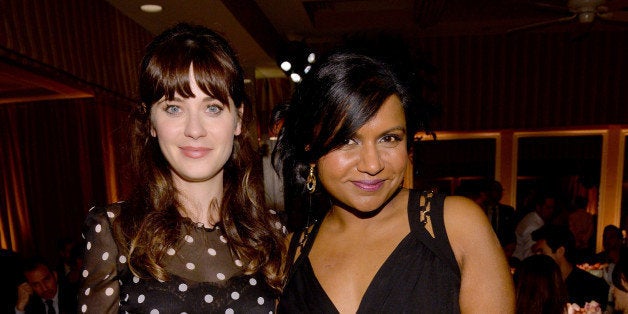 In the June 20 issue of The Hollywood Reporter, six of television's most visible comedy actresses trade stories of nude scenes gone wrong, bizarre fan encounters and the subtle ways sexism creeps into life on- and off-screen.
Filmed for The Hollywood Reporter's website, the roundtable includes "The Big Bang Theory's" Kaley Cuoco-Sweeting, "New Girl's" Zooey Deschanel, "Nurse Jackie's" Edie Falco, "The Mindy Project's" Mindy Kaling, "Shameless'" Emmy Rossum and "Orange Is the New Black's" Taylor Schilling.
Deschanel, Kaling and Cuoco-Sweeting front network sitcoms with mainstream popularity, while Falco, Rossum and Schilling star in premium cable shows that allow for darker content. But despite their diverse on-screen personas, viewers make similar assumptions about their real-life identities.
Kaling has hilariously addressed the media's reaction to her success, and in this roundtable she gave one extreme example of an inappropriate "question" from an interviewer: "'You're ugly and fat, and that is so refreshing to us.' I'm like, 'What are you saying to me, sir? That's not a question.'"
The other women testified to viewers' absurd penchant for commenting on women's bodies. Edie Falco said the most common comment she gets from "Sopranos" viewers is, "How did they make you look so fat and old on that show?" Rossum added, "People say that I'm so much prettier on TV." The subtext isn't always meant to flatter, however. "Someone once told me to work on my upper pectoral muscles. Maybe... my breasts looked schlumpy," Rossum said. Deschanel added, "'You're so thin! You look so fat on TV" to the pile of backhanded compliments.
Some of the women think these critiques reflect a general problem with being a female entertainer."You're a public commodity so they think they can be just totally, completely honest with you," Rossum said. Another double-edged sword: "We're in comedies where characters are constantly dissing us," Kaling said, suggesting that the rest of the world co-opts women's sense of humor as an invitation to take part in the deprecation.
The expectation that female actors meet the standard of their fictional characters is more than skin deep. The women say male actors get away with satire and irony more than women -- whom audiences are less willing to separate from their on-screen personas. This rings especially true for Kaling, who writes her show and shares her character's name:
The character ... says stuff like, "I think recycling makes America look poor." Then pieces get written about me that say, "Mindy Kaling is a Republican," because they can't separate the two. But no one ever thought [why] Alec Baldwin's character on "30 Rock" said things like that. I think it's sexist, that there's no way that I could write a character who's so different from me. Why would I want to do my own show and be a cool, liberal Westside person who lives in Brentwood? Let me live that life and let the character be wild.
The bottom line: Don't interpret women's scripts as memoir. Luckily, Kaling gets the last laugh: "The flip side is getting to make out a lot on TV, which I do," she said.
REAL LIFE. REAL NEWS. REAL VOICES.
Help us tell more of the stories that matter from voices that too often remain unheard.
BEFORE YOU GO
PHOTO GALLERY
18 Funny Women You Should Be Following On Twitter