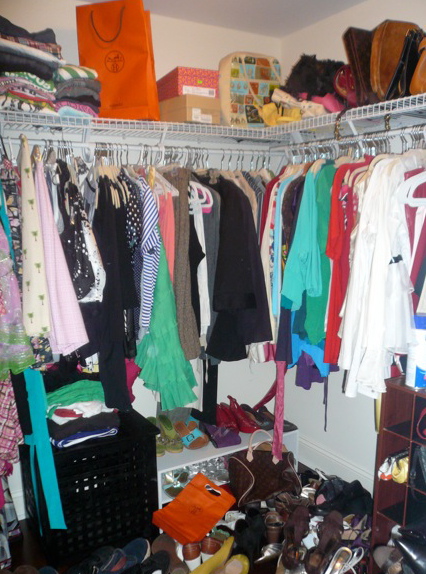 Yes, folks. It's true! I did come out of the closet this weekend... And I feel so liberated, free and well, just a whole lot better!
In case you were wondering, I am talking about the walk in closet I share with my husband! It was crowded, cluttered, hard to keep neat (and did I mention crowded)?
It was also done by the contractor who remodeled my home and thought white wire shelving was cool. Yeah, it's not. And it reminds me of every rental apartment I lived in as a single girl in Miami. I am not a fan, but people buy them because they're cheap. One cliche I hammer home day after day is, "You get what you pay for". However, this is not always the case. While I was on a recent shopping trip at Lowe's, I saw some really nice wood closet systems that would match perfectly with my newly revamped master bedroom... dark wood, an armoire, under $500. I was in heaven.
I am, by most accounts a very neat person. Now that I have two toddlers and a busier than I could've ever imagined career, I tend to let a few things slide. I also don't like anyone touching my stuff. Anal, I know. Anyway, my husband is a little bit of a hoarder. Not the kind of hoarder who has a garage full of old newspapers and dead cats under the couch kind, but let's just say he likes to keep things way past their time. Maybe pack rat is a better term. For example, must you hang your twenty year old Philadelphia Eagles jersey in our closet? He continually argues back that he has to compete with my 150 pairs of shoes "you never wear" and the handbags that compromise our children's college fund. Hmm.
So, the closet has been somewhat of an issue around here. Always the problem solver, I began my journey out-and back in-the closet.
The process was simple but going through it all takes a full day. You really need to block off an entire day to do this. But, I feel better, more organized and for the first time in our years together, I think I see my darling husband enjoying all his newfound neatness, too! I've listed my tips below. I highly recommend this to anyone seeking more organization in their closet. And you can do it for a lot less money that you think.
The difference is amazing. Keeping in mind, we threw out a LOT of stuff. Rather, we donated it. Clothes, old belts, shoes, hats, you name it. Parting with some of those outfits from my early twenties was brutal, but I'll get over it. You mean, hot pants are inappropriate for me? Yeah, honey. Your hot pants days are over. But, now I have a better income to buy nicer clothes that look fab anyway!
I used a gorgeous closet system from Lowe's that has a very custom feel to it, but at a fraction of the cost. I added Huggable Hangers, which I am obsessed with. I cannot use any other hangers. The clothes don't fall off (even spaghetti straps!) and they double your space. Also, they come in pretty much every color of the rainbow. A German company called Reisenthel makes by far the highest quality storage bins I've come across ever. These boxes are like the Mercedes-Benz of storage bins. They are also so pretty, modern and color coordinated. Lastly, I found a company online that makes clear, drawer-like shoe and boot pods. I got a whole carton full of these "pods" for all of my shoes and boots. I can see my stilettos oh so clearly now! That's it, four sources and I was done. Totally organized closet.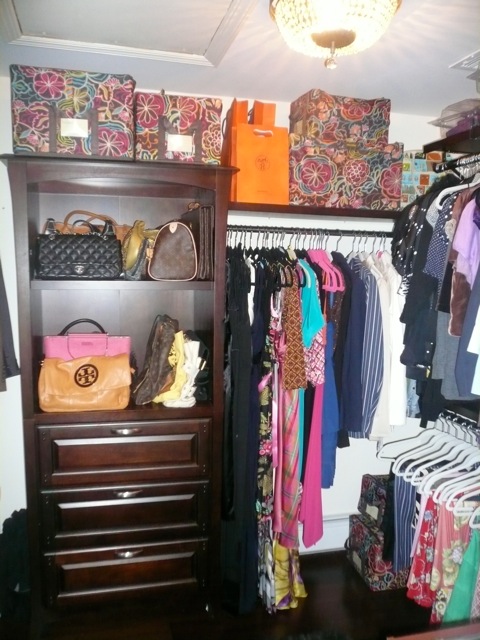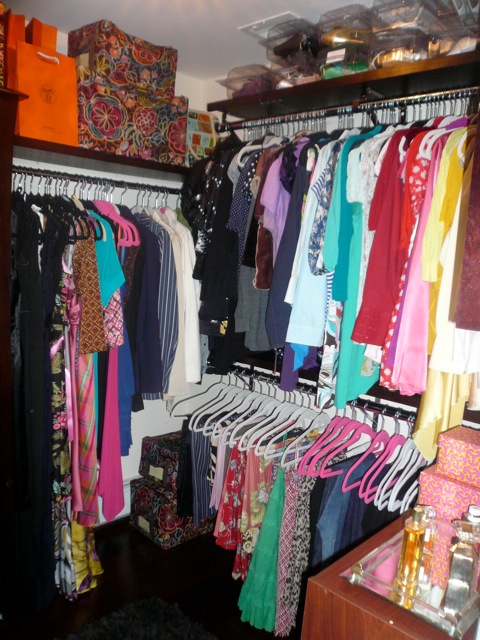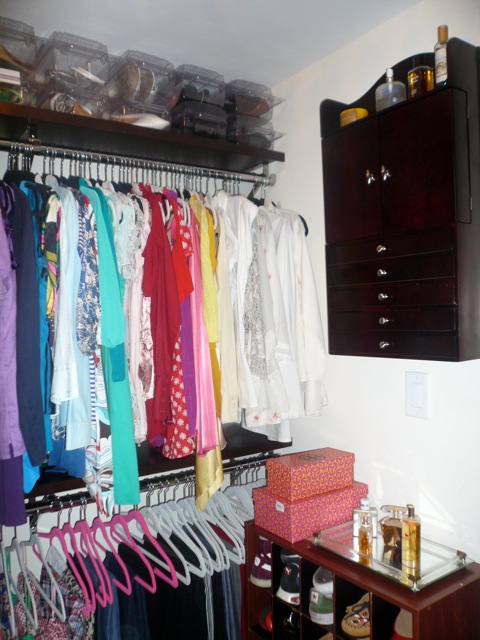 Donate whatever you haven't worn in over a year. Unless it's something like your wedding dress. If they haven't fit in over a year, you might want to stash them away until you lose the weight. There are a lot of skinny poor people who might appreciate your old clothes. Make someone's day.
Store away seasonal items. This way, you don't have to shuffle through sundresses in January or suede boots in July. Make sense.
Buy a jewelry cabinet. They're so cute and you can coordinate your jewelry with your outfits. I found a really nice one for just over $100.
Double up! Buying doubled up hangers helps. Do double decker rods and use all that wasted space.
Color coordinate. So, when you need the perfect yellow blouse, you'll know exactly where it is!
Put your shoes in containers. No dust, more organized and easy to find. You could use labels here, too. I didn't. It's a little too Martha Stewart for me, but you could.
They say organized people are happier, more successful and relaxed than their Messy Marvin counterparts. If for no other reason, isn't that good enough for you?

Where To Buy:
Want to keep up with Designer & TV Personality Courtney Cachet? Hit her up on her Facebook page, follow her on Twitter or check out her site www.courtneycachet.com
You can also see more of Courtney's designs on http://www.lovesac.com

Related