There's a new leader in the House of Representatives, but Congress is still America's favorite punching bag, according to a new Gallup poll.
Just 11 percent of Americans -- a record low for 2015 -- say they approve of Congress, according to the survey, which was taken after Paul Ryan was elected speaker of the House and a deal was reached to avoid a government shutdown. Eighty-six percent disapprove.
"Although Ryan, like Boehner and Nancy Pelosi before him, will likely start off his speakership with much political goodwill, that has not had any immediate effect on the way Americans view Congress more generally," Gallup's Jeffrey M. Jones wrote. "Even if Americans support Ryan initially, he will still be forced to navigate a divided federal government and a House Republican caucus that itself is divided."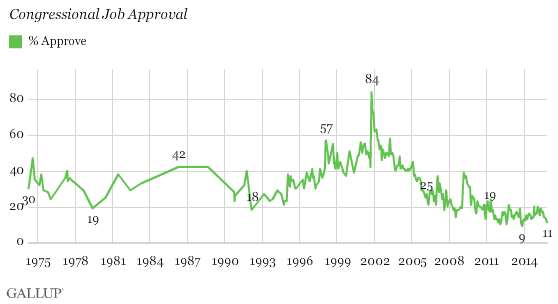 Republicans, who were deeply frustrated with former House Speaker John Boehner, had relatively high hopes for Ryan: in an Economist/YouGov survey taken just before Ryan was sworn in, 44 percent said he'd be more successful than Boehner, while just 7 percent thought he'd fare more poorly. 
Right now, though, the GOP is still the political group least likely to approve of Congress, with just 8 percent of rank-and-file Republicans giving the legislative branch a positive rating. That's deeply unusual for a majority party, and it means, as Gallup notes, that they don't like their own party's leadership any more than they liked the Democratic-controlled Congress in 2010.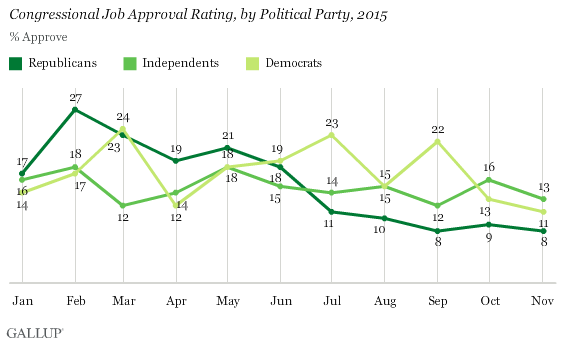 Gallup surveyed 1,021 adults between Nov. 4 and Nov. 8, using live interviewers to reach both landlines and cell phones.
PHOTO GALLERY
Politicians React To Paul Ryan Getting Elected Speaker
REAL LIFE. REAL NEWS. REAL VOICES.
Help us tell more of the stories that matter from voices that too often remain unheard.