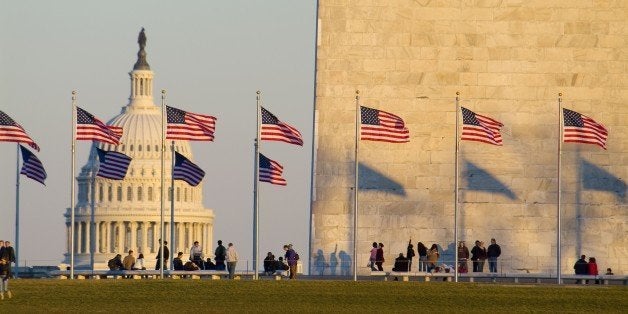 WASHINGTON -- Leah Phifer has long envisioned spending her life dedicated to public service. The 29-year-old Minnesota resident has been a civil servant for three years and is currently at the Department of Homeland Security. She's starting a chapter of Young Government Leaders in her state and taking night classes to pursue a master's degree in public policy.
But now, as she observes the squabbling and dysfunction in Congress, she's thinking of pursuing another career path.
"I had never considered leaving federal service," she told The Huffington Post. "But I have student loans to pay back. I want to buy a house. I want a life that doesn't include biannual panic attacks over arbitrarily losing my job. So you asked if I'm considering leaving public service. In this climate, I ask you: How could I consider staying?"
Phifer should be exactly the type of person federal officials work to attract and retain. But lately, civil servants are more often castigated as overpaid bureaucrats. President Barack Obama sent a letter to federal workers on Tuesday lamenting that they have been treated as a "punching bag" and caught up in Congress's disagreements.
Perhaps as a result, more and more dedicated civil servants are looking to leave government and find a job in the private sector.
"Most people I know are looking for new jobs," said one Defense Department employee who requested anonymity to speak openly.
Another 30-year-old Defense Department employee in Maryland told The Huffington Post that he's currently looking for a new job and telling others not to go into government service.
"The only reason to work for the government has been job security and the benefits. The benefit package isn't there, and lately the job security isn't there," he continued, adding that after he was furloughed for six days, he started paying the minimum on his credit card each month and stopped contributing to his retirement fund.
Phifer said the furloughs have not only been disheartening, they've also made it difficult to plan for the future.
"I'm in the process of buying my first home, but my mortgage application is sitting in limbo. I can't submit it until I know how badly my finances will be hit by this latest fiscal crisis," she said. "It is so frustrating to hear Congress say that bringing back the economy and the housing market is their number one priority when they are precisely the reason I'm unable to contribute to either."
Max Stier is president and CEO of the Partnership for Public Service, a nonprofit organization dedicated to promoting public service. He said he and his colleagues have heard plenty of disheartening anecdotes about people looking to leave government work.
"There's no question that this has been damaging to the long-term health of our government," he said. "The government is only as good as the people in it, and we have really talented people who are looking for a way out, and that's certainly going to impact the interests of other talented people who came in behind them. This is a very, very big problem."
Civilian federal employees have now gone roughly three years without receiving traditional cost-of-living raises. Although many employees can still get pay bumps through so-called step increases, the freeze has meant that many others are earning the same salary as a few years ago, and in some cases less, once higher health care contributions are factored in. After supporting earlier freezes, Obama told Congress in August that he wants federal workers to receive a 1 percent pay raise next year.
PPS puts together an annual report on the Best Places To Work in the Federal Government, based on a government-run survey of workers in each federal agency. In 2012, job satisfaction and commitment dropped to the lowest point since 2003, when the rankings first launched.
Asked when this year's rankings will come out, Stier replied, "I hate to say it, but the shutdown has impacted the release of that report. We were supposed to get the data file [from the government] tomorrow. And we won't, because the government shut down."
The PPS report will likely come out next month, he said, but it now depends on how long the government remains closed.
Calling all HuffPost superfans!
Sign up for membership to become a founding member and help shape HuffPost's next chapter
BEFORE YOU GO
PHOTO GALLERY
John Boehner's Shutdown Showdown Stares