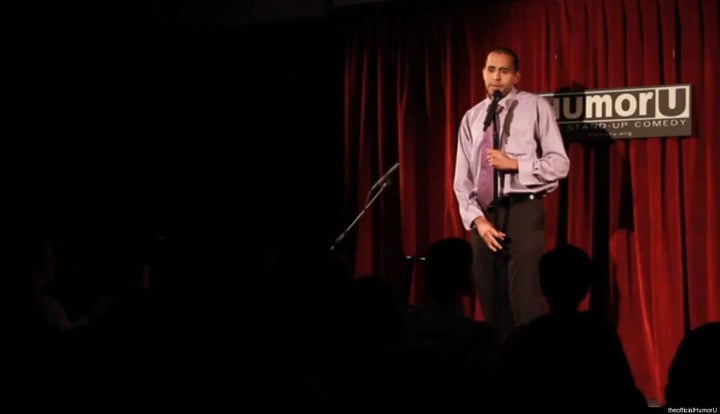 What do Muslims and Mormons have in common? It turns out both want to take over the world. But when they are not too busy doing that, they tell jokes -- together.
My first stand up comedy gig was at my local LDS church where they had a talent show and I felt I could tell some jokes. Needless to say the night went well and people laughed -- they are nice that way. I would also perform at class functions and other church activities. But mostly my Mormon classmates would laugh at the comments I would make in my political science classes where the conservative mantra is dominate. However, there are many social issues Mormons and Muslims have in common. For starters, they are all about larger families, and for both families always comes first. Obviously, neither of them consumes alcohol and they both love cake and ice cream as going to the bar is not an option.
In 2006, I was approached by a return missionary and a classmate at BYU, Tanner Kay, to join a new stand-up comedy club he was just starting on campus called Humor U. Kay had seen me perform stand-up at a talent show and thought I was pretty good. He had also been dabbling in stand-up comedy as an amateur. A Mormon seminary teacher earning an advanced degree at BYU teamed up with us and we started a stand-up comedy club at BYU called Humor U. But this meant we had to get serious about writing and performing.
It was very easy for me to write jokes on day-to-day basis since I would constantly run into humorous situations. Largely, this is due to the fact that the majority of the student body is made of students from the West and mostly white persuasions. The potential for humor followed me everywhere I went.
When I started to perform with Humor U, the reception I got from the audiences was tremendous. Since the vast majority of the student body is LDS, they were all naturally curious to know what's it's like being a Muslim on a Mormon campus. The Humor U audiences would erupt when I would joke about the idiosyncrasies of Mormon culture. This is evidence of their good nature and ability to not take themselves too seriously.
My first joke was about the way many Mormon classmates introduce me to their friends. They often would say something like; "Meet Hani. Hani is not a member of our Church, but he is a good man". So I joked about how I started saying something similar when I would introduce my Muslim friends to my Mormon friends, "Meet Jack. Jack is an infidel, but I think we will keep him alive tonight." I also loved to joke about those nice Mormon girls who the moment they find out I was not Mormon, used fresh baked brownies and cookies to entice me to come to Church activities -- of course, I went. I was constantly writing new stand-up comedy material that I performed with Humor U.
Even though the student body is largely conservative, Humor U was well-received. I learned that we can all laugh together as long as we are not being vulgar or disrespectful. The club has no censorship, but we knew when to stop and what boundaries not to push. It turns out that clean comedy is not hard to write and that it is also an ideal marketing niche. Humor U is loved by young and old alike for emphasizing topics that appeal to family demographics.
Humor U was very small when I started performing with the group. The first show was to only 50 people in the fall of 2006. But four years later they perform for over 2,400 in a single weekend and charge three times the price for tickets. Over a hundred students audition for the club every year and competition is intense. The Humor U formula has proven to be nothing but a success. The efforts of dozens of BYU student comedians has led to Humor U becoming the largest comedy club between NY and LA and the cleanest in the world. Humor U produces more than 40 shows a year for more than 12,000 people who live in Provo, Utah and hundreds of thousands on YouTube. A recent Humor U comedian starred in a YouTube viral video that received more than 2 million hits about the BYU Library.
As of how a Muslim like myself would end up being on a Mormon campus is a long story. But to make a long story short, I was interviewed in Gaza by two BYU professors who offered me a scholarship to attend this church-sponsored university. Many college students come to Utah only to be surprised how different it is from what they thought college life would be or what Hollywood told them it would be like. Alcohol, caffeine, Greek life and drugs are all replaced with root beer, brownies, church activities and ice cream. Making this conservative place a comfortable home for many Muslims.
It's been several years now since I graduated from BYU, but I still keep in touch with Humor U comedians past and present. I was able to participate in one of their shows a few months ago. It feels great to be in touch with my alma matter.
In a video of my latest appearance with the club, I poke fun at many things, including Arab superheros, infidels and spot lights. Remember, I often perform under the title, "Terrorizing the English language, one joke at a time." If you can understand my English, you should work for immigration and customs.
WATCH: