2014 proved to be a busy year for artist Sona Mirzaei. "2015 is going to be even bigger and better," laughed Mirzaei.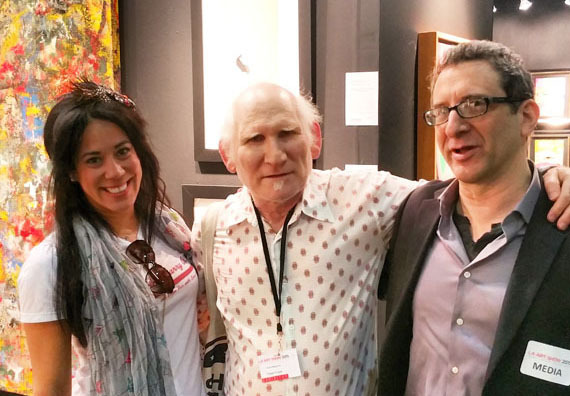 See image: courtesy of the artist; Sona Mirzaei with Peter Frank (Huffington Post and Fabrik Magazine) and George Melrod (Art Ltd Magazine) at the LA Art Show
A determined artist, Mirzaei knows what she wants and goes after it. One of her paintings was just featured at the prestigious LA Art Show (Jan 14-18, 2015). Saturday, January 24, her work will be featured in a solo exhibition at Rebecca Molayem Gallery. On February 7, Mirzaei's art will be included in a group exhibition benefitting a local nonprofit to help prevent youth violence for the annual PYFC charity event. Fast-forward to February 17...the artist's work will also be showcased in another solo exhibit as part of a solstice and anniversary event at the Century City location of Equinox Fitness. She has also been asked by one of her collectors to show her work in a private exhibit in Palm Springs this March/April.
Although the LA Art market is highly competitive, accomplished art critics such as Peter Frank (Huffington Post, Fabrik Magazine) have taken notice. "Sona Mirzaei paints like a cross between a house on fire and a bat out of hell. She seems almost literally to whip her abstract paintings into shape. The results of her furious brush-wielding are roiled surfaces and foreign materials brought to a sudden, almost revelatory visual coherency, exciting to witness."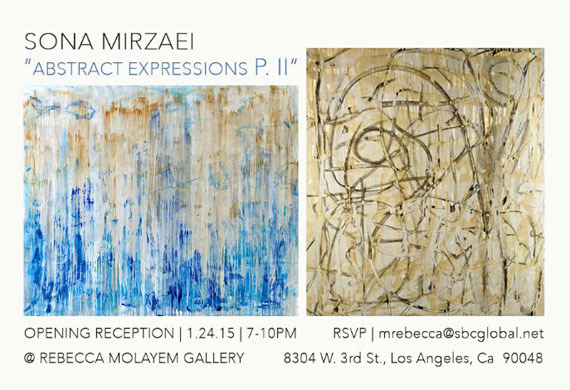 On Saturday, January 24, "Abstract Expressions P.II" opens at Rebecca Molayem Gallery from 7-10pm. The solo exhibit will feature over twelve abstract works from Mirzaei's ongoing series In Search of Splendor. "I think that Rebecca is an awesome person, and I love that she welcomes selected artists into her gallery," said Mirzaei. "She is also a great artist as well and enjoys bringing the art community together."
An artist herself, Molayem originally opened her gallery as a place to exhibit her work back in 2009. She soon started showing the work of other artists. "I always felt as an artist, I should be supportive of others and have been trying to do so ever since." Molayem met MIrzaei several years ago and said she is impressed with how her art has developed. "I like her approach in form and color, the compositions, and use of brush strokes in her new paintings." Rebecca Molayem Gallery is located at 8304 W. 3rd Street, Los Angeles, CA 90048; 323-944-0553. For more information about the gallery or Mirzaei's exhibit opening on Saturday, January 24 (7-10pm), see http://rebeccamolayemarts.com
In February, Mirzaei will be lending her talents to help raise funds for the Pico Youth & Family Center, a Santa Monica nonprofit committed to preventing youth violence. For the past twelve years, PYFC has provided teens and young adults (16-24) with counseling, tutoring, job readiness training, leadership development, music, art, and computer training.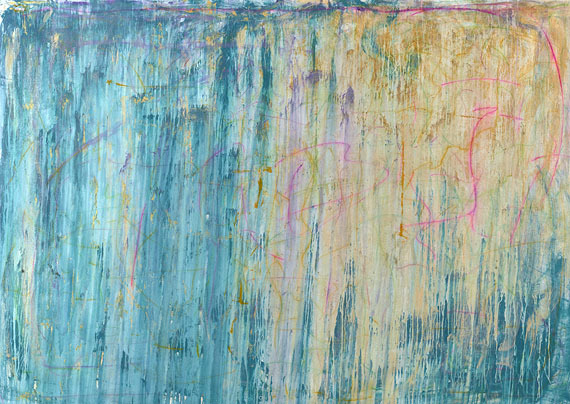 See image: courtesy of the artist; "Lausanne," 56x58, from In Search of Splendor series, mixed media on canvas; (part of "Abstract Expressions P.II" exhibition at Rebecca Molayem Gallery)

Mirzaei has been asked to paint a wooden heart to be auctioned off at PYFC's 6th annual benefit on Saturday, February 7. The artist remarked, "I am delighted to participate in the Art for Hearts event to help promote the act of kindness and love by designing a heart to help prevent youth violence." The Valentine-inspired charity event will feature wooden hearts painted by accomplished artists along with live music, local cuisine, and wine. The event will be held from 7-10pm at the Jeanie Madsen Gallery located at 1431 Ocean Boulevard in Santa Monica, CA, 90401. For more information about PYFC, visit http://picoyouth.org/
When one thinks of a gym, the notion of art does not normally cross one's mind. Mirzaei is helping to instill a more creative ambiance at the Century City location of Equinox Fitness. "There is something truly thrilling about being associated with a commercially successful brand such as Equinox," said Mirzaei. "They have a clean, Zen-like, fun, trendy image, and my work has a lot of these qualities, yet it allows for artistic freedom, culture...it's thought provoking, and this is a nice change for Equinox. Uniting the magic of art with the healing and wellness of fitness is all very cerebral, and hopefully this will encourage the creativity of its members."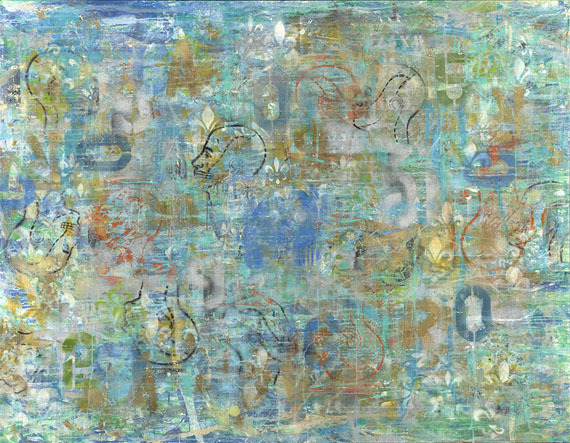 See image: courtesy of artist; Mind Blown series # 1, 54x56, 2014, mixed media on canvas (part of Equinox Exhibit)

General manager of Equinox Fitness in Century City, Michael Melnick has been with the company for ten years and commented that what he likes most about his job at Equinox is providing a service to help members live better lives. "They look better, feel better, and have a much better outlook on life," said Melnick. He has worked at the Century City location for the past two years and said he was looking forward to showing the work of Mirzaei. "I like the energy and boldness of the work." The opening reception takes place on February 17, 6-8:30pm. Champagne and hors d'oeuvres will be served. Equinox is located at 10220 Constellation Blvd, Century City, CA 90067; 310.552.0420; http://www.equinox.com/
This past year, Mirzaei's work was exhibited in New York City as part of a group show at NOoSPHERE Arts. The exhibition was presented by the nonprofit organization Art for Progress (AFP) based in NYC. Her paintings were also on view at the Beverly Hills artSHOW as well as part of a group exhibit at Coagula Curatorial.
Mirzaei is a frequent visitor to both local galleries and museums. "I attended William Turner Gallery's recent exhibition featuring the art of Andy Moses and appreciated his use of light and motion in his work," Mirzaei recalled. "There is so much great art out there, and I love being able to experience other people's creativity outside of my own. That's the beauty of the art world!"
Related
Popular in the Community