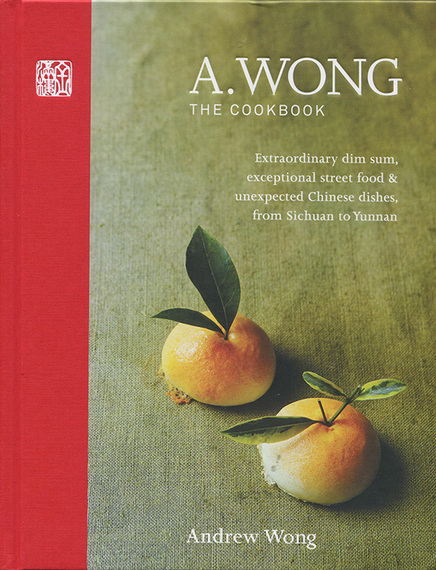 This is a serious cookbook by a most accomplished culinary star. Andrew Wong was born in the UK to parents who immigrated and created a modest empire of four restaurants. Andrew literally grew up with hours each day in kitchens and restaurants.
So, he went on to culinary school, right? Eventually. He was chemistry major for a year at Oxford and then got a degree in social anthropology from the London School of Economics. When his father died, Andrew took over the restaurants and did, finally, attend culinary school. Today he runs his own London restaurant, A. Wong.
This book is based on that restaurant and reflects Andrew's professionalism and philosophy. He loves to take original Chinese recipes and put a creative twist on them. The final flavors may not shift greatly, but there are differences and surely your eyes will be stunned. At the end of this post, there is a photo of his Razor Clams with Tapioca Pearls. Not the dish I can find down the street at your local Chinese spot.
Chinese food expert, author Corinne Trang, combed through this book for me, and came back with the perfect synopsis: "Very authentic book. Great recipes. Not quick."
Let's address that "not quick" assessment. Why do you go to a Chinese restaurant and not make the food at home? There is the unfamiliarity with the ingredients. There can be a lot of ingredients and a lot of steps. It can seem too hard.
The recipes in this book are all one-pagers. There are less than a dozen ingredients in most cases and, in most cases, Andrew gets you through from start to finish in at most 10 or 11 short steps -- his writing is staccato and immediate, what you would expect of a commanding chef. There is some work to do in these recipes, and you'll need some time, but the recipe titles and the brilliant photographs broadcast that delights do await.
The book's chapters include:
Dim Sum
Snacks
Wok
Main Dishes
Roast & Share
Desserts
Yes, there is a difference between Dim Sum and Snacks although it's quite impossible to easily put into words. Scan the recipes and you can tell. Although, while you might think that a snack dish should be easy, Andrew himself calls the Salt & Pepper Snap Bean Fritters "an absolute pain in the backside." But, he adds, "The end result, though, is one of the world's most irresistible snacks."
Irresistible is an adjective that can be applied to many of his dishes:
Chinese Chive Pot Sticker
Dry Braised Beef with Oyster Sauce and Sichuan Pepper
Poached Won Tons with Chile Soy Sauce
Sichuanese Eggplant
Siu Mai [Port and Shrimp Dumpling]
Steamed Langoustines with Fermented Shrimp Paste
Xi'an City Pull Lamb Burger
Xinjiang Cumin Lamb Ribs
Right at the front of the book there is a culinary map of China. A. Wong The Cookbook lets you dance your way across a giant country with the widest culinary landscape of any land. It takes a master to give you the perfect tour. Andrew Wong is a master, and you do find recipes here from many culinary centers, some famous and some surprises.
You'll want to visit London and Andrew's restaurant. In the meantime, try this cookbook. The Chinese are famous for complexity and patience. You'll soon understand, one delight at a time.