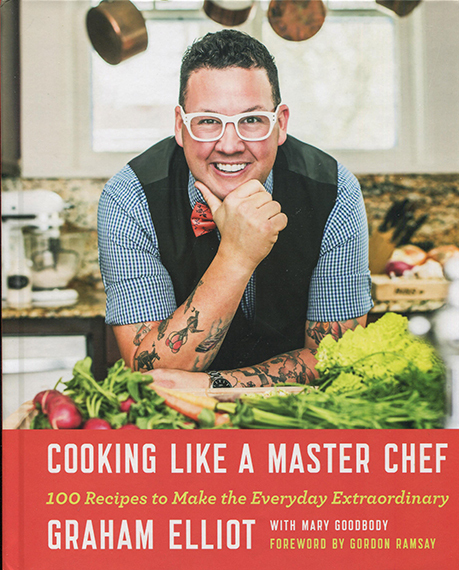 Graham Elliot's face is one you recognize almost immediately. He does wear distinguished eyeglasses. He leans into the camera. And he smiles with glee. Why not? Food is life's passion for him and he's turned that passion into a career on multiple fronts.
Graham has restaurants, two Michelin stars, years of appearing on TV, a wall of awards, and now this cookbook.
I am always curious about the life of a chef outside the restaurant. What do they do when the long hours are gone? Do they cook for themselves, travel, bar hop, binge on popcorn?
Graham is decidedly normal. He's married to his business partner, has three children, and loves to cook at home. This book with 100 recipes is his offering to us for great home-cooked meals that surely are elevated above mere comfort food.
Graham has a touch of style that is apparent even before you take the first bite. Here's a shot of his signature Caesar Salad, visually architected with oversized croutons made of brioche. He actually calls them brioche twinkies and fills them with mascarpone, cream and Parmesan cheese. His dressing has a little twist, too: no anchovies but anchovy oil combined with sour cream.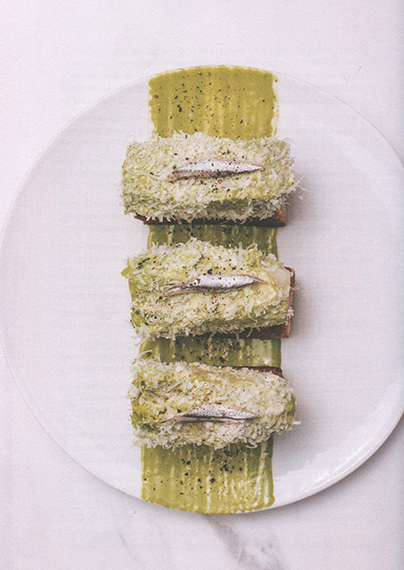 I knew I would love this book the second I opened it. I just let the book flip and up came his recipe for Watermelon-Jalapeno Ice Pops. I think you can conclude that Graham is an excellent father. That dash of style you see, in his glasses, extend to the kitchens with that special Caesar and onto the delights he offers his kids.
Graham was born in Seattle but, with a US Navy father, traveled far and wide. His exposure to world cuisine is reflected in the recipes he offers in Cooking Like a Master Chef. There's a core of American ideas surround by treats from around the world. Here the recipes I've flagged to try to over the coming months:
Baked Potato Bisque with Wisconsin Cheddar and Candied Bacon
Bananas Foster Crème Brulee
Bourbon Brownie
Chilled Summer Cantaloupe Soup
Chinese Forbidden Fried Rice
Chorizo Meatballs with Spicy Tomato Sauce
Coffee-Chocolate Sauce
Duck Confit Agnolotti with Kale and Pine Nuts
Lobster Schnitzel with Shaved Asparagus and Citrus Vinaigrette
Short Ribs Stroganoff with Spaetzle, Wild Mushrooms, and Peppered Sour Cream
Summer Peach Cake

There's diversity not only in the flavors but the complexity. The Chorizo Meatballs-- which my wife and I made and downed with very cold beer -- are simple to assemble and, I think, addictive. The Short Ribs will take some time but superior food is rarely quick food. On the other hand, the Coffee-Chocolate Sauce is something you can knock off in seconds, just perfect for you next chocolate binge.
The recipes flow from the hearty to the sweet. My selection may over represent the sweet side, but those recipes do abound in the book. I think Bananas Foster is a classic dessert as is Crème Brulee. Now, combining those two into one is something that reveals the impish creativity you'll find meandering through this book.
As a TV personality, Graham knows that you have to project a persona. You literally have to come alive on the screen. Fortunately, when he composes recipes that same creativity is totally present. Oh, yes, he's a musician, too, so when I say he composes his recipes, I think that may be the best way to explain why his Caesar salad is so strikingly bold.
The good thing about this book is that it displays culinary genius. The best part of the book, as the title says, is that you can be a genius, too, in your kitchen. Just follow along as Conductor Graham leads you in a culinary symphony.
And, if you do have kids or grandkids, why not start with the Watermelon-Jalapeno Ice Pops. We all need a little jalapeno in our lives.
For many more cookbook reviews and hundreds of excellent recipes, please visit Suzi's Blog at www.cookingbythebook.com. While you are there, you can learn how we use the kitchen for culinary teambuilding.
Follow Brian O'Rourke on Twitter: www.twitter.com/brianCBTB