It will be a while before eggplants/aubergines appear in our New York farmers' markets, but the wait isn't long enough for me to resort to the ones in the supermarket; even though they're perfectly good, I'd just as soon buy from a local grower. That doesn't mean Jackie and I don't get yens for eggplant dishes, and we got one last week, for pasta alla Norma, that great Sicilian assembly of tomato, eggplant and ricotta salata.
Though the market still holds no eggplant, the flood of zucchini/courgettes has begun, and I wondered whether treating these as I'd have treated eggplant would make a dish close enough to the real thing that our craving would be satisfied. Spoiler: It did.
In the fridge, I already had some good plain tomato sauce made from canned San Marzano tomatoes, crushed and simmered with a clove of garlic, salt, sage leaves and quite a lot of olive oil. I bought a wedge of New Jersey sheep's-milk ricotta salata and some medium-sized zucchini - less than 8 inches (20 cm) long but quite thick - one of which I cut into tiles around 1/4 inch (7 mm) thick. These I sprinkled generously with kosher salt, layered them into a colander set into a bowl and weighted them with a can of tomatoes on a saucer. After half an hour they'd shed some of their moisture; I rinsed them and dried them well in a towel, compressing them in the process.
I fried them in a mixture of neutral oil and good olive oil (for flavor), drained them well with paper towels - patting them firmly to remove as much oil as possible - and set them aside. Of course, once they'd cooled a little, I ate one. It didn't quite have the creaminess of eggplant, but it came close, and it had more flavor than untreated zucchini typically do. These fried zucchini slices are a versatile thing - I'll probably make some sort of baked zucchini timbale later in the summer and report back.
From that point, I followed the procedure for pasta all Norma: I shredded a knob of ricotta salata and set it aside, and brought some of the tomato sauce to the simmer in a skillet with half a dozen sage leaves. (Basil is the classic herb for this dish, but I didn't have any; mint would have been a good substitute - better, in fact, than sage, which is very assertive.) To this I added all but a few slices of the eggplant - er, zucchini - and boiled two portions of pasta (penne in this case, but many shapes work well with this mixture). When the pasta was very nearly done, I added it to the sauce and tossed it around in the pan for a few moments, finally adding a splash of water from the pasta pot. I slid the pasta into a serving bowl and topped it with the few remaining zucchini slices and most of the shredded ricotta salata, the rest of which I put on the table to strew onto each portion.
A lovely dish: lighter in flavor than pasta alla Norma and hence more springlike, but still identifiably Sicilian. Of course, it needs a different name, so how about using the title of another opera by the composer of Norma and calling it Sleepwalker's Pasta, after Bellini's La sonnambula?
Zucchini/courgettes salted and layered in a colander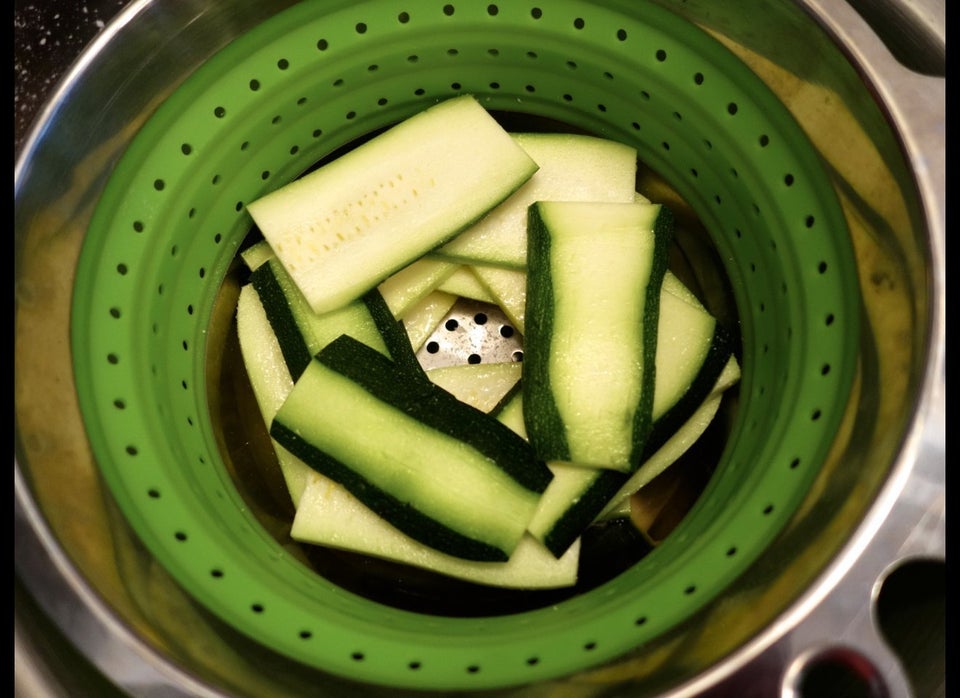 After salting, the zucchini are rinsed and dried.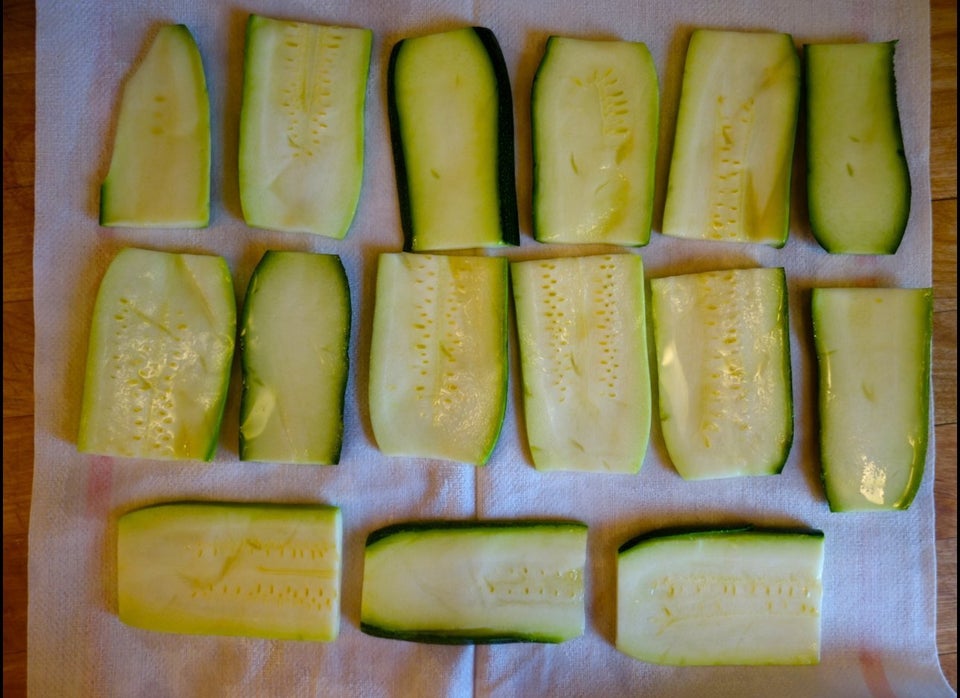 Zucchini frying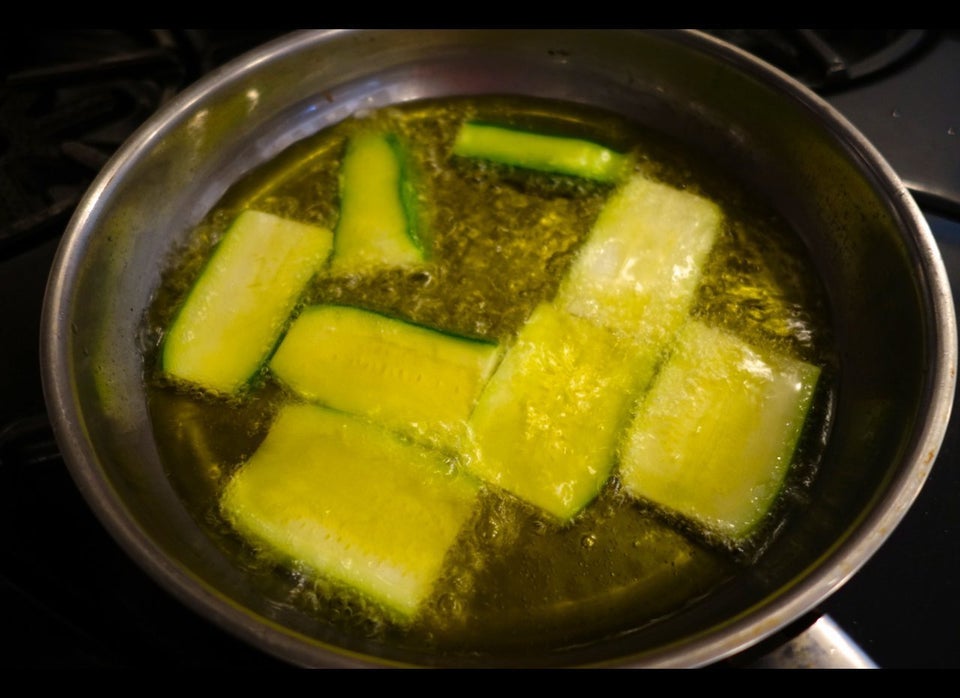 The fried zucchini, gilded but still moist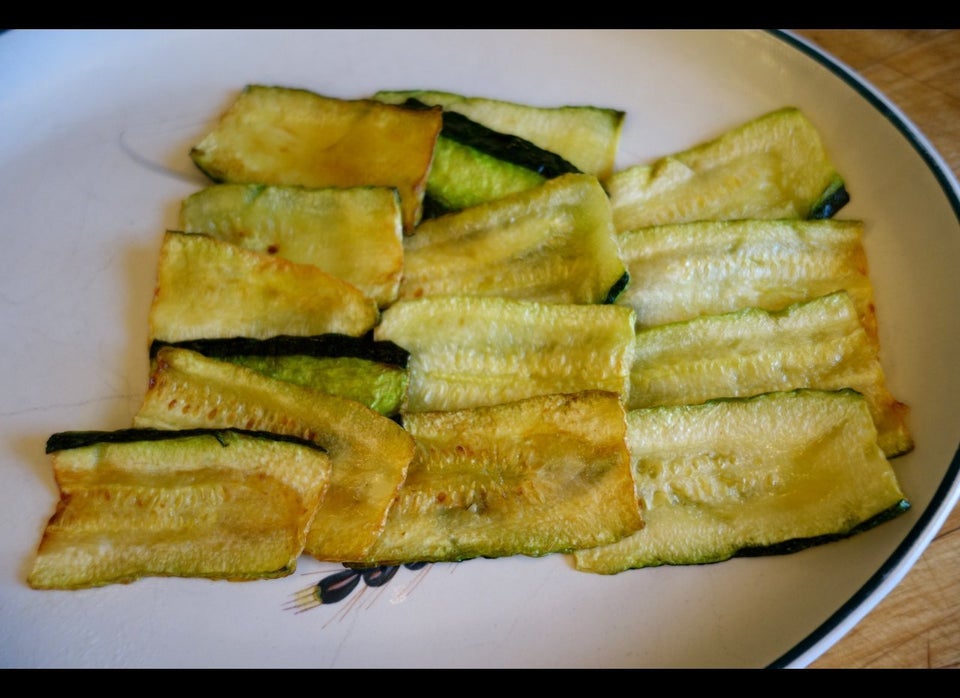 Simple sauce made from canned tomatoes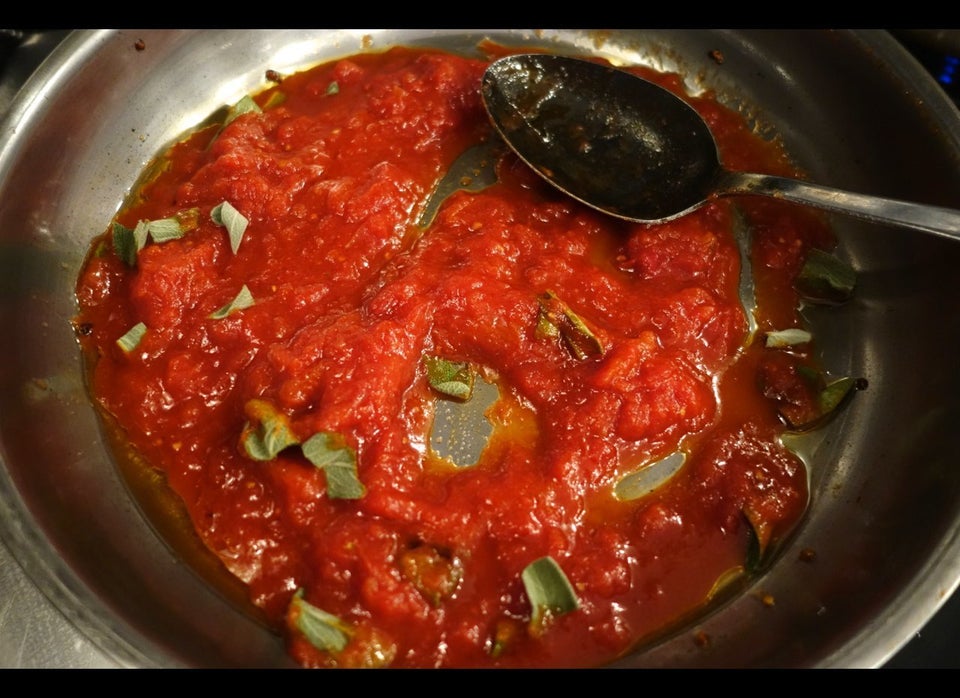 The finished dish: Sleepwalker's Pasta