If you make a last-minute run to Costco on Thanksgiving Day, you'll be out of luck. The discount retailer is bucking the hot trend in retail: kicking off the holiday shopping season before the turkey is even out of the oven.
"Our employees work especially hard during the holiday season, and we simply believe that they deserve the opportunity to spend Thanksgiving with their families," Paul Latham, the company's vice president for membership and marketing, wrote in an email to The Huffington Post. "Nothing more complicated than that."
While Walmart, Kmart, Target and others grab headlines for starting the holiday shopping season on Thanksgiving Day, Costco and a few others are standing out for their commitment to a national day off.
"Maybe call me old-fashioned, but I feel that it's an easy decision to make [to stay closed on Thanksgiving]," Laura Sen, the CEO of BJ's Wholesale Club, told HuffPost. Her company's 201 stores are staying closed on Thanksgiving Day. The company tried out a Thanksgiving Day opening in 2006, and shoppers just didn't respond, she said. And staying closed that day means workers will get the "nice holiday with their families" that they deserve, Sen added.
Stores that are staying closed are also scoring points with shoppers and workers upset about being strong-armed into cutting their Thanksgiving short in order to take full advantage of Black Friday deals. "There's a PR benefit to holding out, just as there's a PR benefit to opening early," said Roger Beahm, a marketing professor at Wake Forest University. "We know that there is a consumer backlash to this."
After stores announced Thanksgiving opening and deal times, some shoppers took to company Facebook pages, arguing that stores are injecting consumerism into a holiday meant for family. Others expressed concern that employees were being forced to work on the holiday. Still others expressed a fear of missing out on deals if they didn't shop on Thanksgiving.
"It's very tragic to me to see stores that [are] increasingly opening on the holiday, which is not only a stress to people who are planning on shopping, but also for the workers," Gutowski said. "We all want the sales, but can you just hold them until Friday?"
Theoretically, yes, but for retailers looking to squeeze as much as possible out of a holiday shopping season that's six days shorter this year, staying closed on Thanksgiving could be risky, Beahm said. Last year, nearly one quarter of Americans said they planned to shop on Thanksgiving Day, according to a survey from Deloitte, compared to 17 percent a year before. And the holiday season -- which is typically from Black Friday to Christmas -- made up 19.3 percent of retailers' total sales in 2012, according to the National Retail Foundation. For some stores, holiday shopping can account for as much as 40 percent of annual sales, according to the NRF. By opening on Thanksgiving, some stores want to add that one crucial day to their season.
Many of the businesses staying closed on Thanksgiving aren't geared towards your average Black Friday shopper. Nordstrom, for example, tends to do more business during its annual anniversary sale in July than on Black Friday, said spokesman Colin Johnson. For the high-end department store, staying closed on Thanksgiving and waiting to unveil holiday decorations until Black Friday is a long-standing company tradition. "This goes back as long as anybody here can remember," Johnson said. "Over the years we've heard a lot from our customers, and they appreciate that we take this approach."
As membership warehouses, BJ's and Costco tend to have a loyal customer base they can count on as well. Still, that doesn't mean they won't be tempted in the future to move Black Friday earlier, Beahm said.
"The early bird gets the worm," Beahm said. "It will continue until the majority of people find Thanksgiving Day to be a great time to start shopping."
Before You Go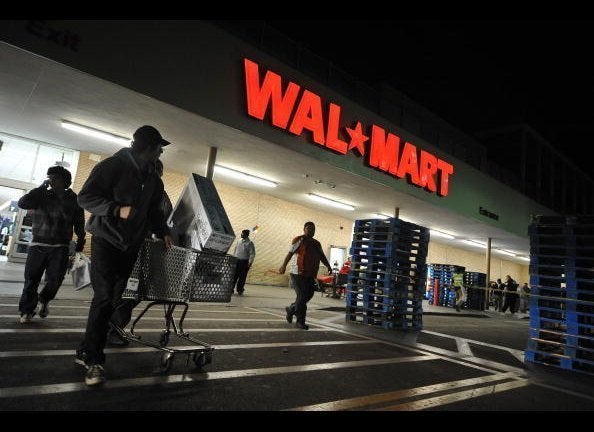 Thanksgiving 2013 Store Hours
Popular in the Community