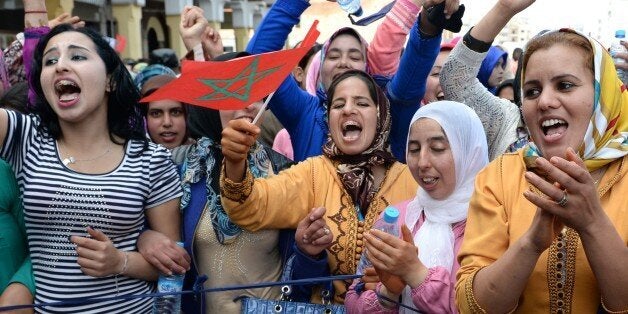 For years the international development community has been counting down to 2015. Now it's here. The Millennium Development Goals, or MDGs, that have driven development policy and practice since 2000 will expire, and a new set of goals will be created for 2030. 2015 must be a year of reflection, evaluation and renewal -- the global women's movement is counting on it.
This year also marks the 20th anniversary of the United Nations Fourth World Conference in Beijing, China, a historic event that galvanized a new wave of activism around women's rights and definitely broke the silence around so-called women's issues. With conviction that made the world take note, then-First Lady Hillary Rodham Clinton had declared "it is no longer acceptable to discuss women's rights as separate from human rights."
Much has changed in the last 20 years. What happened in Beijing ignited a movement that has shaped better futures for women and girls around the world. Yet a great deal of unfinished business remains. Equal access to education, economic opportunity, and political influence is still out of reach.
As we consider the world we want to build beyond 2015, women and girls must be at the front and center of development. We need the power of every voice, every vote, and every signature to take concrete action that gives lofty pledges real meaning. 2015 needs to be more than a milestone -- it needs to be a catalyst that sets in motion a new era of universal equality and opportunity for all women and girls.
When the MDGs were created, crucial dimensions of women and girls' empowerment were neglected; global challenges such as violence against women, access to land and finance, and equal opportunities for leadership were left out. 2015 is our chance to get it right.
Our world cannot afford to sideline women any longer. Without women, strong and sustainable growth cannot be achieved. Higher gender equality is associated with higher GDP, and women's increased economic participation drives household income growth. International studies consistently show us that where women's rights are respected, economies are stronger, civil societies thrive, and political institutions are more open and free.
The evidence is solid. And yet no country can claim to have fully achieved gender equality. More than one billion women and girls alive today will be victims of gender-based violence in their lifetime. Only 22 percent of parliamentary representatives in the world are women, and less than 20 percent of the U.S. Congress. Only between 10 and 20 percent of women in developing countries have land rights. And as the atrocities of Boko Haram have shown, girls continue to be attacked, rape, and killed simply for going to school.
It's time to deliver real results for women and girls. We have the research. We have the awareness. What we lack are political will and the resources to match. We cannot pledge to value equality and then fail to invest in it. Too often, initiatives to protect and preserve women's rights are underfunded, understaffed, and overstretched.
Despite increases in awareness, evidence, and public pledges to invest in women, a recent study from the Organisation for Economic Co-operation and Development finds that member state investments in women's economic development have flatlined. Funding has remained unchanged since 2007. Resources channeled to women, peace and security initiatives, as well as political participation, are also dismally low.
This has to change. Bold commitments require bold financing. Without adequate funding, we will continue to fall short of global development goals and fail to create the world we envision.
We need governments to step up and fund practical plans that translate vision into action. The July Financing for Development conference is a key opportunity for governments to show that they are serious.
The president has taken many steps in the right direction, with the formation of the State Department's Office for Global Women's Issues and executive orders focused on protecting women's rights. But there is more to be done. We encourage U.S. leadership to implement important domestic policy reforms and champion women's rights and opportunities globally.
This September, world leaders will adopt a new set of global development goals, centered on a pledge to end extreme poverty by 2030. These goals are part of the solution, but we need to consider not just what we want to achieve, but how we plan to get there.

At home, 2015 is an opportunity for the United States to lead the way in this shared global movement. The U.S., in collaboration with a diverse group of international partners, can address our chief barriers -- inadequate political will and resources -- by forming a global taskforce with a mandate to take concrete actions that will see commitments through. This taskforce should include a financing mechanism that can harness domestic commitments and international public funds to deliver results for women and girls.
Alyse Nelson is president and chief executive officer of Vital Voices Global Partnership. Molly Elgin-Cossart is a Senior Fellow at the Center for American Progress.
Popular in the Community