Like their mythological namesakes, unicorn companies--startup tech firms valued at over $1 billion--tend to stand out on the landscape. In order for these unicorns to become a reality, they need to be in a position to thrive. France is committed to upholding a favorable environment for startups to grow and prosper--helping to prepare these companies for success both at home and abroad in foreign markets like the U.S. And it's working. A well-known French unicorn is ride-sharing service BlaBlaCar, but it's just the beginning. The country is seeing a surge of successful startups, like Netatmo, Prodways, Aledia and Sigfox, who are poised to join the ranks of today's rising stars of technology.
A new program just launched in the U.S., Créative France, is celebrating France's position as a global leader in ingenuity and shining the spotlight on the leading individuals and major innovations, like these current and future unicorns, that make France what it is today. Créative France is supported by Business France and is a global campaign to profile French entrepreneurship and creativity. It highlights France's position at the forefront of innovation across industry sectors, including technology, design, education, aviation and gastronomy. Créative France aims to boost the growth of French companies abroad, strengthen the country's attractiveness to investors and uphold France's reputation as an exceptional place for doing business.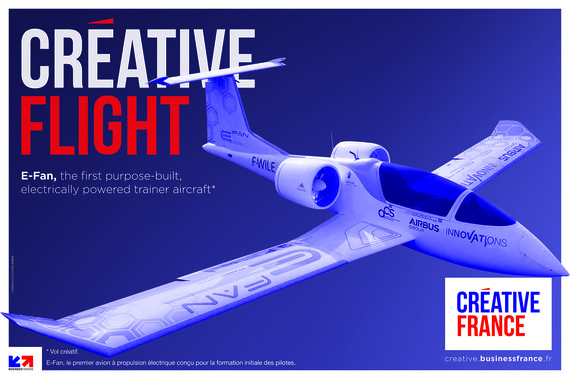 France is a land of entrepreneurs and Créative France is letting the world know about the startups that are making France a global leader in new technologies. There are 12,000 start-ups in the Paris region alone--more than in either greater London or Berlin. These young businesses are breaking new ground and paving the way for a more connected, collaborative and sustainable future. There is great energy and enthusiasm from the French entrepreneurs working with Business France, stemming from a generational shift and a strong desire for entrepreneurship in France. In fact, more than 50 percent of the French population now wants to start their own business. In the past three years, France has been leading Europe in new company creation and has seen 10,000 new startups and more than 200,000 new businesses created in total.
Créative France is helping to build recognition for French talent making an impact around the world. To raise the next generation of great entrepreneurs, Business France is also supporting--along with French public investment fund Bpifrance--ubi i/o. This program's mission is to create new success stories in the United States and globalize France's most promising technology startups.
The third edition of the annual program, just wrapping up in New York and San Francisco, places 18 young entrepreneurial French organizations in an intense 10-week discipline where they participate in workshops, pitch gatherings, networking events, mentoring sessions and other conferences and business meetings with potential clients and partners. The program helps to link the technical and the creative, allowing French startups to achieve their highest potential.
Ubi i/o program mentors--in what would normally take 10 months to accomplish--help companies improve their marketing plans and engage in business model re-evaluation in order to address five major development challenges that all companies face during their entry into the competitive American marketplace:
--Adopting a tailored marketing strategy
--Becoming well-known within the selected vertical market
--Engaging in and closing new business deals
--Raising money
--Establishing a domestic U.S. presence
Following successful campaigns the past two years, ubi i/o now boasts 16 established alumni businesses, including predictive analysis vendor Tellmeplus, which recently announced it had secured $4.7 million in new funding, allowing the company to begin expanding its footprint in the competitive AI marketspace.
Overall, 88 percent of ubi i/o alumni are now well established in the U.S. and generating revenue. Collectively, the companies raised more than $50 million in venture capital and signed over 150 U.S. sales contracts--all thanks to the collaborative program.
Industry data suggests that it takes the average unicorn six years to build and requires $95 million in funding to reach that lofty status. With the world's top investment firms almost all based in the U.S., exposing young French tech firms to the American business environment and submerging them into the economic culture provides access and helps them to thrive.
France and the U.S. have always enjoyed historic bonds and a bilateral economic relationship. Speaking in terms of startups, we are finding that a pragmatic U.S. approach to business complements the creativity of French entrepreneurs and vice-versa. This makes a strong case for a bright future of collaboration and mutual benefit between our two countries.

At Business France, we're pleased to be able to help facilitate the advancement of these bright young companies and celebrate those who will continue to make France a hotbed of creativity well into the future.
Calling all HuffPost superfans!
Sign up for membership to become a founding member and help shape HuffPost's next chapter